November 17th, 2008 at the Wachovia Center in Philadelphia, Pa.
by Steve Trager
Staff Writer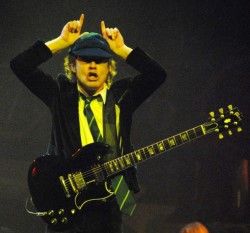 After eight years out of the public eye, Australian rockers AC/DC have finally returned with a well-polished record titled Black Ice. The music still has that signature testosterone sound that can only come from front man Brian Johnson himself. Every song sounds fresh and well written, yet the new collection of songs still captivates that good old fashioned signature guitar riff – power cord anthems from Angus Young.
Since the release date, this album offered alternate logo colors which were offered as limited editions. For some that is considered a collectable cover which not many bands these days actually do any more. This all new album offers fresh material for any hungry AC/DC fan but yet still possess that one of a kind sound that only AC/DC can truly hold as a band. We have been fortunate enough to have AC/DC record their "Money Talks" video right here at the Spectrum which could be seen back in the day when MTV actually ruled with music videos.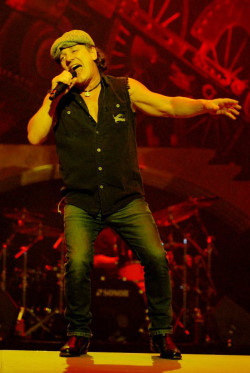 There is nothing quite like an AC/DC concert, filled with the best classics spanning more than 30 years. This heavy hitter rock band proves that only AC/DC can hold up with two fists simultaneously. This signature sound often echoes throughout rock radio right here in Philly on a daily basis.
The Black Ice Tour which embarked just two weeks before it hit Philadelphia, had nothing but rants and raves of how this was the best show anyone had seen as far as production, lights, and sound that AC/DC put together in preps for the tour; there was much more than just anticipation for them to hit Philly's Wachovia Center. You might think AC/DC would come back around at least once, maybe twice on a tour, but if you don't get a chance to see them when they come one time you're just simply out of luck. It's been that way for as long as I can remember, seeing them back in 1990, so it basically is like a spread of every four years — a new record, a new tour, one time here in Philly and poof.
We have always expected a power punching high level decibel type of show from this band and we get that, time after time, year after year, like the true definitive band that they are. AD/DC featured a hand full of new well-polished random tracks from Black Ice that including the current single that dominates rock radio "Rock and Roll Train" along with the usual hand full of hits that come from the last several albums that have become a staple in their live shows. Even at AC/DC's peak in their career as a band they seem to still pack a punch, with Angus Young still tossing himself around the stage and working the fans into frenzy. Yeah he's getting older like anyone yet, he still can kick it like a youngster.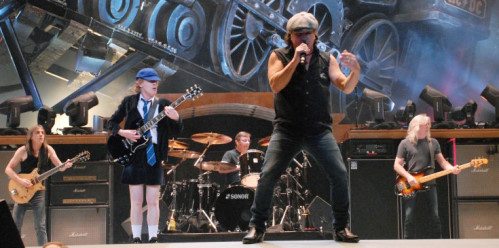 You enjoy the music but you also notice certain things as time moves along, Angus Young has tamed himself with less rock abuse during a show where as say during the first three or four songs he's already worked up to a point that he's out of control. Much of the show's pure entertainment, but it's nice to just see him stand there center stage with the lights gleaming down and him working his magical fingers to the power chords of every song throughout the entire show, sometimes stopping and holding out his ear or tossing up his heavy metal horns over his head during the assault of the performances. Every show is like a true domination to the naked eye as Angus performs solos and does his infamous "Strip- tease" routine which he ends up mooning the crowd halfway through the show.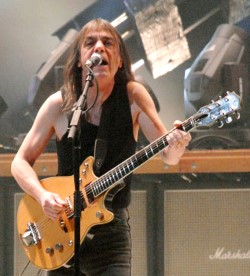 I definitely miss the piggyback ride that Brian used to do with Angus as they would march through the floor towards the end of the show. However, having a cat-walk leading out halfway into the arena where Angus is lifted over the fans during one of his solos while running around it sideways is always a kicker. I don't think there was a fan who hadn't sat down for a brief moment during such performance of this recent AC/DC show at the Wachovia Center. Even if Angus seems to be the center of attention like always, Brian Johnson strutted down the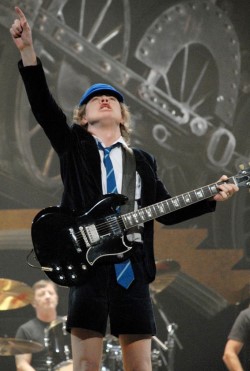 cat walk and slapped hands with fans and lifted his hat and looked out in the sold out show and you could feel the warm embrace much like feeling at home. A lot of bands rant and rave about Philly as being one of the loudest loyal fans ever and that's true a defining sound ranging from squeals, cheers, and whistles during this show, representing loyalty hands down. Besides watching a great show as always, nothing is complete in an AC/DC show with the two–ton bell that gets lowered down during "Hells Bells" and having Brian Johnson swing from side to side which seems to be a favorite in the beginning of the song and is certainly a trademark..
Set List – Rock and Roll Train – Hell Ain't a Bad Place – Back in Black – Big Jack – Dirty Deeds – Thunderstruck – Black Ice – The Jack – Hells Bells – Shoot to Thrill – War Machine – Anything Goes – You Shook Me – TNT – Whole Lotta Rosie – Let There Be Rock Encores Highway to Hell – For Those About to Rock
This show not only demonstrated that AC/DC is still one of the best live touring acts of today, it proves to the fans no matter how long it takes to make a album it still proves that the best never slow down and the best never fall short of greatness in the classic rock genre. AC/DC proved that in 2008 with Black Ice. Many missed another great stellar performance this year with this band; you might just have to wait another four years for them to come back around.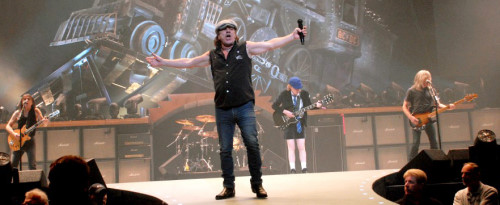 Photos provided by Steve Trager