February 19, 2009 at the Kentish Town Forum in London, U.K.
by Alissa Ordabai
Staff Writer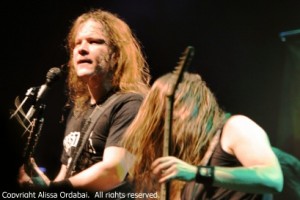 On February 19 London's Kentish Town Forum became a bustling epicentre of 21st century metal showcasing the best of Scandinavian and American talent. Finnish bands Diablo, Children of Bodom, and Buffalonians Cannibal Corpse on the night confirmed that all three are capable of developing the genre without compromising on its core values. Moreover, despite the wide range of styles and intentions represented by all three, together they managed to deliver a poignant and convincing demonstration of the way metal is evolving these days.
Diablo opened the night with a strident set of lofty tunes, instantly saturating one of the best of London's 2000-seaters with textured layers of dense, room-filling sound. Their stark, lingering melodies seeped through expertly stacked harmonies with gravity and elegance, creating that unmistakably poetic, bleakly unsettling mood no one can create
better than the Scandinavians, that instantly recognisable atmosphere full of deep-voiced purposefulness and brooding, haunting grace.
Despite some trouble with the sound, the band performed immaculately on the night, as close to the way those tunes are captured on their records as humanly possible. The highlight of the set was "Icaros" from recently released new album bearing the same name, an epic tune, at once infectious and disquieting, with monumental vocals and virtuoso guitar leads.
Diablo are blessed with a ton of talent, mostly for conveying with unpretentious grace the epic truths and doing so without self-aggrandizement or overwrought pathos. There is good taste and dignity to how they convey their vision, and a singular, ominous feel to their songwriting – tuneful, finely wrought songs, very recognizably Scandinavian but at the same time utterly unique. Their writing is focused, their technique – virtuosic, and they are definitely a band to follow despite the fact that their popularity so far has been centered around topping the Finnish charts, which they have successfully been doing since 2004.
Despite the band's celebrity status in Finland, this was their first London performance, but it won them new fans right off the bat – by the end of the set tons of punters were singing along, some raising their fists into the air, some head banging, with no one staying indifferent. What is equally important, and, perhaps, just as noticeable, is that the band sounded like they were all having a blast.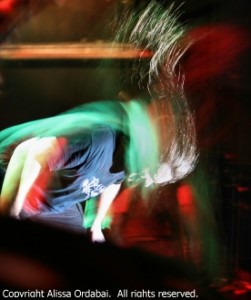 Cannibal Corpse, who were on next, brought with them the distinct smell of a summer festival – that of beer, sweat, and dirt. A brutal set showcasing some tracks from the newly released "Evisceration Plague", this was an orgy of quick thrills, the band firing on all cylinders, as tough-minded and tough-sounding as we've always known them. The crowd up in the front of the stage responded in style by launching into the most ruthless of moshes.
Cannibal Corpse have never diluted their concept and for that reason always remain compulsively enjoyable, the rest of the crowd (with the average age of 18) giving them a riotous welcome, both female and male fans showing enthusiasm that mirrored the band's onstage frenzy. Two songs from the set were dedicated to females in the crowd – old number "Fucked with a Knife" and "Priests of Sodom" from the new album.
Tunes from the new record retain the band's trademark breathtaking pace and strictly regimented composition patterns, this outfit staying true to themselves in following their uncompromising path. Live they seem to have almost endless reserves of energy and endurance, predictable in their material but gripping in the execution. Always a band worth watching in spite of the limited concept, tonight, as always, they have fulfilled a basic human need for release and (even though temporary) liberation from social constraints. The set closed with "Hammer Smashed Face", a tune to which dozens of crowd-surfing fans began falling into the photo pit which, thankfully, has long been abandoned by the photographers. Let's just say that throughout the 30-minute set everyone did their share to keep things jumping, not least the audience.
Children of Bodom left over half an hour between sets before coming on stage to a deafening roar from the crowd. Crush of bodies in front of the stage, imminent threat of militant fans to take over the photo pit, one demented crowd surfer landing on the
photographers' heads after another – all that mayhem began as soon as the band launched into "Hellhounds on My Trail", their first number that evening. By the third tune, "Sixpounder", the photo pit became plain dangerous and passed out fans were being carried off through the back door by the dozen.
What always strikes you about Bodom is their swaggering assertiveness and lush, powerful stage presence. Guitar leads were surging to the fore through synth-soaked chords, the floor and the walls boomed and reverberated, and the crowd was ready to go riot. Musically, this was a performance full of range, invention and pure feeling, a dense hour of music, vivid and very practiced, showcasing those Finns as expert song crafters and spectacular live performers. The medleys they played towards the second half of the set came through seamlessly cohesive, and "Downfall" was the last song they let the audience hear before the mandatory ritual of walking off the stage only to return a few minutes for an encore, which the audience demanded particularly ferociously that evening. Two closing numbers were "Bed of Razors" and "Hate Crew Deathroll".
Bodom, of course, remains one mean band and the support acts they have chosen for this tour compliment them perfectly, all three presenting a surprisingly unified picture of what metal aspires at these days. The tour continues with further dates scheduled in Olso, Stockholm and Helsinki.