March 13, 2009 at Mohegan in Uncasville, Connecticut
by Deb Rao
Staff Writer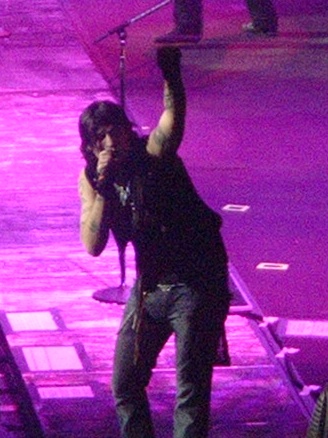 Hardrock Haven has been following the rise of success that Hinder has garnered over the past year. Riding high on a recent headlining Jagermeister Tour, Hinder are once again finding themselves at the top of their game opening for Motley Crue on the current Winter S.O.L.A. Tour.
Hinder rolled into the Mohegan Sun Arena in Conn. on March 13 receiving a huge response from their recently released CD, Take It To The Limit. Opening with the first single from their latest release, "Use Me", singer Austin Winkler held the audience in the palm of his hand. The younger audience knew all of the words to the Hinder hits and sang along as the band rocked on.
In concert, Hinder has a hard driving edge to their music. Although, the band has had their share of Top 40 Hits with ballads including their mega hit "Lips Of An Angel" to their current second single ballad hit, "Without You", Hinder proved tonight in front a sold out audience that they can rock with the best of them.
Highlights of Hinder's set list included the title track Take It To The Limit that Motley Crue guitarist Mick Mars plays on. Tonight Mick did not join the band onstage, but Hinder did a spectacular job as the band shredded out the driving riffs. Drummer Cody Hanson provided the backbone of the band along with the sultry bluesy vocals of Austin Winkler that filled the arena.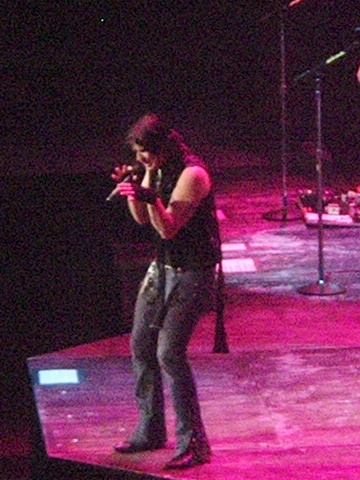 Hinder is no stranger to unleashing some of the finest ballads on the radio today. Tonight, singer Austin Winkler got to shine as he belted out "Lips Of An Angel". The band also performed their third single from Take It To The Limit called, "Up All Night". Which definitely made references to the rock star lifestyle.
Hinder ended the set with their first hit from Extreme Behavior , "Get Stoned". It was exhilarating to have the opportunity to see the band perform in an arena setting. Actually, the first time I ever had the chance to see Hinder perform was at the Mohegan Sun Arena on the Aerosmith Tour in 2006 when the band just broke with their mega hit," Lips Of An Angel". The song-writing, and confidence onstage tonight really showed how much the band from Oklahoma has grown as musicians, song-writers and performers. For more info on tour dates visit www.myspace.com/hindermusic.
Hinder Set List:
Use Me
Homecoming Queen
Heaven Sent
Take it to the Limit
Best is Yet to Come
Up All Night
Without You
Lips of an Angel
Encore
Get Stoned
Photos appear courtesy of Deb Rao