Black Label Society Live!
April 6, 2009 at Webster Theatre in Hartford, CT
by Deb Rao
Staff Writer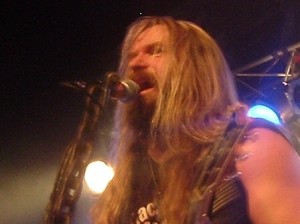 Black Label Society performed to a sold out crowd at the Webster Theatre in Hartford, Conn. on April 6. Black Label Society performed many of their hits and also dug dig into their older catalog. Highlights of the 90-minute set included "Concrete Jungle," "Suicide Messiah," "Fire It Up," "The Blessed Hellride" and "Stillborn."
Black Label Society featuring Zakk Wylde, John "JD" Deservio on bass, guitarist Nick Catanese, and drummer Craig Nunenmacher performed a blistering set of metal to the sold out enthusiastic Hartford crowd. During the set, Black Label Society singer Zakk Wylde dedicated "In This River" to the band's Immortal brother Dimebag Darrell Abbott in which posters of Dime were unveiled, as Zakk performed an emotional and moving piano solo and launched into "In This River" dedicating this song to his fallen friend. Guitar solos were the theme of the evening, as Zakk Wylde burst into a riveting version of the Star Spangled Banner after the song, "Fire It Up."
Beach balls filled the air, on "Fire It Up", as The Webster Theatre was quickly transformed into a beach party. Other highlights of the set included "The Blessed Hellride," as BLS went back to their Southern roots and Zakk and Nick both performed on a double neck guitar infusing great melodies and true showmanship.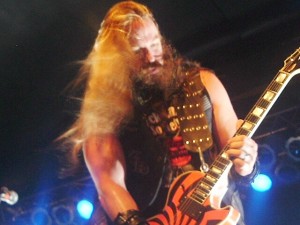 It has been awhile since Black Label Society has peformed in Hartford, and tonight the Connecticut Chapter of Black Label Society could not get enough of Zakk Wylde. The guitar virtuoso is back, at the top of his game once again proving "Blood is thicker than water," as the Connecticut Chapter of BLS fan re-united for one of the hottest shows of the Spring.
Black Label Society is currently embarking on the East Coast leg of the tour with special stops which include the Verizon Wireless Arena in Manchester, N.H. on April 9, The Hammerstein Ballroom in New York on April 10, and a sold out show at newly opened House Of Blues in Boston on April 14.
Black Label Society Tour Dates:
April
9 – Manchester, NH – Verizon Wireless Arena
10 – New York, NY – Hammerstein Ballroom
11 – Philadelphia, PA – The Electric Factory
14 – Boston, MA – House Of Blues
15 – Baltimore, MD – Ram's Head Live
17 – North Myrtle Beach, SC – House Of Blues
18 – Duluth, GA – Wild Bill's
21 – Houston, TX – Warehouse Live
24 – Austin, TX – Stubb's Waller Creek
25 – Dallas, TX – Palladium Ballroom
26 – Tulsa, OK – Cain's Ballroom
28 – Tempe, AZ – Marquee Theatre
29 – Tempe, AZ – Marquee Theatre
May
1 – Las Vegas, NV – House Of Blues
2 – Los Angeles, CA – The Wiltern
Photos appear courtesy of Deb Rao