March 12, 2009 at The Palladium in Worcester, MA
by Deb Rao
Staff Writer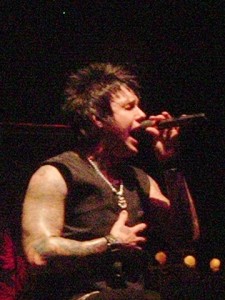 The quiet milltown of Worcester is fast becoming the proud haven of metal as the Worcester Palladium welcomed the return of Buckcherry and Papa Roach with special guest Nikki Sixx's first signing band at Eleven Seven Music Charm City Devils and Rev Theory. Hot off the heels of the their recent Crue Fest Appearance. It is exciting to see that a lot of the acts that use to visit Landsdowne Street in Boston are returning to the Worcester area.
Kicking the evening off at 8 P.M. with a riveting set of inspired old school guitar driving riffs, The Charm City Devils delivered proving they were here to rock amongst the veteran acts here tonight. The band performed songs from their upcoming debut release on Eleven Seven Music slated for a May 24 release entitled, Let's Rock – N – Roll including "Burn Baby Burn" and "True Love Hell Yeah". CCD have a sound that is reminiscent of early Aerosmith and Motley Crue.
I had the opportunity to talk with singer John Allen and he told me,"I sent a demo to Eleven Seven Music. It has been great working with Nikki Sixx. He knows so much about the music business. I am orginally a drummer from a punk band from Baltimore, MD. This is just a dream come true, and success is all new to me."
Next up Rev Theory hit the stage at 9 P.M. This band has a sound that reminds me a lot of Papa Roach. Although, their new guitarist was pretty impressive, they didn't seem to break any new ground with their material.
At 10 P.M., the young audience tonight could not get enough of PAPA ROACH. As the venue fast turned into one giant mosh pit, PAPA Roach launched into "To Be Loved." This was my fourth time seeing Papa Roach over the past year or so, and tonight's performance was one of my favorites.
Singer Jacoby Shaddix was pumped up for the performance and fed off the young audiences enthusiastic response. Highlights of the set included their hits "Forever" and Scars".
The band also peformed new material from their upcoming release, "Metamorphosis" including the new song "Hollywood Whore" that singer Jacoby Shaddix dedicated to the Paris Hilton's and Britney Spears of the world. This song has an eerie haunting appeal, and a little bit different vibe than the usual Papa Roach upbeat song. Papa Roach did a good job of warming up the crowd for the in your face party set of Buckcherry.
Set List:
The Between Angels And Insects
…To Be Loved
Getting Away With Murder
Lifeline
Forever
Hollywood Whore
Scars
Broken Home
Last Resort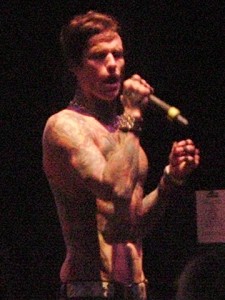 Ridin high on the release of Black Butterfly, the band that has to be hailed as the party band of the year geared the night into full gear as the very tattooed and energetic Josh Todd hit the stage in full throttle. Kicking off the set with "Tired Of You", Buckcherry's set spanned their extensive carreer including their first mega hit "Lit Up".
Although a lot of Buckcherry's music has to with the sex, and drugs of rock and roll, the new album really showcases the writing strength of the band. Highlights of the new material included "Rescue Me," and their ballad,"Don't Walk Away."
Guitarist Keith Nelson has a great bluesy vibe to his guitar playing kind of reminiscent of early Jimmy Page. Sporting a red bandana, shirt and red guitar with the lucky 7 logo on it, Nelson enticed the crowd with his catchy guitar driving riffs.
When I asked Keith about the pressure of writing Black Butterfly, and the band constantly touring Keith told me, "Not really pressure. I think the only pressure was to not make the same record over and over again. I think we achieved that goal. More than about half of the records that were sold on that record were actually sold after we got off the road and we were writing and when 'Sorry' actually became a radio hit. We were almost at about a million records and then we sold another four or five hundred thousand when we were home writing, which was really cool. We put more pressure on ourselves than more anybody from the outside could put on us. We want to make great records. We wanted to be proud of everything we put out there. Anything worth doing is making sure it is a quality effort. Touring definitely made the band stronger both as musicians playing together and the personalities involved. It's a great group of guys. The commodity is awesome. It is everything that Josh and I thought that Buckcherry should be but never quite got to on the first go around. The fact that we can go out and play 300 shows over two years just speaks to the character of all the guys involved." Read full interview at Hardrock Haven.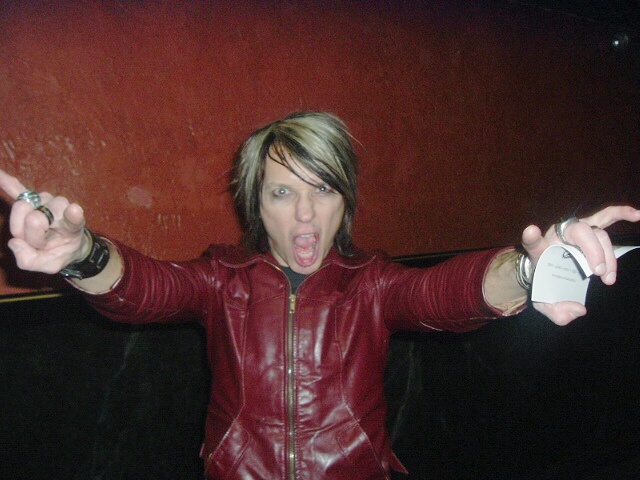 In 2006, "Crazy Bitch", fast became a rock and roll anthem to metal fans. The new party anthem of the evening was their latest hit,"Too Drunk Too F*** featuring Josh Todd strutting around the stage like a drag queen. If you have ever been to a Buckcherry concert, you are well aware of the non-stop energy that Josh Todd inflicts on his fans. Tonight was no exception, as Buckcherry cranked out hit after hit of their radio friendly repertoire. Only slowing down for their mega ballad,"Sorry."
As their enthusiastic 60-minute set was just about ready to end, Josh Todd dedicated "Crazy Bitch" to the young female audience dancing in the aisles.
Set List:
Tired of You
Next To You
Lit Up
Still Alive
Talk To Me
Rescue Me
Don't Go Away
Too Drunk
Next 2 You
Everything
Sorry
Crazy Bitch
Photos provided by Deb Rao