April 18, 2009 at Peppermill Casino in Reno, Nev.
by Kim Shockley
Staff Writer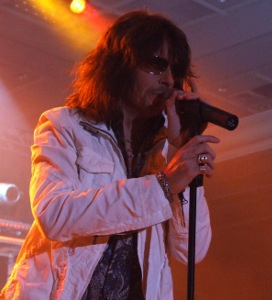 Peppermill Casino in Reno, Nev., was the scene of one of the most energetic hard rocking events of the spring … Foreigner in concert. One of the most popular touring bands of the '70s and '80s, Foreigner's high-energy performance could be compared to a volcanic eruption. The show began with a sudden, steady rumbling as the crowd, one by one got on their feet, erupted into one big party, even before the encore
Kelly Hansen, the lead vocalist, is reminiscent an '80s Steven Tyler. Kelly's vocals were right on the money throughout the show. He sounds a lot like Lou Gramm, is equally as talented and sings the hits exactly the way we want and expect to hear them. Foreigner gave the fans all the originals in an extended version with unbelievable guitar riffs and a drum solo that words can't describe … you had to be there. Drummer Brian Tichy is amazing, and the crowd exploded into applause as Brian threw his drum sticks into the crowd and continued playing with his bare hands. Don't miss this show when it comes to your city.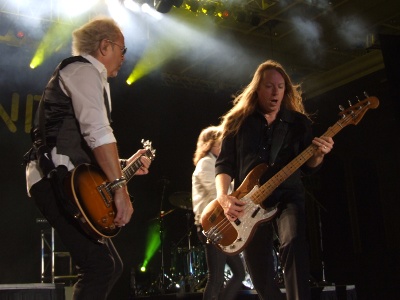 Mick Jones, founding member of Foreigner and lead guitarist, played his heart out. Mick's famous guitar riffs kept the energy high throughout the show. He proved he still had the chops when it came to his vocal performance on "Starrider."
The very best rock shows are performed at top-notch venues that enhance the performance vs. one where security takes themselves too seriously. Security at the Peppermill Casino did exactly what they should do … protect the band and escort the jerks outside. Fans were free to express their excitement, and they did just that.
The show began with their major hits, "Double Vision," "Head Games," and "Cold as Ice." By the time they got to "Blue Morning," at least half the crowd, which was made up of young and not-so- young, already was on its feet with hands in the air. "Too Late," a cut from their latest album, tasted like classic Foreigner, but it is relevant in today's rock music. The CD should be great.
Kelly Hansen surprised the crowd early in the show when he jumped over the railing and headed into the crowd. He sang part of the song from the audience then triumphantly returned to the stage.
"Dirty White Boy" brought the rest of the crowd to its feet and the party was definitely on. The set ended with "Urgent" and "Juke Box Hero." The cheering quickly turned to a deafening roar. The crowd wasn't kept waiting long as Foreigner returned to the stage to perform their encore, "I Want To Know What Love Is," and "Hot Blooded."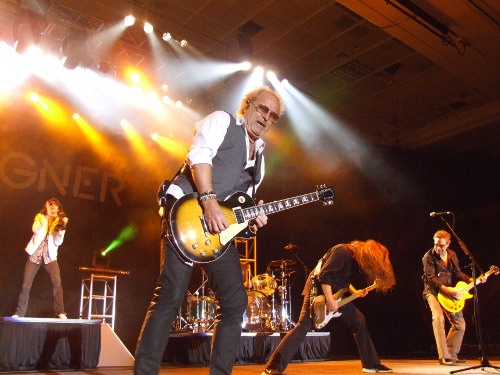 Set List:
Double Vision
Head Games
Cold as Ice
Blue Morning
Waiting
Too Late
Dirty White Boys
Say You Will
Starrider
Feels Like The First Time
Urgent
Juke Box Hero
Encore:
I Want To Know What Love Is
Hot Blooded
The Band:
Kelly Hansen: lead vocals, percussion
Mick Jones: lead guitar, keyboards, bass, vocals
Thom (Tom) Gimbel: guitar, saxophone, flute, backing vocals
Michael Bluestein: keyboards, synthesizers, backing vocals
Jeff Pilson: bass, backing vocals
Brian Tichy: drums, percussion
Photos by Kim Shockley and Gary Dean Ash