by Derric Miller
Staff Writer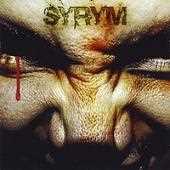 As the '80s Rock Revolution continues to spin, with more and more bands from the '80s reuniting to get their piece of the pie, there is another facet to that movement: former '80's band members starting new bands both distinctly different and somewhat reminiscent of their popular sound the first time around. The first band to really embrace this idea was Big Cock, the outlandishly talented band featuring singer Robert Mason (Lynch Mob, Cry of Love, Warrant) and Dave Henzerling (Keel, King Kobra), who have brashly led the charge by releasing three killer studio albums over the past three years. Hot on their tail is the new band Syrym, featuring former Babylon A.D. members, guitarist Ron Freschi and drummer Jamey Pacheco. Syrym delivers music with the same edge and energy of Babylon A.D., but with singer Jeffrey Winslow's bluesy and mature Rock voice, there is nothing remotely "hair" or "glam" about Syrym's music.
Their debut begins with the groove-focused and angry "Foul Mouth Blues." The more you listen to Winslow's voice, you may be reminded of Kelly Keeling (Baton Rouge), although Winslow's voice is naturally lower. Freschi's solo after the chorus belies anything you'll hear on Modern Rock radio today, with mimics like Theory of a Deadman regurgitating formulaic mainstream offal and pretending it's music worth hearing. Instead, Freschi nails a searing solo that fits within the scope of the song.
You'll hear more of Freschi's ability to write a metal riff when you hear "Warpath." The word "aggressive" can be used on this song, with Winslow raging into a chorus and singing, "I'm on the warpath, so take your best shot … just fire away!" Freschi mixes in brief guitar leads between the verses, alternating between complex riffs and heated solos. Pacheco's drumming adds to the overall anger of the composition, especially after the guitar solo where he is just booming on his fills. This song would tear things up in an arena or festival environment.
When Syrym turns things back a notch, you'll see another side to the band, like on "Ugly on the Inside." Without a doubt, the caliber of writing and musicianship could garner attention on the radio, with Freschi opening with an acoustic guitar piece and sliding into electric riffs. It's really the vocals and lyrics that pull you in on this track, though, because, "I am, ugly on the inside. Now, I'm turning inside out. If I wasn't ugly on the inside, then I'd know what beautiful's about … but I'm ugly on the inside." The song spears all of those starlet and Hollywood types who act the fool, but are popular, because at least they are pretty in an outward sense. This is also the catchiest chorus on the entire release, and perhaps Winslow's best overall vocals.
The first ballad is "The Sky is Falling," but it's more of a power ballad, interlaced with acoustic and electric pieces. Sometimes, the simplest songs become the most memorable, and instead of being acerbic or pissed off, Syrym candidly writes a love song. When Winslow sings, "Even with the sky falling, this is where I wanna die," you will believe it. You can hear the control and command in his voice as he sustains the note on the word "sky" without faltering into using vibrato.
"30 & Dirty" is probably the most Babylon A.D. inspired track, with the riff sending you back a decade or two. When Winslow sleazily sings, "I wanna get inside her mind, over and over like a piston grind," you'll remember all of those bikini-clad '80s women in various Warrant, Motley Crue and Poison videos, which is a really good thing.
The last song on the CD is called "What I'm Trying to Say." This is the only keyboard-led composition on the CD, and Winslow channels Steve Perry with his heartfelt delivery. Syrym doesn't just write blather; every one of their songs has a theme, a message, a meaning. In this case, it's the sad tale of a father talking to his child about divorce. Lyrically, Winslow says it all with the words, "It's not your fault, you've done nothing wrong … mommy and daddy just can't get along." There is nothing cheesy or schlocky about "What I'm Trying to Say;" it really mirrors thousands of conversations parents have uncomfortably reiterated to their children.
Syrym's debut is garnering industry-wide attention for their songwriting abilities and musicianship, more so than their "blast from the past" reputation. Fans of Babylon A.D. aren't going to get "Bang Go the Bells" specifically, but the spirit and vibe of the band is prevalent in many of the guitar solos and adept riffing from Freschi. Starting over for former Rock Stars is surely a scary and daunting task, but Syrym makes it sound surprisingly easy.
Track Listing:
1. Foul Mouth Blues
2. Warpath
3. Torn In Two
4. Ugly On The Inside
5. Brokedown
6. The Sky Is Falling
7. 30 & Dirty
8. While America Sleeps
9. Alive In The Real World
10. Bring It On (Go Down Fighting)
11. What I'm Trying To Say
12. What I'm Trying To Say (Reprise)
Hardrock Haven rating: 8.1/10