May 16 – 17, 2009 Columbus Crew Stadium, Columbus, Ohio
by Chris A.
Staff Writer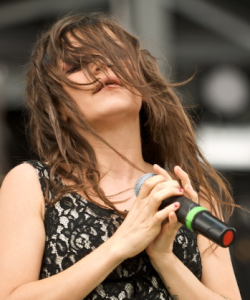 In its third year in Columbus, Ohio, Rock On The Range continues to grow and evolve. So far the formula of merging up-coming metal bands with older, established draws seems to be doing well. This year the lineup included newbies like Early Pearl, and Royal Bliss with the iconic '80's glam band Motley Crue and the metal mayhem of Slipknot. Early estimates put the crowd in Columbus at pushing 60,000 attendees over the course of the two-day event.
With 38 bands, three stages, tons of vendors and decent weather both days, there was plenty to and see at the show. In addition, with two-day ticket prices between $99 and $114.00, there appeared to be no indication of an economic slow down among both new and vintage metal-heads in attendance. The merch tents and food vendors also seemed to be doing brisk business as well.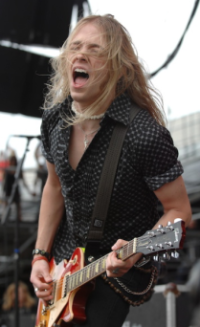 Held in the home stadium of the professional soccer team, and current league champions, Columbus Crew, the sheer size of the venue and the amount of bands made it impossible to see every act . Again, to the credit of the organizers, the schedule seemed thought out and was very organized. Amazingly, over the two days of controlled chaos of managing a multi-stage rock concert, everything stayed on schedule. In addition, security at these large concert events can be overbearing but despite a very visible presence of venue security and Columbus police officers, everyone was cool, polite and professional. If there were any incidents they were all dealt with very low key manner.
Day one of the event kicked off with the first bands at noon. With storm clouds brewing southwest of Columbus, there was a concern that part of the next dozen hours could be wet. Thankfully, with the exception of a 15 minute burst of light rain, the weather cooperated. By 6 p.m. the sun was out making the evening simply beautiful. The bands on the bill for day one were: Early Pearl, Leo Project, Veer Union, X Factor 1, Black Stone Cherry, Crooked X, Halestorm, Saliva, Loaded, Hurt, Flyleaf, Rev Theory, Static X, Chevelle, All That Remains, Korn, Atreyu, Alice In Chains, Slipknot. Standout performances and audience response on day one for the bands that I photographed included Rev Theory, Flyleaf, Korn and Early Pearl.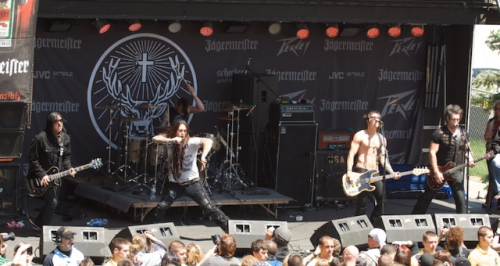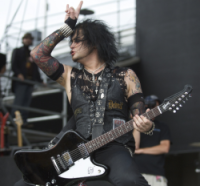 Day two started at noon as well with Drive A. Taking the second stage and Royal Bliss rocking the Jager Stage. Also performing on this day would be: Framing Hanley, Burn Halo, Hoobastank, Cavo, Adelita's Way, Saving Abel, Pop Evil, Charm City Devils, Blue October, Sick Puppies, Clutch, Shinedown, Billy Talent, Buckcherry, The Used, and headliners, Avenged Sevenfold and Motley Crue.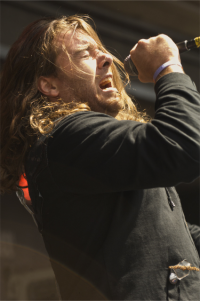 Standout performances and audience response for this day included Royal Bliss, Burn Halo, Shinedown and Buckcherry.
Overall a very well done festival with an impressive list of big established names and quality future prospects. With Rock On The Range expanding to Canada later this year, one can only speculate how big this event may become in Columbus.
The word from the festival organizers is that the 2010 Rock On The Range lineup is already being planned. For more information on Rock On The Range, visit www.rockontherange.com
Here are a look at some of the newer bands plus a few established bands that performed at the 2009 Rock On The Range. You can see more photos of Rock On The Range by visiting www.chrisa.us
Photos by Chris A.