Kansas City Rockfest Live!
May 30, 2009 Liberty Memorial, Kansas City, Mo.
by John Kindred
Staff Writer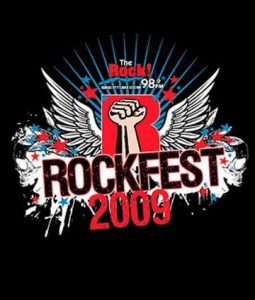 Main Stage
9:30 p.m. – KoRn
8:00 p.m. – Buckcherry
6:30 p.m. – Shinedown
5:00 p.m. – Corey Taylor & the JBKB
3:50 p.m. – Theory of a Deadman
2:40 p.m. – Saving Abel
1:30 p.m. – Rev Theory
Second Stage
9:00 p.m. – Drowning Pool
7:30 p.m. – Duff McKagan's Loaded
6:00 p.m. – Dope
4:30 p.m. – Parlor Mob
3:20 p.m. – The Veer Union
2:10 p.m. – Burn Halo
1:00 p.m. – Crooked X
12:00 p.m. – Federation of Horsepower
The Good: Newcomers; Burn Halo and Parlor Mob. The new-old-timers Shinedown. Plenty of porta-potties.
The Bad: Long lines at the concession stands. Over-priced beer, food and bottled water. However you present it, $5 per individual food item sucks … one meal per concertgoer easily could be $20. Free water means waiting in line, missing the concert. Purchased water means waiting in line, missing the concert and paying $3 a bottle. The venue is too small, period for 50,000 people.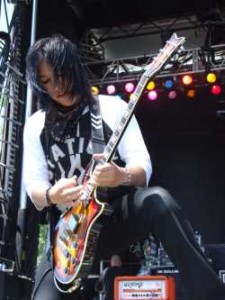 The Ugly: I (heart) Vagina merchandise. Scantily clad over-weight individuals. Seeing tattoos in places you never would want to look anyway.
The Inside Skinny:
Kansas City radio station, 98.9 The Rock, dubs the event as the biggest one-day rock festival in North America. Kansas City's annual Rockfest played host to 15 bands and more than 50,000 spectators. Sponsored by vendors such as Miller Lite and Worth Harley Davidson, 98.9's one-day festival features new and emerging bands along with modern metal mainstays.
Headliners Korn were joined by fellow rockers Buckcherry and Shinedown. Slipknot's Corey Taylor brought along his solo band The Junk Beer Kidnap Band and performed Stone Sour and obscure songs.
The second stage featured new talent including youngsters Crooked X, new-comers Burn Halo, Parlor Mob and Veer Union, Duff McKagan's band Loaded, Dope and Drowning Pool.
Unfortunately, the best place to see any of the bands perform was at the Second Stage. Unless you were within 10-15 feet of the main stage barrier and you were of modest height, there was no way to see any live action. There were two video screens placed a few hundred yards from the stage, but they were stationed to the right of the venue and benefited few.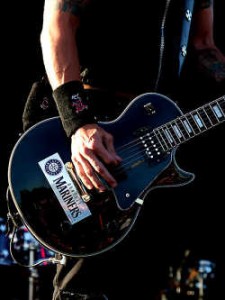 Observations of the day included bands moving away from Screamo-metal. Almost all the participating bands featured singing vocalists. Guitar solos are slowly creeping back into rock music. Bands continue to show influences from the '70s.
Highlights:
Burn Halo, led by vocalist James Hart, launched into their 40-minute set and performed songs from their new self-titled album. They performed their current radio hit "Dirty Little Girl," "Save Me," as well as "Gasoline" and "Dead End Roads & Lost Highways."
Hailing from New Jersey, Parlor Mob's music features a nostalgic '70s-inspired vibe. The band has a vibrant energy that feels raw and spontaneous. Touring in support of the debut album debut album And You Were A Crow on Roadrunner Records, this is a band to keep on eye on.
The Shinedown set included a majority of their hits. Brent Smith and company had the crowd eating out of their hands as they directed fans to the pulsating beat of their music. Performing hit after hit, the band is sure on top of their game. Fans were treated to "Devour," "Sound of Madness," "Second Chance," ".45," "Fly From the Inside" and "Save Me."
Crooked X features four youths hailing from Oklahoma. Young, these kids are 15 years old! Their 10-song debut was released on MPM/EMI/Capitol in January, and the band already has opened for Kiss and Ted Nugent. This is another band to keep an eye out for. Crooked X has plenty of energy and talent as well song-writing skills.
Rockfest 2009 Photo Gallery
Photos by John Kindred/Shawna McHenry.