June 27, 2009 at the Chameleon Club in Lancaster, Penn.
by Deb Rao
Staff Writer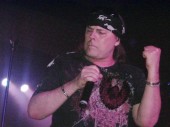 Dokken is currently embarking on a Summer tour and performed to packed venues at the Chameleon Club in Lancaster, Penn. and Penn's Peak in Jim Thorpe, Penn.
Although the cast of characters has changed, Dokken is still selling out venues across the country and in 2009 is a force to be reckoned with. I recently caught up with Dokken at the Chameleon Club in Lancaster. The Dokken line-up featured Don Dokken on vocals, Jon Levin on guitar, Mick Brown on drums, and bassist Greg Smith, who is filling in for Dokken bassist Barry Sparks who is on the UFO tour this summer.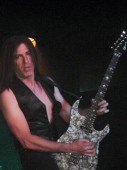 Dokken hit the stage at 10:30 P.M. and performed a 90-minute set of all of their hits. Opening with "Breaking The Chains," the crowd was ready to rock to the hard driving catchy grooves that Dokken are known to unleash.
Do you remember when metal clubs were 100 degrees, and packed with metal fans hungry for a night out on the town filled with hard driving metal? Well, that was the atmosphere here tonight at the Chameleon Club in Lancaster. The club featured a 2-tier wooden decor nightclub with a balcony filled with metal fans old school and young.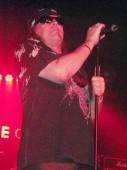 Dokken ripped through all the hits including, "The Hunter," "Just Got Lucky," and "Tooth And Nail." Don Dokken sounded strong on vocals, and captivated the audience with his melodic vocals and stories. Guitarist Jon Levin shredded out the Dokken hits with perfection. Wild Mick Brown held down the backbone of the band with his hard-hitting groove along side bassist Greg Smith.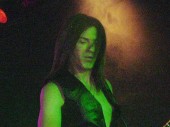 The band played an extended version of "Too High To Fly" from the Dysfunctional album. Everybody jammed and showcased their talent. Highlight of the set had to be "It's Not Love," and new song "This Fire" which has the signature catchy Dokken groove written all over it.
The band ended the set with "In My Dreams", as the packed house screamed for more. One thing was for sure, in this day of ever changing musical trends, DOKKEN has survived the odds. Proving that good songs, and outstanding singing really do outlast the test of time. Be sure to catch Dokken on tour this summer.
Dokken Set List:
Breaking The Chains
Kiss of Death
The Hunter
Into The Fire
Just Got Lucky
Too Hugh To Fly
Alone Again
When Heaven Comes Down
It's Not Love
Tooth and Nail
This Fire
In My Dreams
Dokken Updated Tour Schedule:
Appearing with Scorpions
Sat 07/11/09 Crete, Greece Municipal Stadium Of Perivolia
Fri 07/17/09 Phoenix, AZ Celebrity Theatre
Sat 07/18/09 Grants, NM Fire & Ice Park
Appearing at "Halfway Jam"
Fri 07/24/09 Royalton, MN Halfway Jam
Appearing at "Dakota Rock Fest"
Sat 07/25/09 Sioux Falls, SD Festival Grounds
Fri 07/31/09 Ogden, UT Teazer's
Sat 08/01/09 Jerome, ID Diamondz
Appearing at "Wisconsin State Fair"
Fri 08/07/09 West Allis, WI Wisconsin State Fair Park
Sat 08/15/09 Chicopee, MA Maximum Capacity
Mon 08/17/09 Ocean City, NJ Ocean City Music Pier
Appearing at "Rock Gone Wild"
Sat 08/22/09 Algona, IA Freedom Park
Sat 09/05/09 Julian, NC Piedmont Dragway
Appearing at "Septemberfest" Omaha
Sun 09/06/09 Omaha, NE Qwest Center Omaha
Appearing with Great White
Fri 10/09/09 Mount Pleasant, MI Soaring Eagle Casino & Resort
Sat 10/10 Riverstar Complex – Cincinnati, Ohio