Hardcore Superstar Beg for It
by Leyla Hemedi
Guest Writer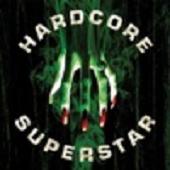 As excited as you can be waiting for a favorite artist's new record, you also get that slight feeling of trepidation right? What if it's not as good? What if it's a letdown? What if, delicately put, it's the worst piece of suck since grunge came to glam-town? It's a common fear that a band will not live up to its past records but with Beg For It, Hardcore Superstar not only live up to their sleaze punk/metal glory, they often surpass it with a few select songs.
Beg For It starts out with a nice little cowboys'n Injuns ditty aptly titled, "This Worm's For Ennio," a nod to noted spaghetti-western composer Ennio Morricone. The worm part might confuse but in this writer's infinite wisdom, it has been deduced that it's a reference to the worm in mescal. And thus, this worm, this shot of larva-adorned tequila, is for Ennio.
That was altogether too much analysis for one two-minute instrumental and so we move on to the title track, "Beg For It." Combining the screechy, hard vocals with the catchy guitar hooks HCSS can practically trademark, it's a throbbing, racing, and excellent first single. With its screaming, chorus demanding we, well, beg for it, it will get stuck in your head. "Into Debauchery," has a similar tune with the ever-present awesomely loud, pounding drums, but the drawn-out vocals that paint pictures of naughty activities in graveyards, make it the second best song on the album.
The best song, however, is, "Nervous Breakdown." Again, it's another machine-gun, speed-freak HCSS song that sounds best when played obnoxiously loud but the raspy voice of Jocke Berg combined with the harmonizing backing vocals pump out a song that you will listen to no less than 32 times within two days of owning it.*
"Hope For A Normal Life," eases up the record's edginess with an acoustic intro and a solo electric guitar weaving in and out. It's not technically a ballad, but it does slow the manic pace the previous four songs established. While it is a pretty song with nothing technically wrong with it, it still serves as the one filler song on the record.
"Don't Care 'Bout Your Bad Behaviour," is another solid hard rock song complete with those drums fans love so much but then we get, "Remove My Brain," with its chanting chorus and finally the punk edge of Hardcore Superstar starts to show. It's the perfect song to scream along to. Covering all their musical influences, "Take'Em All Out," has a bouncy tune so familiar it could be straight out of '80s Sunset Strip glam metal.
Finally, the record finishes up with "Innocent Boy," another amazing, don't-give-a-damn number that actually includes the lyrics, "Don't give a damn." Pairing the brutal verses with slower, more melodic choruses it's the finale that makes you wish for encores. Consider it a challenge to top this one, boys. Though it shouldn't be hard. That good, old, sleaze rock is alive and dirty in Hardcore Superstar.
Band Members:
Jocke Berg – Vocals
Vic Zino – Guitar
Martin Sandvik – Bass
Magnus "ADDE" Andreasson – Drums
Label: Nuclear Blast GmbH
Track Listing:
This Worm's For Ennio
Beg For It
Into Debauchery
Shades of Grey
Nervous Breakdown
Hope For A Normal Life
Don't Care 'Bout Your Bad Behaviour
Remove My Brain
Spit It Out
Illegal Fun
Take'em All Out
Innocent Boy
Website: www.hardcoresuperstar.com
Hardrock Haven Rating: 9.5/10