July 3, 2009 Taffy's, Eaton, OH.
by Chris A.
Staff Writer
Many in the crowd at the sold out Johnny A. performance at Taffys in Eaton, Ohio had no idea whom or what they were about to see and hear as Boston's tone-monster guitarist stepped forward. 90 Minutes later it was all over and Johnny A., supported by his exceptional band, left the crowd shaking their heads in awe at the incredible performance they had just witnessed.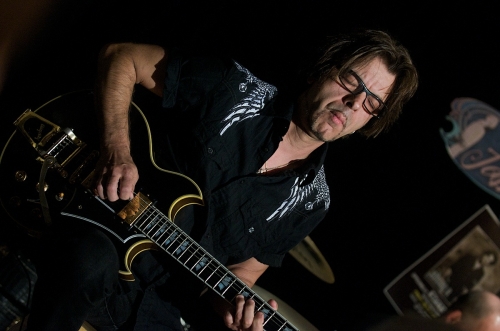 In less than two hours, the namesake of the Gibson Custom Shop Johnny A. Signature model guitar had created another army of fans. Signed to Steve Vai's guitar-god heavy label "Favored Nations," Johnny A. is acknowledged as one of the finest guitarists to ever plug in. Influenced by the likes of Hendrix, Beck, Bloomfield and others, his talent, touch, soul and ability to extract incredibly emotive tone from his instrument and gear is legend among savvy guitar players and "in-the-know" music lovers.
A true contemporary of guys like Stevie Ray Vaughn, he's worked with and shared the stage with guys like Peter Wolfe, BB King, Aerosmith and Eric Clapton. Seated on his trademark stool playing a trans black model of his signature Gibson guitar, he wowed and the Taffys crowd with original compositions like "Two Wheel Horse" and "Tex Critter". His ability to merge the diversities of rock, jazz, blues, country and rockabilly into a single entity and then "JA" them together with his shimmering Bigsby vibrato, well, it never fails to impress and is the essence of the "Johnny A. sound."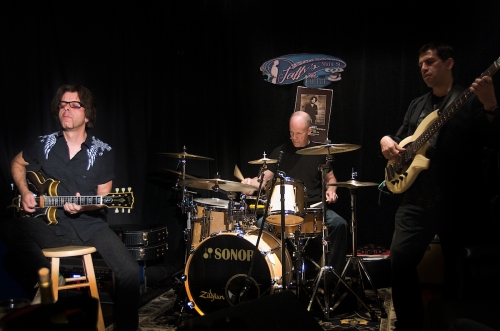 During his performance of his original composition, the soulful blues filled "Krea Gata," he demonstrated what dynamics in music are all about. Taking his guitar from a quiet, mournful pitch he slowly built up to a crescendo of sound that was moving and crushing in its intensity. Sophisticated in their appreciation for fine music, the Taffys audience rewarded the musicians with rapt attention and enthusiastic exclamations of approval. Supported by two exceptional musicians, drummer Ron Stewart and bassist Jesse Bastos, Johnny A., knows he can cut loose and let it rip with these two professionals behind him.
From aesthetically pleasing original compositions to outstanding, imaginative covers of Beatles classics through his show ending "Jimi Jam", (Mr. A's tip of the hat to the late, great Jimi Hendrix,) one could easily argue that he is one of the most talented individuals to pick up the iconic instrument we call the guitar. Johnny A. is currently on tour in the United States and if you love guitar music this is the guy you need to know. You can learn more about this incredible guitarist, his music and his gear at www.johnnya.com
You can also find video and information about Johnny A. on YouTube.