by Joe Mis
Staff Writer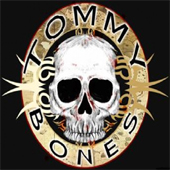 Tommy Bones is the self-titled release of Houston Texas based singer/guitarist Tommy Bones. Take the swagger, anger and blues influences of Guns 'N Roses and add the power of Black Label Society plus a touch of Pantera and you have a pretty good description of the music of Tommy Bones. "Texas Roadhouse Rock" perhaps…
Tommy Bones started as a solo artist back in 2006 in his native Iowa, but relocated to Houston in 2007 where he started writing material for the debut EP. His music is rowdy blues-based rock, generally with a strong rhythm line and heavy groove. For this recording, he's picked up bassist James Jordan and drummer Mike Falzarano, and they seem to work quite well together.
The CD opens with "Walk In Hell", a pounding blues tinged song with some nice juicy rhythm guitars and a vaguely Gilby Clarke sound. "Murderous Rage" follows with some great hooky guitars and some nice drum work. "My Hate" would be right at home on any Black Label Society album, and it opens with a nice Zakk Wylde sounding melodic introduction.
"Fight" (the best of the album) has a great rhythm line and brings back memories of GNR's "Get In The Ring". "Burn" opens with a great drum & bass intro, but then seems to go nowhere except back into the GNR groove.
Unfortunately as one might guess from the song titles, the lyrics are all dark and violent. Not an uplifting one (or a good ol' Texas party/drinking song) in the bunch. Just a bit too much attitude and anger make this a somewhat depressing album. Bones is decent guitar player – stronger in rhythm than lead – and has a deep, rough voice that suits this style of music. Falzarano is a solid rock drummer, though not spectacular, and Jordan is a very good bass player capable of laying down some very blistering lines.
The production and engineering is what you'd expect from a self produced CD – a bit muddy and not very crisp. While not sounding like it was recorded in someone's basement, it was obviously done with just basic recording gear and a very simple setup. This is not a bad thing as the less polished recording complements the grungy, sleazy musical style that the band has adopted. The setup also gives one a very good idea of what the band would sound like live: simple, crude, direct and kick-ass.
While not yet fully polished, Tommy Bones may be a force to be reckoned with after a few more years of growth and experience. This particular effort is too heavy handed lyrically, and the band needs to mature more both as performers and songwriters. Not a bad for a first effort though, and it shows a good deal of potential – as long as they make the effort to break out of the GNR mold.
Fans of heavy blues rock or the underground sleaze rock scene should enjoy this release, and more than likely will look forward to their first full album.
Label: Indie / Unsigned
Web: http://www.myspace.com/tommybonesmetal
Track Listing:
01 – Walk In Hell
02 – Murderous Rage
03 – My Hate
04 – Fight
05 – Burn
HRH Rating: 6.5/10