July 17, 2009 at the Susquehanna Bank Center in Camden, NJ.
by Steve Trager
Staff Writer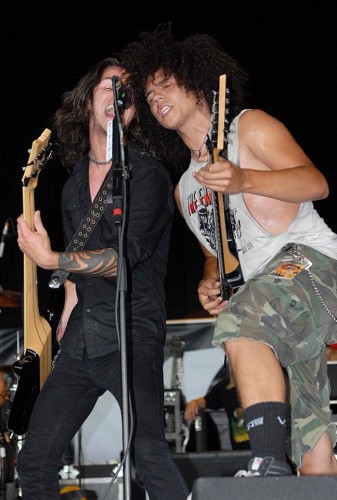 The annual summer caravan simply known as The Vans Warped Tour recently has celebrated 15 years as one the longest running festivals with more than eight hours of endless performances on multiple stages throughout the entire day. This year, some veterans returned such as NOFX, Anti Flag, and Bad Religion are among the long list of new additions to the lineup. It is also nice to have metal bands thrown into the mix alongside the punk and emo-screamo bands featured year after year. Even with just one main stage this year, the Vans Warped Tour still gives the music-obsessed fan the best opportunity to catch up-close performances of their favorite bands all day long, even though for the last several years there hasn't been a bunch of "A" List band(s) placed somewhere on the roster. This type of momentous event still seems to be the best for your dollar. With not only bands performing, but there are meet and greets, BMX competitions on the half pipe and endless tents with rock wardrobes to fit any style.
As always you can't actually see every band over the course of the day. However, Black Tide was enjoyable to watch, performing some great Metallica covers during their set. In This Moment, who toured with OzzFest in 2007, was enjoyable as well. Escape the Fate, who has performed on a few past Vans Tours, were great to see live. A new Band called Versa Emerge sounded great with a hot chick at the wheel.
The Good: The Newcomers; Black Tide, Versa Emerge, In This Moment, and The Main. Veterans; NOFX, Bad Religion, Anti Flag and Flogging Molly.
The Bad: There were long lines at the concession stands and over-priced food and drinks, which included bottled water. However you actually price it, it was still a day out that you're going to shell out some bucks if you didn't want to die of starvation and become dehydrated for hours on end. There also were overlapping stage performances. Every stage was going all at once, and heavy rain fell toward the later part of the evening. The circle pits, crowd surfing, and the bored fans in between sets were tossing filled bottles toward the stage like torpedoes (where you might get hit in the head if you weren't looking ). And lots of roaming from stage to stage made you feel like you were ready for an endless hike across America.
Overall, for what the Vans Warped Tour is worth for the hard-working dollar these days, we, the fans, are still getting a decent-priced ticket, a full day of music, loads of ear – piercing decibel guitars and a fun day out.
Main Stage:
11:55 Chiodos
12:55 Devil Wears Prada
1:55 Anti Flag
2:55 NOFX
3:55 Underoath
4:55 Less Than Jake
5:55 Flogging Molly
6:55 Bad Religion
7:55 3OH!3
Vans Warped Tour 2009 Photo Gallery
Photos by Steve Trager.