October 10th, 2009 at the Sprint Center in Kansas City, MO.
by Mike Allen
Guest Writer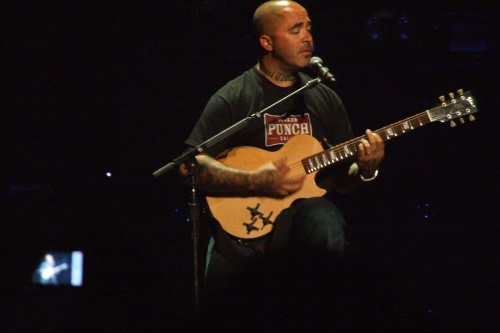 Staind put on a great show at the Sprint Center in Kansas City, Mo., on Oct. 10, 2009. Aaron Lewis and his band were on fire throughout their set, bringing the crowd of about 7,000 people to their feet. The opening song, "Spleen," while sounding a bit "Death Metalish," certainly set the tone for the band. Lewis, while not big on posing, certainly holds his own vocally. A no-nonsense rocker, Lewis always keeps a very serious look on his face, doesn't talk much between songs and communicates more through attitude and lyrics. It was a pretty "dark" and raw set, which was very much the opposite of the band they were supporting. Highlights of the Staind show were, "Right Here," "So Far Away," "It's Been Awhile" and the show closer, "Mudshovel," which is a very grungy and heavy rocker.
This writer's favorite part of the show was when Lewis took center stage. He sat down on a chair with a spotlight on him and his guitar while leading the crowd through a very melodramatic version of "Outside" as the crowd swayed in back and forth, singing aloud. It was something Lewis definitely appreciated.
Set List: Spleen, Falling, Fade, Right Here, This Is It, So Far Away, For You, Outside, All I Want, It's Been Awhile, Mudshovel.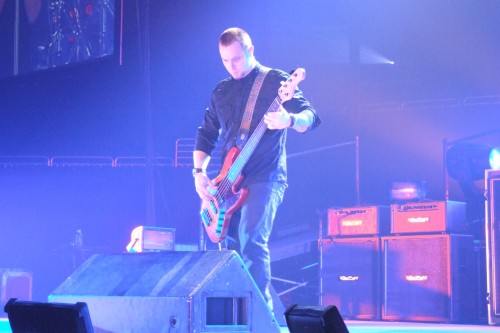 As headliners, Creed took the stage, the tone of the evening changed dramatically. Fire lit up the back of the stage and the cutting, balls-to-the-wall shredding of guitar virtuoso, Mark Tremonti let loose. The crowd went completely ballistic as Stapp jumped on stage. "We're Back!" Stapp yelled out, which was followed by an eruption of fire, explosions and pyrotechnics that lit up the entire Sprint Center. Creed was tight and on fire as they blazed through "Bullet," the show's opener.
The band sounded extremely tight and polished. The mix was perfect; everyone could be heard very distinctly. That's a great thing, until you notice that there is Stapp had a tendency to fall out of tune pretty consistently throughout the night. He sounded very strained.While this writer likes Stapp's voice, it seems as though Stapp may have had a problem with his in-ear monitors. If the band was tuned to 440, then Stapp was tuned to 439! He was falling flat throughout the night. When he sang quietly, he was right on, but more often than not, throughout the entire show, Stapp was straining and singing too loud to fit the songs.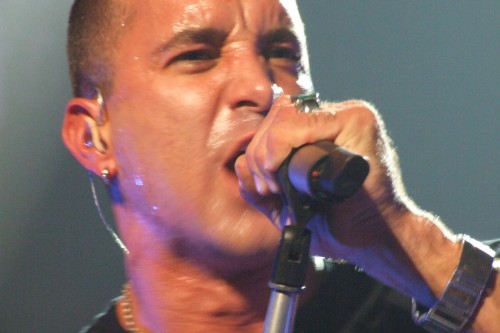 Stapp fits the role of a rock star, as he is very buff and has outstanding stage presence. The camaraderie Creed shows on stage gives the impression that the band has moved beyond their past and is having fun.
All that said, Creed still delivered a very energetic and uplifting show. Lyrically, vocals, arrangements, light show, effects, you name it, were uplifting. This had all the makings of an incredible rock and roll concert. Even with being distracted at times with Stapp's inability to stay in key, his distinct style and delivery more than made up for his weakness.
"What If" was probably the best-performed song of the night. This song allowed Tremonti to ad-lib with Stapp and do a little shredding, something that he did more of in his other band, Alter Bridge. Creed had a second guitarist who played mostly rhythm during the set, and even he had a chance to shine and play off Tremonti during their little jam.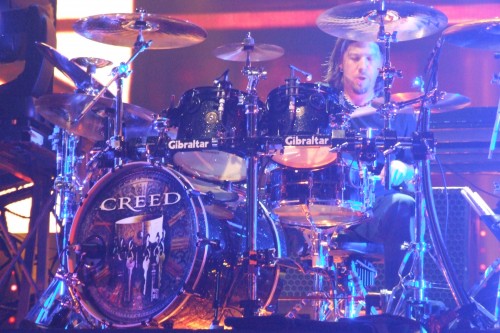 An electric mandolin was a nice surprise at the beginning of "Are You Ready." The song sounded very sonic, and the crowd was pumping their fists throughout the number.
Hits like "My Sacrifice," "One," "One Last Breath" and "What's This Life For" went over nicely.
They played three new songs, "Overcome" (which again, Tremonti is finally allowed to FLEX his playing ability!), "Faceless Man" and "Rain." Rain had a very cool backdrop with sparks falling down over Stapp and Tremonti while they played, standing over the drum riser. Creed has one of the best light shows. The show is a must-see for fans of hi-tech pyrotechnics.
Set List:
Bullets
Overcome
My Prison
Say I
Torn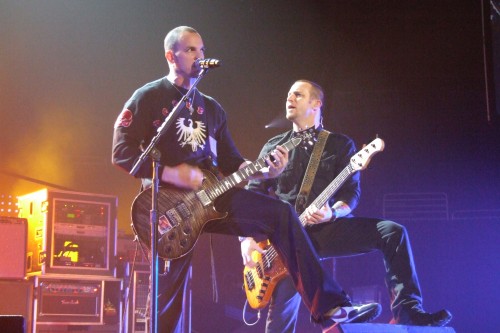 A Thousand Faces
Are You Ready?
What If
One
What's This Life For?
Faceless Man
With Arms Wide Open
My Sacrifice
Encore:
Rain
One Last Breath
Higher
Photos by Gary Dean Ash and Mike Allen