October 12th, 2009 at Wachovia Center in Philadelphia, PA.
by Steve Trager
Staff Writer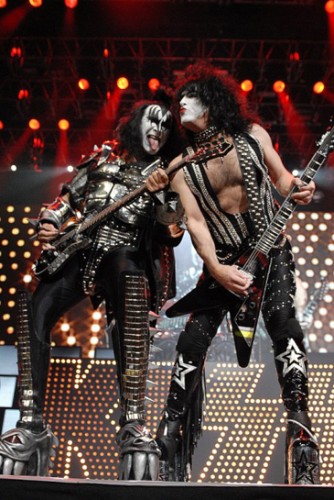 Perhaps KISS is one of those bands that can send a chill down your spine with all their pyrotechnics and eye-popping stage productions that has outshined more then 35 consecutive years as a band. There is that unmistakable introduction to each and every show, "You wanted the best … You've got the best!" KISS is the hottest band in the world.
KISS always has been about their live shows. It doesn't matter how many albums have been recorded, how many singles they have collected or how many line-up changes they have undergone, it still is and always is KISS. It seems like just yesterday KISS entered the rock world in the late '70s and has acquired fan after fan with their unique style of creativity as a unit. You never can grow out of a legendary band like KISS, no matter who comes along in the music world these days. With a new CD, Sonic Boom, in the stores the band continues to prove their relevancy.
The Alive/35 Tour celebrates the release of the bands first live album Alive!. The tour is about one of the most celebrated live albums of all-time. Alive! is an album that set the standard for all other live records released by other artists and bands to be compared to. This tour features more "bang for your buck" as Paul Stanley puts it … dozens of pyrotechnics throughout the entire show, along with furious decibels of sound and a great lighting production that only KISS can deliver live. Kiss performs a majority of the songs that appeared on Alive! as well as the new song "Modern Day Delilah" and the classic "Love Gun," "Cold Gin," "Lick It Up," "Shout It Out Loud" and "Detroit Rock City."
It was a great show as fans were treated to the antics of fire-breathing and blood-spitting stage theatrics along with a nice drum solo from Eric Singer. It is always a nice treat to hear those great classics that included '80s epic classic "Lick It Up." Just under two solid hours, KISS delivered yet another stellar performance in Philadelphia on the Alive/35 Tour. Each performance is like none other; louder, brighter and more explosive then before. Even with a pricy ticket to this show, it's still a great, in depth treat to reminisce of the older KISS gems that span almost four decades worth of material.
KISS Set List:
01. Strutter
02. Deuce
03. Modern Day Delilah
04. Hotter Than Hell
05. Come On And Love Me
06. Watchin' You
07. Got To Choose
08. I Love It Loud
09. She
10. Parasite
11. 100,000 Years
12. Black Diamond
13. Rock And Roll All Nite
14. Shout It Out Loud
15. Lick It Up
16. Love Gun
17. Cold Gin
18. Detroit Rock City
Kiss with Buckcherry 2009 Photo Gallery
Photos by Steve Trager
Tout dates:
Thu 10/22/09 Sunrise, FL BankAtlantic Center
Sat 10/24/09 Birmingham, AL BJCC Arena
Mon 10/26/09 Atlanta, GA Philips Arena
Wed 10/28/09 Nashville, TN Sommet Center
Thu 10/29/09 North Little Rock, AR Verizon Arena
Sat 10/31/09 New Orleans, LA New Orleans City Park
Fri 11/06/09 Chicago, IL United Center
Sat 11/07/09 Minneapolis, MN Target Center
Mon 11/09/09 Winnipeg, MB MTS Centre
Tue 11/10/09 Saskatoon, SK Credit Union Centre
Thu 11/12/09 Calgary, AB Pengrowth Saddledome
Sat 11/14/09 Vancouver, BC General Motors Place
Sun 11/15/09 Seattle, WA KeyArena At Seattle Center
Tue 11/17/09 Portland, OR Rose Garden Arena
Thu 11/19/09 Sacramento, CA ARCO Arena
Sat 11/21/09 Fresno, CA Save Mart Center
Sun 11/22/09 Oakland, CA Oracle Arena
Tue 11/24/09 Anaheim, CA Honda Center
Wed 11/25/09 Los Angeles, CA Staples Center
Fri 11/27/09 San Diego, CA San Diego Sports Arena
Sat 11/28/09 Las Vegas, NV Pearl Concert Theater
Tue 12/01/09 Glendale, AZ Jobing.com Arena
Wed 12/02/09 El Paso, TX University Of Texas
Fri 12/04/09 Austin, TX Frank Erwin Center
Sat 12/05/09 Houston, TX Toyota Center
Sun 12/06/09 Dallas, TX American Airlines Center
Tue 12/08/09 Tulsa, OK BOK Center
Thu 12/10/09 Kansas City, MO Sprint Center
Fri 12/11/09 Council Bluffs, IA Mid-America Center
Sun 12/13/09 Pittsburgh, PA Mellon Arena
Tue 12/15/09 Sault Ste. Marie, ON Essar Centre