by Derric Miller
Staff Writer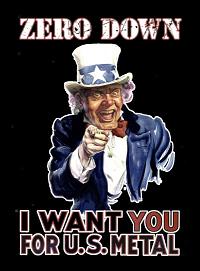 If you want to experience some good times at the gates of hell, you'd best be driving a '76 Firebird, drinking insatiably and cranking Zero Down. In the studio, this Seattle-based band has released two blackout-inducing efforts that begged the question: could they pull off this manic energy live? If you were at the Oct. 16 show at the El Corazon in Seattle, Wash., your answers were flung back at your melon with a resounding "hell yeah!" and then some …
Opening for Faster Pussycat and playing before a few other bands, Zero Down warmed up briefly (as opening acts are cursed to do) and with little ado, and rammed "Loud, Proud & Evil" down your throat. Speaking of throats, frontman Mark "Hawk" Hawkinson is almost King Diamond-like in the flexibility of his vocal delivery. It's typically a heavy yet melodic lower yelling style, like a more melodic and talented Billy Milano, or this insane falsetto that certainly couldn't be screeching from this big dude's maw. But it was … and it was awesome.
Being a local act, they were a little more attended than the opening acts, but Zero Down took the braver route and played four new tracks instead of relying on their past draw. So, while the crowd cheered and guzzled along, it wasn't until they hit "Good Times at the Gates of Hell" that crowd participation reached its peak.
"Good Times at the Gates of Hell" is taken from their '04 release, the title track. Maniacal, infectious, hilarious yet 100 percent Metal, the band shredded the stage and new guitarist Matt Fox (since February) showed exactly why he was in Zero Down. While bassist Ron Banner, guitarist Lenny Burnett and Hawk mugged for the crowd with honest and playful metal glee, Fox tore into frenetic and expert leads while drummer Tyler Lyndsey somehow rose above the characters and the guitar-hero to steal the spotlight. One thing you are going to stumble away thinking after seeing a Zero Down live show — Tyler is one powerful drummer.
"Firebird '76" is probably their biggest hit song, even if it's not a "radio" hit. It's really a clinic in Metal 101 songwriting, with fierce and memorable vocals and melodies, wicked guitar leads and thrummingly sexy bass line, and of course, the bludgeoning and precise drum blasts. If you haven't heard Zero Down yet, at least check out this song on their MySpace page.
 They closed their set as professionals, thanking Faster Pussycat numerous times, thanking the crowd, and launching into their one cover, Van Halen's "Everybody Wants Some." For the most part, they followed the song perfectly, with Hawk shrieking out those rabid Roth squeals and Fox nailing the complicated guitar solo.
The El Corazon, although a smaller venue, is a renowned Seattle rock club, and those attending could appreciate seeing a real metal band play. No gimmicks or false bravado, just kick ass and fun heavy metal, that's what Zero Down delivers, live and in the studio. If and when they play around your parts, you'd best check them out.
Set list:
Loud, Proud & Evil
Fistful of Dynamite
Year of the Rat
The Vulture
Sweet Revenge
Knock Out Brigade
Good Times at the Gates of Hell
Firebird 76'
Everybody Wants Some (Van Halen cover)
(Note: To whoever stole my half-drunk beer from my table as I was taking pictures, I always backwash everything I drink, and I had trenchmouth at the time. So enjoy …)