Arcanum Control of Insanity
by Justin Gaines
Staff Writer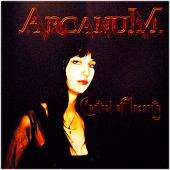 Control of Insanity is the latest release from Swiss hard rock/heavy metal band Arcanum. The band plays a fairly straightforward mix of hard rock and heavy metal that emphasizes the vocal talents of frontwoman Gabi. Her voice is husky, sultry and almost theatrical at times, and is a welcome change of pace from the legions of opera metal or poppy gothic metal female singers flooding the scene these days.
Musically, it's hard to come up with a good comparison to Arcanum's sound. Unfortunately it's not because the band is particularly unique, but rather that their sound is a bit too generic to really stand out. The musicianship is perfectly solid, and the album is fairly well put together in terms of production. Control of Insanity was mixed and mastered by Andy Dormann of fellow Swiss rockers Charing Cross. Dormann also provided lead guitar on a few tracks. The problem may lie in the songwriting area. Take away Gabi's vocals and there's just not anything memorable left. No great hooks, no powerful melodies; aside from a few decent solos this could be the work of any number of local bar bands. Even the vocals stumble a bit at times.
There is real potential here, and that's worth pointing out. If the band's songwriting can improve enough to match their musical talents, Arcanum could be a welcome addition to the female-fronted metal scene. Right now though, they have a "not quite ready for prime time" feel, so it's hard to give Control of Insanity a decent recommendation. Maybe next time.
Label: Independent
Track Listing:
1. Metal Gods
2. Losing Control
3. Free
4. Wish
5. Fears of Mankind
6. Rules
7. I Gonna Fall
8. Lovestorm
9. Toxic Passion (2009)
10. Watch Out
Lineup:
Gabi – Vocals
Mato – Bass
Sile – Guitar
Hagar – Drums
Online: www.arcanum-rock.ch
HRH Rating: 5/10