Arjen Lucassen's Guilt Machine On This Perfect Day
by John Kindred
Staff Writer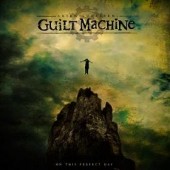 Arjen Lucassen continues his prog rock explorations with his new band Guilt Machine. Lucassen is known for his creative endeavors with his project band Ayreon. On this outing, he has built a band that consists of alternative rock singer Jasper Steverlinck, drummer Chris Maitland (formally with Porcupine Tree) and Lori Linstruth on lead guitar.
Written around themes of guilt, regret and secrets, Lucassen left the lyric writing to his partner, guitarist Lori Linstruth. These themes fuse the musical concept together without binding the album to a specific story line. Sterverlinck is then left to provide the emotional interpretation of the lyrics as he brings them to life with his voice.
The use of keyboards and synth sounds creates atmospheric tension as a building component to the epic musical arrangements that unfold throughout the studio effort. This builds into dark, dynamic ethereal textures that magnify the moodiness of the music.
The music doesn't stray too far from the writing style that Lucassen is known for. Each of the six songs combines soft, quiet passages with dark, heavy arrangements that pull from several genres of the rock landscape. Luccassen's creative machine manages to tap the best attributes of each player. Maitland's percussive skills lend to the overall heaviness of the music. Linstruth guitar solos fit the music and are expressive and fluid ventures. While Steverlinck finds a foothold in the prog rock community, delivering a solid vocal performances throughout the CD.
Guilt Machine allows Lucassen to continue to stretch his musical legs. His journeys take him on long and winding roads that touch on many musical elements and themes. This isn't an album that you will walk away humming the main melody lines from each song. The arrangements are complex and beg you to stop and listen to each song as they unwind. Musically, this album can stand on its own as an instrumental release. Most times, the inclusion of vocals is a plus, but in a few cases, they take the listener attention away from the music. Still, Luccassen and his band deliver a great studio album.
Label: Mascot Records
Band:
Arjen Lucassen – Guitar, bass, keyboards, mandolin, backing vocals
Jasper Steverlinck – Vocals
Lori Linstruth – Lead guitar
Chris Maitland – Drums
Track Listing:
1. Twisted Coil (11:43)
2. Leland Street (8:03)
3. Green and Cream (10:32)
4. Season of Denial (10:22)
5. Over (6:11)
6. Perfection? (10:46)
Hardrock Haven rating: 8/10