BM Linx Black Entertainment
by Trevor Portz
Staff Writer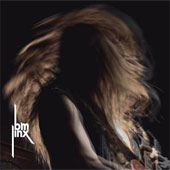 It's hard to decide whether or not rock and roll and dance beats were meant to be combined. A number of bands have tried it over the years—Kiss with Dynasty, Queen with Hot Space, Terrorvision with Good to Go—and the results have been mixed. Perhaps rockers aren't meant to dance, and dancers aren't meant to rock. NYC trio BM Linx are out to challenge this theory though, and on their sophomore release, Black Entertainment, they do more than their part to bring the rock and dance worlds together in blissful harmony.
Strangely enough, opening track "Valentine" is not only the weakest song on the album, but also seems to have little to do with what follows. The synth-laden, whiney track sounds incredibly dated, and boasts none of the noisy guitars or energetic vocals that define the band's sound on subsequent tracks. It's tough to say whether or not the track would have fit better somewhere deeper on the album, but it certainly did not deserve a home in first position.
After snoozing through "Valentine," everything takes an immediate turn for the better. "The Outlaw Jimmy Rose" sets the scene for what BM Linx are all about—loud, garage-rock guitar riffs and high-energy vocals gliding over danceable beats. Throw in a layer of acoustic guitars and the result is a classy-yet-dirty dance-rock anthem that gets the adrenaline flowing and the feet tapping. First single "Kids on Fire" follows in a similar fashion, but with a healthier portion of synthesizers that in this instance work to enhance the track rather than date it. Maybe the age of the synthesizer didn't die in the '80s, but instead took a long rest until people found a way to use it in a less embarrassing way.
After the initial storm of rocking tunes comes an interesting break in the weather, the instrumental "White Limousine." Boasting many layers of acoustic guitars, string accompaniment, and an almost Black Crowes-esque arrangement, the song acts not only a quiet intermission, but also one of the best tracks on the album. A second instrumental, "Defender," follows three songs later, but unfortunately doesn't live up to its predecessor's glory.
One interesting quality that guitarist/vocalist Tony Diodore possesses is the ability to somehow invoke everyone from David Gilmour to Glen Buxton when soloing, but without ever sounding like a direct rip off. Whether or not these artists acted as actual inspiration is unknown, but nevertheless their presence is felt and the result is a very raw-yet-refined guitar style. Diodore is also an accomplished acoustic player (a gift many electric whizzes lack), as showcased on the aforementioned "White Limousine," as well as on the closing track, an acoustic version of the debut album track "Understanding Orange." This soulful version closes the album with class and leaves the listener hoping for more.
All in all, BM Linx haven't necessarily created anything entirely new, but have done something many before them tried an failed—to make rock dancey without castrating it and stripping it of its innate grittinness. Maybe more rockers would be drawn to dance clubs if this was the quality music they could expect to hear.
Label: Craze Factory Entertainment
Web: www.bmlinx.com
Band Lineup:
Tony Diodore (vocals, guitar, synths)
Jonathan Murray (bass)
Andrew Griffiths (drums)
Tracks:
1. Valentine
2. The Outlaw Jimmy Rose
3. Kids On Fire
4. Red House Been Empty
5. Clean Dirt
6. White Limousine
7. Find The Water
8. 123Cat
9. Defender
10. Ives Park
11. UO Acoustic
Hardrock Haven rating 7.9/10