by Derric Miller
Staff Writer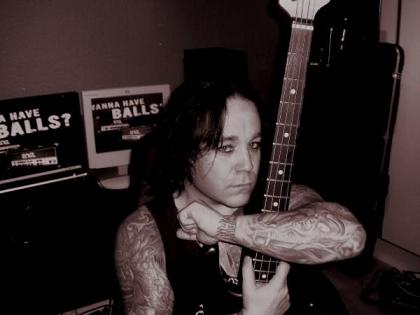 Hardrock Haven: Dennis, thanks for taking the time to chat with Hardrock Haven. To start with, for our readers who aren't familiar with your music, can you give us a little insight into who you are as a musician, what other bands you've been in, and what the music you write and record is all about?
Develin: I'm born and raised in northwest part of Copenhagen, in Denmark (and still live there). I've been in a lot of hard rock bands (Pure Sex-Nation XXX-Mane Atraction and Sticky Sweet in the '90s. In 1996 Sticky Sweet made a demo and got the opportunity to record a full album in 1997(CAN´T STAY INNOCENT) and we went to the States in 1998 and toured that album on and off for a year.
In 1999 I went home again and recorded my first solo album PURE INNOCENSE on the small label Nordic Metal.
2002 solo album: VEANGEANCE IS MINE (Perris records)
2005 my band CLUB HELL formed and we played a lot of gigs in Europe.
2006 recorded a 7-song EP.
2008 solo album LOVE IS FOR THE OTHER GUYS.
My songwriting has always been about: Girls-fights-Riding bikes-life in the city and all the good things in life. In other words ,live your life the way you want! Politically incorrect? Absolutely! Primitive? You bet! It is what I call "hairy gorilla music" and rock and roll is supposed to be primitive-dirty and tongue in cheek. What do you think Little Richard meant when he sang "Good Golly Miss Molly"?! SEX!! If you wanna "save the world" get an REM album but if you wanna take your girlfriend home and enjoy, get a DENNIS DEVELIN record.
HRH: You have just released a "Best Of" compilation called Ten Years, an album consisting of your favorite tracks from your three prior solo albums. Tell us about how you went about choosing the songs for the release, and where can fans pick this up?
Develin: My new best of album TEN YEARS is simply me celebrating 10 years, 1999-2009 of my favorite solo songs. I'm talking to a couple of labels so I hope it will come out next year. But I sell it on my site WWW.DEVELIN.DK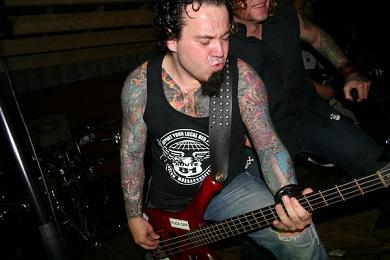 HRH: The album begins with a brand new song, "Birds of Fire," one of the heaviest songs I've heard you record. I know you will be going to work on a new studio effort soon; is this a newer, harder direction for you? Will the new stuff shred like "Birds of Fire?"
Develin: Right now I'm working hard in Sound Box studio with Jonas Roxx on my next album with the title A BACKSEAT FIGHTER and it will be what I do best: Rock Hard!! All 10 songs written by myself and it will be the most heavy sounding record I have done but still melodic as hell. More in the style of "Birds Of Fire" but with more tongue in cheek lyrics. Jonas Roxx is gonna produce it and Tommy Hansen will mix. So my hope is it will come out summer 2010.
HRH: The songs were remastered by Jonas Roxx, who also plays guitar and co-writes many of the songs on Ten Years. Is he a permanent member of your band now, and are you writing and recording with him on the new album?
Develin: Ten Years has been remarstered by Jonas Roxx and all the old songs has really benefitted for it! More power, more depth and more clear sound. Jonas Roxx and I have played together since the early '90s in Sticky Sweet and later in Macho rockers Club Hell and he is a great guitar player and friend.
HRH: "You Can't Deny" is radio-friendly and melodic as hell, and sounds like a hit song. Of course, the lyrics are something most men are not brave enough to say, with lines like: "So I told her, I wouldn't hold her, won't be the one she grows old with." When you write this kind of songs, like "Love is For the Other Guy," is this a personal belief, something you live, or just, a story in within the song?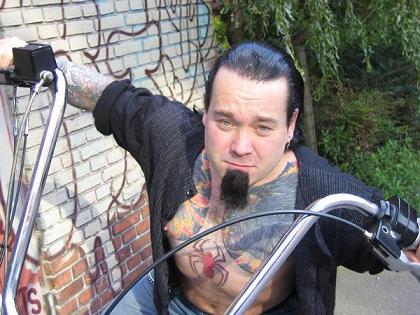 Develin: About your question on my lyrics in songs like YOU CAN´T DENY and LOVE IS FOR THE OTHER GUYS, is it my belief or just a storyline, my answer is: both. I love girls but the idea of "To death do us part" is just not for me. Don´t get me wrong, be honest to women from the start and don't be an asshole. Still my song lyrics are my "belief" but just 40 times more and tongue in cheek.
HRH: Probably your biggest hit song is one of your happiest songs, "Ladies of the Eighties." Just an ode to everything carnal and crazy about the 1980s, a great hit song. Your lyrics are hilarious, with lines like "Today we got the internet, but we're only touching ourselves." Is this the song that you are best known for, the one that started making a name for you?
Develin: "Ladies Of The Eighties" is probably my signature song; people just love that song and I do to. It is what I'm all about and sometimes I think I never gonna top it! (But just sometimes 🙂 )
HRH: We get back to this recurring theme on "Love is For the Other Guys," when you sing, "So if you wanna spend more than one night, then this ain't your ride." I gotta ask you … are you eventually going to run out of women?
Develin: No, I´ll never run out of women because they like the "Bad Boys" you know 😉
HRH: The 1999 song "Cynthia" sounds a lot like a ballad, but if anyone pays attention to the lyrics, it's not a love song by any means. "So you will pay the highest price, if that's the only way to make you mine." It's basically a stalker, ex-boyfriend song. Did you get any grief or backlash from fans or media when this song first came out?
Develin: "Cynthia" is about an ex-girlfriend, a long time ago and she wasn´t happy about the lyrics but it was how I felt at the time. I always try to give my ballads a lyrical twist so it´s not what it seems like at first.
HRH: You started Ten Years to highlight the new song "Birds of Fire." Why'd you choose to end the CD with "Your Stuff's Too Good?"
Develin: Why "Your Stuff's Too Good" is last? Because I wanted to start with a new song from 2009 and finish with a song from 1999.TEN YEARS!!
HRH: Is there anything I left out that you'd like to leave with our Hardrock Haven faithful?
Develin: I'm gonna hit the road with my pals in CLUB HELL next week in Scandinavia and it's gonna be a blast. At last I would like to say to all the readers on Hardrock Haven: Get your ass off the computer and go out in the real world and raise some hell!