by Joe Mis
Staff Writer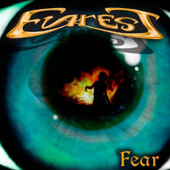 Evarest is the latest entry into the now somewhat overcrowded field of female-fronted power metal bands. Fear is the Czech band's debut effort, just released on Farvahar Records, and in all honesty, it is a fairly strong debut.
The nucleus of the band got together back in 1998 and went through a number of gyrations before settling into the current lineup, now called Evarest. Olaf (bass, backing vocals) and Pepa Fiser (lead guitar) added Honza Cinert (keyboards), Tomas Matula (rhythm guitar) and Eva Markvartova (lead vocals). They recorded and released a CD under the band name Candela in 2007, but added new drummer Zdeno and changed the band's name to Evarest after landing their current label.
Musically, Evarest is mostly power metal, but there are some tracks that are distinctly straight-up rock, and some are heavily tinged by blues rock and pop. This mixture of styles makes for an interesting listen and sets the band apart from some of the other new power metal groups. Their songs are varied in style, and fortunately, the band changes tempo and key, so the music is never dull or repetitive.
Eva is a very good singer, but occasionally a little rough around the edges – which is fine for the style of music. She doesn't seem like she is there simply because she is a woman, rather she is the lead singer and just happens to be female. Honza Cinert plays very understated keyboards – and plays very well without dominating the band's sound. He teams very nicely with the Tomas's rhythm guitars and plays lead along with Pepa. The guitars are well done and clean, with great crunchy and aggressive rhythm lines and nice soaring leads. Olaf, besides being a good vocalist, is a great speed metal bass player, able to give the others in the band a solid foundation to build upon.
"Intro" kicks off the CD with a big majestic sound – almost orchestral, and leads right into the high-energy "Searching For Lost Times," a power-metal track with some great guitars and the required tempo changes. "Fear" follows next and drops in with a soft keyboard intro that immediately explodes into a true progressive metal track. The guitars and keys step back and allow the bass, drums and vocals to carry most of the song. "Lost Race" allows Olaf to share some of the lead vocals with Eva, and the two play off each other very well without actually singing a duet. This track also lets Zdeno show off his massive double bass drumming skills, and Olaf manages to keep up with him on the bass. "For Goddamned Love" is, for the most part, a rock power ballad with an amazing keyboard opening and fabulous vocals and lyrics. "Hero's Fate" opens with some amazing and aggressive guitars and bass, and features a number of nice tempo changes and instrumental harmonies, making it one of the stronger tracks on the CD. "Requiescat" also features some nice keys, aggressive guitar work and more of Olaf on lead vox. "River of Death" is pure power metal with manic double bass and soaring guitars. "Go Away!" is a real change of pace – it is almost a late '80s /early '90s feel pop rock tune, very up tempo and a lot of fun. "Victory" wraps up the official release and is a fairly muted and low key instrumental. Bonus tracks are a demo version of "For Goddamned Love" and a Czech language version of "Requiescat," called "Porhoma."
The production and engineering are very European/power metal: Crisp and clean, with all instruments well balanced and precise. Much like many of Lacuna Coil's recordings, the vocals are not emphasized enough, sometimes getting buried in the music, making it tough to pick up all of the lyrics. Considering the vocal talents of both Eva and Olaf, Evarest could have done more with backing vocals or dubbing.
Fear is a very solid debut, and an enjoyable listen overall. While not perfect or groundbreaking, it is good fun, and the music is melodic and performed with a lot of energy and spirit. It would have been a better album had Eva's vocals been mixed louder, but then nothing is ever perfect. If you are into European power or speed metal, don't be afraid of Fear.
Label: Farvahar Records
Web: http://www.farvaharrecords.com/music/?id=2, http://www.myspace.com/evarestczech
Track Listing:
01 – Intro
02 – Searching for Lost Times
03 – Fear
04 – Lost Race
05 – For Goddamned Love
06 – Hero's Fate
07 – Requiescat
08 – River of Death
09 – Go Away!
10 – Victory
11 – For Goddamned Love (Demo Version)
12 – Porhoma (Czech version of Requiescat)
Hardrock Haven rating: 8/10