Gwar America Must Be Destroyed
by Trevor Portz
Staff Writer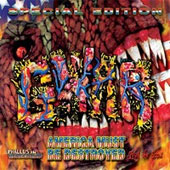 Wow, it's hard to believe that 17 years have passed since Gwar's third album, America Must Be Destroyed, was shat upon the metal world, and more amazing that 2010 will mark the 25th anniversary of the band. Gwar has never relented in its struggle to crush and enslave the masses, and though the initial shock and awe may have worn off, the band remain not only active, but relevant, continually touring, releasing albums, and at the very least, doing their part to give parental watch groups something to shudder over. But this isn't about where Gwar is now, rather a look back at their seminal 1992 metal masterpiece and how it holds up all these years later.
Having begun as more or less a costumed punk band, Gwar quickly refined their sound, incorporating elements of metal and thrash which seemed more in line with the monstrous characters the members portrayed. America Must Be Destroyed epitomizes this transformation, as only the attitude remains punk; the music is firmly rooted in '90s metal. The aggressive, driving, double-bass drum-laden tracks essentially create the heaviest of all of Gwar albums and also help to keep it from sounding overly dated.
The in-your-face metal style drives almost every song on the record. The opening triple threat of "Ham On The Bone," "Crack In The Egg," and "Gor-Gor" injects more than its share of adrenaline and helps to paint a mental picture of the band, surpassed only by its blood and guts, in-your-face live show. What Oderus Urungus (aka Dave Brockie) lacks in singing ability is made up for with attitude and an almost theatrical delivery. A liberal helping of gang vocals throughout the tracks also gives the impression of a band of violent "Scumdogs" ready to enslave a "captive" audience.
Though not quite as musically varied as later releases (Carnival of Chaos in particular), America Must Be Destroyed does feature its share of less mosh-inducing metal tracks. "Have You Seen Me?" acts as the album's most diverse piece, showing elements of jazz, scat, and thrash, all packed into just more than four minutes of music. It also happens to be the album's most lyrically offensive song, at least to those holier-than-thou, humor-free psychos that act as the real-life "Morality Squad." Though not as over-the-top, but far from being as G-rated as those it is reminiscent of, "Rock & Roll Never Felt So Good" feels almost like a late '80s hair metal leftover. "Pussy Planet," sung by original Beefcake the Mighty Mike Bishop, is a hilarious send up of the '90s Seattle grunge scene, most notably Nirvana, utilizing a riff plucked straight from "Smells Like Teen Spirit."
As humor-filled and sometimes silly as the songs may be, they never cross the line of becoming jokes themselves, as the members of Gwar actually manage to create top-notch heavy metal fare that is on par with any of the most popular metal of the day. The songs are well written and well played, and even at their most offensive, the lyrics retain enough wit and intelligence to keep them from becoming insipid. All laughter is expelled with the band, not at it.
In addition to the album itself, the 2009 reissue also includes a bonus DVD of Gwar's first direct-to-video, full-length film Phallus In Wonderland. Though not carrying the repeat-viewing necessity of later films such as Skulhedface, Phallus… still contains its share of classic Gwar moments as the band attempts to reclaim Oderus' stolen manhood, also known as the "Cuttlefish of Cthulhu." Feeling almost like an acid-fueled ride through Sesame Street's darkest corners, Phallus is mandatory viewing for anyone worth their weight in fake blood. It is a perfect companion piece to the album on which it is based.
Label: Metal Blade Records
Web: www.gwar.net; www.myspace.com/gwarofficial
Band Lineup:
Dave Brockie (Oderus Urungus)-Vocals
Mike Derks (Balsac the Jaws of Death)- Lead guitar and rhythm guitar, backing vocals
Michael Bishop (Beefcake the Mighty)- Bass, backing vocals; lead vocals on "Pussy Planet"
Brad Roberts (Jizmak Da Gusha)- Drums
Danielle Stampe (Slymenstra Hymen)- Backing vocals
Tim Harris- Lead guitar on "America Must Be Destroyed"
Lee Harris- Lead guitar on "Crack in the Egg"
Hunter Jackson (Edna P. Granbo)- Vocals on "The Morality Squad"
Dave Musel (Müsel)- Samples on "America Must Be Destroyed"
Tracks:
1. Ham On The Bone
2. Crack In The Egg
3. Gor-Gor
4. Have You Seen Me?
5. The Morality Squad
6. America Must Be Destroyed
7. Gilded Lily
8. Poor Ole Tom
9. Rock & Roll Never Felt So Good
10. Blimey
11. The Road Behind
12. Pussy Planet
Hardrock Haven rating 8/10