by Joe Mis
Staff Writer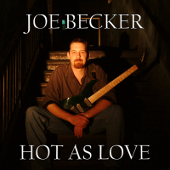 Like a thick, juicy steak with mashed potatoes and gravy, Joe Becker's latest album Hot As Love is simple and basic yet ultimately satisfying. The veteran blues guitarist has put together a collection of 16 (mostly) guitar-driven tracks that will sate the appetite of blues and blues-rock fans. Most are original compositions, but he's thrown in a handful of cover tunes to spice it up. Becker has been around for a while and has played with a number of big names including Eddie Van Halen, Steve Vai, Jason Becker, Marty Friedman, Richie Sambora, Steve Morse, Alex Skolnick, Ron Keel, Randy Coven, E'nuff Z'nuff and Trixter.
Recorded at Becker's home studio in Chicago, Hot As Love is a fine example of blues guitar – and proof that a great album doesn't require tons of enhancement and electronic tweaking. This is Becker's second solo release, following 2006's Short Stories, and is proof that the blues are still alive and well in the Windy City. Becker really allows himself to show off on this CD, playing many instruments and laying down a number of tracks fully on his own, but he also plays well with others. His style is refreshingly old school, almost "slow hand," but he really can crank it up and lay down a speedy series of notes when needed.
Becker opens the CD with "Times Change," playing some hot dueling guitars with his uncle Joe Kelley (former lead guitarist of the '60s rock band Shadows Of Knight), and also playing keys. Drums were provided by Kenny Hopkins. "Hard Times" is a slow and moody piece written on the death of Billy Preston, with Becker playing guitars, bass and keys, and Jim Beyer playing drums. "Hot As Love" is a real heartfelt blues number with Becker and Beyer again, with Joe playing everything but the drums. Becker and Beyer do a great cover of The Chi-Lites classic "Oh Girl," with Becker playing a different guitar for what would be each vocalist – a really nice piece of work with some great engineering. "Who Do You Think You Are?" is an amazingly simple track that sums up the essence of Joe Becker's style – a very simply but catchy rhythm line with a delicate lead track that seems to dance nicely on top of it. On "Don't Look Back," Becker is joined by drummer John Paoli, and they put together a great big bass-driven Motown-style track with some interesting guitar leads and solo taps. Guitarist Todd Duaneprovides the leaping and spiraling solo for "Season In Hell," another heavy bass track. He tosses in another recognizable tune – a great cover of the Commodores' "Nightshift." Becker's old friend, Laroo Leathers follows with a great solo harmonica track, "Grape Jelly." Joe Kelley steps back in and plays along on "Gloria's Revenge," inspired by the Shadows Of Night hit "Gloria." Delbert McClinton gets covered on "Back To You (B-Movie Box Car Blues)," showing that Becker can play funky and heavy. The cover of Marmalade's "Reflections of My Life" shifts back into a mellow and light mode, while "TC-720" (yes, named after the old reel-to-reel tape recorder) is a great one track one take piece. "Venus and Mars" is a great bouncy blues number, while "You're All I Need" is a simple and catchy acoustic track. "I Learned The Blues" is a great wrap to the album. The vocalist in unnamed, but seems to have a true understanding of the genre along with a good sense of humor.
The production and engineering are a bit rough and inconsistent, but only in the positive sense. The simple and basic sound is perfect for the blues – 'nuff said.
Any fan of blues guitar will enjoy this release. Joe Becker has proven himself to be a gifted technical guitarist and a musician who plays from the heart. Like the mystery vocalist on the last track says, "you gotta feel it and live it to be it," and Hot As Love proves that Joe Becker is "it." This is a true modern blues album. Enjoy!
Label: Indie – www.joebeckermusic.com
Web: http://home.comcast.net/~jbdotcom/index.html , www.myspace.com/joebeckerdotcom
Track Listing:
01 – Times Change (featuring Joe Kelley)
02 – Hard Times
03 – Hot As Love
04 – Oh Girl
05 – Who Do You Think You Are?
06 – Don't Look Back
07 – Season In Hell (featuring Todd Duane)
08 – Nightshift
09 – Grape Jelly (featuring Laroo Leathers)
10 – Gloria's Revenge (featuring Joe Kelley)
11 – Back To You (B-Movie Box Car Blues)
12 – Reflections of My Life
13 – TC-270
14 – Venus and Mars
15 – You're All I Need
16 – I Learned The Blues
Hardrock Haven rating: 9/10