by Alissa Ordabai
Staff Writer
Talking to Hardrock Haven just a few weeks before the release of DevilDriver's brand new album Pray for Villains, the band's bassist Jon Miller does not hesitate to call this release their best record up to now. Apart from featuring singer Dez Fafara expanding his vocal technique, it also sees the band coming up with its best song writing to date – focused, sharp and more convincing than their preceding release The Last Kind Words could ever suggest. Metal press now calls it a true creative leap for a band that's been working relentlessly on perfecting its chops and sharpening its vision ever since its birth in 2002 from the ashes of Coal Chamber.
Two years spent since the last album have certainly seen DevilDriver grow not only in terms of drawing massive crowds at some of the biggest festivals in the world and getting onto the covers of major rock mags, but also widening their creative outlook and going beyond the straight-ahead groove-meets-thrash formula. Welcoming a chance to chat with Jon just a few hours before the band's set at Graspop Metal Meeting Festival in Belgium back in June, I start with asking him the first logical question that comes to mind in a backstage area of a summer festival.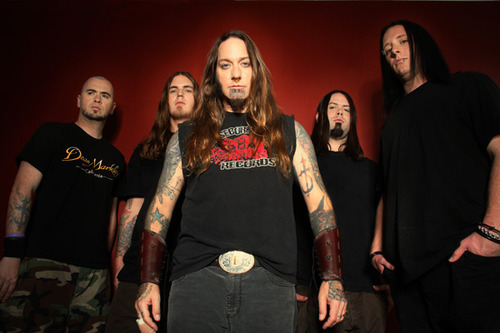 Hardrock Haven: Do you prefer to play indoors or outdoors?
Jon Miller: They are both cool. It's cool to do big open-air festivals. We just did Download, and it was the biggest crowd we've ever played for. It was like 70-75 thousand. So that was cool. But last night we played in Germany and it was a small 500-seater which we have sold out, and it was a sweat-box, and the kids were really close to us and that's cool too. I can't say I prefer one over the other.
HRH: OK, let me ask you this – do you have a favourite country to play in?
JM: I really like the Netherlands. [Smiles].
HRH: Do you?
JM: I like being in the Netherlands. I like Australia a lot. The UK is very receptive to DevilDriver. We just got the cover of Metal Hammer and that's out first cover we've ever got. They've just done a review of our new record, gave us 9 out of 10 and the cover. We got the main stage at Download, so I have to say the UK are treating us the best.
HRH: Are you showcasing much from the new album during this tour?
JM: Today we are just playing one song. The album is not even out yet.
HRH: It leaked, didn't it?
JM: Yeah, it leaked on YouTube and a couple of other sites, but then it got taken off YouTube. There is this woman in the United States who was sharing something like 24 downloaded files and she just got a 1.9 million dollar fine. So I think that's why it went up and went down so quickly. I think people are scared right now to be sharing files. The album did leak, but all the responses couldn't have been better.
HRH: What is your take on what's happening in the music industry right now?
JM: It's shitty. I think if this was 10 years ago, I'd have a lot more money in my pocket for what I'm doing.
HRH: And doing less touring probably?
JM: We like to tour, actually. But sometimes bands have to tour to make their money. That's the only way of getting income. You are not going to see a penny from the records. But things are much different now than they were 10 years ago. That means you have to work harder. Bands just have to adapt to the technology, and the internet, and downloading. I can sit here and cry about it, but the fact of the matter is that the world is changing. But yeah, things are worse for bands.
HRH: What's your take on the other side of the coin – things like MySpace where fans get to hear about a band through these new media?
JM: It's great. It's a great way to expose your band and get your music out there. So it's kind of a Catch-22.
HRH: Tell me about the imagery on the cover of your new record. This owl with horns – is this native American imagery or something else?
JM: It's used in a lot of different cultures. The owl is like a watcher. We've always used this cross…
HRH: … "of confusion".
JM: Yeah, "the Cross of Confusion", and this is our biggest record, so we kind of wanted to have this ominous, simple thing. You know, kind of like a Danzig album where there is a skull with horns? Something just very simple and recognizable. When you see that, you know it's Danzig, it doesn't have to say it's Danzig. We wanted for people to be able to identify DevilDriver with something beyond the Cross of Confusion.
HRH: Musically are you doing anything differently?
JM: Yeah, Dez's singing! There are clean vocal tracks mixed in with his… It's still heavy as fuck, but Dez [Fafara, singer] is really branching out and I think his vocals are a little more interesting. It's not just growling and screaming all the time.
HRH: How does your songwriting work – do you all work on stuff together or would you sometimes work on stuff separately and then bring it to the table?
JM: Everyone in the band plays guitar and writes songs on guitar. And after we write separately, we all meet in Los Angeles at Mike's house. Mike [Spreitzer, guitarist] has a recording studio. And we jam over the whole album exactly the way we think it's gonna be. We basically make the album twice. We make it at Mike's house and then we make a carbon copy of it in the studio with the producer. So that way all the things are already worked out and we can get in and out of the studio as quickly as possible instead of wasting time and money going into the studio with songs that are half-written. So we work hard when we are not touring.
HRH: Does it take you long to go from the initial snippet of an idea to the finished harmony and melody?
JM: Sometimes. Sometimes it's very quick and things just flow very naturally and beautifully. But sometimes you can be stuck with a song for months, and you are like: "Is this going to make the album? I don't really like it." So we'd give it to Dez and sometimes it turns out to be one of the better songs, once we give it to Dez and he puts vocals on it. There is a song on the new record called "Forgiveness is a Six Gun." I think it's one of the best songs on the record, but it almost didn't make it on the record. Or the other song called "It's in the Cards." That song we were very unsure about but I think it's one of the best songs on the record. So you never know. Because ultimately there has to be vocals. A song can be great musically, but if the vocals suck …
HRH: How long does it usually take you to take a step back and start listening to a new album objectively?
JM: I'd say once we get the final mix of your record, we step away from it for a couple of months. Then we'll come back to it and reflect. I think enough time has elapsed for me to start looking objectively on this record and I think it's our best record.
HRH: Do you ever listen back to a song you wrote or an instrumental part you contributed to and go: "Wow, I didn't know there was this aspect to my character!" Does your own music ever surprise you?
JM: Maybe if I smoke a joint or something… I don't really smoke weed that much, but once in a while I'd smoke with Dez (Dez smokes weed) and we'd listen to an album and go: "Wow, that's pretty sick!" [Laughs].
HRH: Gives you whole new perspective, doesn't it? [Laughs].
JM: Yeah, but everyone is so into all the riffs and what's happening, it really doesn't surprise us.
HRH: There is also a special edition of the new album which includes a DVD. Is this backstage footage?
JM: The special edition of Pray for Villains is going to have the two B-sides that didn't make the album, one B-side from The Last Kind Words which was our 3rd album, and then the Iron Maiden cover "Wasted Years." And it's also going to have a 45-minute DVD about making of the album in Hollywood.
HRH: Who were your heroes when you were growing up?
JM: Steve Harris, Cliff Burton, Alex Webster.
HRH: I have one last question and it's a bit goofy, I hope you don't mind. If you could have an answer to any question in the universe, what would you ask?
JM: Are dolphins really angels sent to earth? [Laughs].