Kelsey and the Chaos Shut Up and Deal
by Curt Hauff
Staff Writer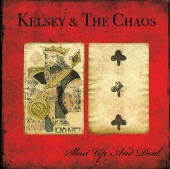 Kelsey and the Chaos may well be the next hot rising band. With Shut Up and Deal, the band goes all in with two aces in the hole, delivering a kick ass rock album.
Stylistically, the songs are decidedly jaded, dark love songs filled with passion and angst. From the opening feisty track "Against the Wall" to the final remake of Pat Benatar's "Heartbreaker", Kelsey delivers killer songs from the heart.
The musical accents and rhythmic style are similar to that of Paramore. Kelsey's voice doesn't sound unlike Hayley's either, adding to the strength of the comparison. There is a slight Pat Benatar influence throughout the album as well. "You Make Me Feel Alive" and "I Don't Need Anyone" are both tracks that bears the Benatar resemblance. If you listen to "You Can't Stop", you can easily imagine Vixen performing this killer track.
While love is the main theme, much like the female version of Boys Like Girls, the songs are far from ballads and traditional love songs. In fact "Where We Are" is the closest song to a ballad that the band offers.
"You're Not the First" is a departure from the rest of the album. Using the 808 style kick drum and a barrage of techno-style synth tracks, Kelsey and the Chaos create a colorful song that sounds like they spent the day with Eminem. It's as good as it is different.
It won't be long before Kelsey and the Chaos are selling out some respectable venues. With the release of Shut Up and Deal and a little support from radio and this band will be as well known as Paramore or Yellowcard.
Label: Tragic Hero Records
TRACK LISTING
1. Against the Wall
2. Wrapped Around Your Finger
3. You Make Me Feel Alive
4. You Can't Stop
5. Where We Are
6. You're Not the First
7. I Don't Need Anyone
8. Heartbreaker
HRH RATING: 8.5/10