Smile Empty Soul Consciousness
by Joe Mis
Staff Writer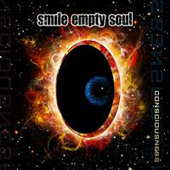 Consciousness is the latest release by the American post-grunge / alternative rockers Smile Empty Soul, and a very good release it is.
Founded as a trio way back in 1998, two of the original three members are still part of the project. Founding members Sean Danielsen (vocals, guitars) and Ryan Martin (bass) are joined by drummer Jake Kilmer, and the trio continues to build their own unique, more modern interpretation of the West Coast grunge sound. Take the best of Nirvana, clean up their engineering and tone down a little of Kurt Cobain's aggression, and bring in Linken Park's Chester Bennington to sing lead – that's as close to an apt description of SES's music as you are likely to find. After bouncing from label to label, it seems that they've found a well deserved home with EMI.
Consciousness is the band's third official release (they did have one album sit unreleased due to issues with an old label), and perhaps three is a lucky number for them. This trio manages to get a nice big guitar driven sound without sounding faked or overdubbed. Sean Danielsen is a very good singer and his vocal intensity matches the lyrical tone of the songs well. He can sing calmly and then reach down and really push without losing it – his range never exceeds his grasp, so to speak. He is also a solid guitar player, laying down some nice crunchy rhythm lines and some pleasant acoustic pieces. Ryan Martin and Jake Kilmer aren't slouches either. As well as being a very capable rhythm section, each shines when given the chance. A number of the tracks push the guitars into the background allowing either the bass or drums to carry the song (the incredible instrumental interlude "Atoll" is the prime example) – a true sign of a band that works as a team ego, and has the right chemistry to endure.
Lyrically the band follows the somewhat cynical tone of the grunge genre, focusing on the darker side of life, love and human nature – including a few choice shots at the financial industry ("Faker") and the Hollywood/L.A. lifestyle ("L.A. River"). The band does change tone a bit and wraps the album with a literal prayer for help and strength ("O'Lord"). The musicianship is consistently good and the vocal harmonies crafted by the band are fabulous – check out "Ban Nuys."
Smile Empty Soul mixes up their musical styles on Consciousness. Some of the tracks are hard-hitting and aggressive like "Faker" and "Walking Away". Others are a bit commercial sounding and would make great radio material ("Faceless", "Stay Alive"), and some are mellow and reflective ("Compromise" and "O'Lord"). No matter the tempo, the songs are well crafted and well executed, and the sound is always big and melodic. The fit and finish of this album makes these guys seem like a bunch of experienced old veterans, but no band member is out of his late 20s. They'll only improve with age.
The production and engineering are remarkably clean and unusually crisp for a grunge (or even a "post-grunge") style band – helping to set them apart from their predecessors. All the instruments are well balanced and the vocals understandable, and the band handles all styles and tempos well. No one aspect of Consciousness stands head-and-shoulders above the others, but the whole album is solid from start to finish.
Consciousness is a very good album, highly polished and a fine example of the post-grunge / alternative rock genre. It is a must-have for fans of the genre, and would be a great starting point for a old school grunge fan looking to expand their horizons without stretching too far. Smile Empty Soul wants to make music, and it shows. They should have a long and bright future.
Label: F.O.F. Label Group / EMI
Web: www.smileemptysoul.com
http://www.emi.com/page/emi/Discography_US/0,,12641~1038569,00.html
Track Listing:
01 – Faker
02 – We're Through
03 – Don't Ever Leave
04 – Compromise
05 – Faceless
06 – Stay Alive
07 – Walking Away
08 – Atoll
09 – Ban Nuys
10 – Alone With Nothing
11 – L.A. River
12 – Reflection
13 – O'Lord
HRH Rating: 8.5/10