Steve Morse Band Out Standing in Their Field
by John Kindred
Staff Writer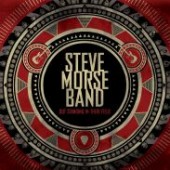 Taking a break from his regular gig as the guitarist for Deep Purple, Steve Morse returns with his latest studio release under his solo band moniker Steve Morse Band. Joining Morse on his musical adventures are bassist Dave LaRue and drummer Van Romaine. Together, they take us on a journey through various genres of rock, bits of classical, country, jazz and fusion.
A talent that excels within the context of several genres of music, it seems Morse knows no boundaries. He is quite comfortable merging his influences into the designs of any given song that he undertakes to write and record. Not necessarily a household name, Morse is well known and respected by his peers. Taking timeout for his personal endeavors, Morse along with his band mates, delivers fans his 12th solo studio album to date.
Out Standing in Their Field is an instrumental release of 10 new songs plus a live recording of "Rising Power." Morse struts, rocks and grooves. LaRue and Van Romaine provide the sound bed for Morse's guitar-driven jaunts. And at the same time, each has the freedom to shine as well.
Being proficient in different musical styles isn't the forte of most musicians. Yet Morse's skills are demonstrated as each song twists and turns from bluesy to country to shred. His technique is clean and crisp. His knowledge of music theory gives him a canvas to create entertaining arrangements that are fresh and unique.
Out Standing in Their Field is the perfect outlet for Morse to express his musical feelings. Instrumental rock fans will enjoy his latest studio album. The diversity of the music keeps the mind and ears alert in the ever-changing sonic landscape. A must-have release for Morse fans, you will be hard-pressed to find a guitarist as capable as Morse who. along with skill, also knows how to write a song.
Label: Eagle Records
Band:
Steve Morse (g)
Dave LaRue (b)
Van Romaine (d)
Track Listing:
1. Name Dropping
2. Brink Of The Edge
3. Here and Now and Then
4. Relentless Encroachment
5. John Deere Letter
6. More To The Point
7. Time Junction
8. Unnamed Source
9. Flight Of The Osprey
10. Baroque 'N Dreams
11.) Rising Power (Live)
Hardrock Haven rating: 8/10