The Company Band The Company Band
by Justin Gaines
Staff Writer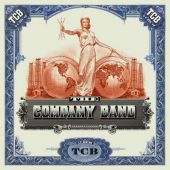 The Company Band is another side project of Clutch vocalist Neil Fallon, though it's a lot closer to the Clutch sound than the jazz/rock The Bakerton Group was. Fallon is joined by drummer Jess Margera (CKY), singer/guitarist Jim Rota (Fireball Ministry), and bassist Brad Davis (Fu Manchu) as well as guitarist Dave Bone, making The Company Band a stoner rock supergroup of sorts. The band's debut EP Sign Here, Here and Here was just a warm-up for this, their debut full-length release.
With producer/engineer Andrew Alekel (Foo Fighters, Queens of the Stone Age) at the helm, The Company Band serves up 10 completely heavy, completely rocking songs that are full of thick, Sabbath-inspired riffs, serious groove and an irreverent, tongue-in-cheek attitude. Songs like "Hot Topic Woman" and "Love Means Never Having To Say You're Ugly" tell you what kind of sense of humor these guys have, and it only makes this rocking album that much more fun. Fallon delivers a particularly impressive performance; his powerful voice serving as the perfect counterpoint to Rota and Bone's thundering guitar work and Davis and Margera's relentlessly heavy rhythms. He is particularly spellbinding on the album's sole slow number, the haunting "All's Well in Milton Keynes."
The Company Band is just a really solid, really heavy, groove-laden hard rock album with a sense of humor and a lot of personality. Clutch, Fireball Ministry, CKY, and/or Fu Manchu fans are the natural audience for this kind of music, as are fans of The Atomic Bitchwax, Monster Magnet, Brand New Sin, Them Crooked Vultures and just about any other rock band heavy enough to rattle bongs.
The bottom line: The Company Band rocks. Big time.
Label: Restricted
Track Listing:
1. Zombie Barricades
2. It's a Confusing World
3. Djinn and Pentatonic
4. Inline Six
5. Hot Topic Woman
6. All's Well in Milton Keynes
7. Who Else But Us?
8. CD&W
9. Love Means Never Having To Say You're Ugly
10. Lethe Waters
Lineup:
Neil Fallon – Vocals
Jess Margera – Drums
Jim Rota – Guitar/Vocals
Dave Bone – Guitar
Brad Davis – Bass
Online: www.thecoband.com
Hardrock Haven Rating: 7.5/10