Warfect Depicting the Macabre
by Trevor Portz
Staff Writer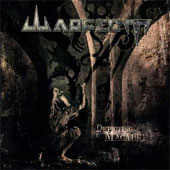 With what seems like millions of new bands trying to make their mark in the rapidly changing (though some would say dying) music industry, it's getting harder and harder for bands to stand out and make themselves known. Of course, as it's been said many times, everything in music has been done. The Ramones begat the Offspring; Helloween begat Dragonforce. It's just a matter of doing something louder, faster, bigger, or better than someone did before. So unless a band does something truly outstanding, or at the very least manages to mix things up in a fresh way, they can easily get lost in the crowd. Unfortunately, this seems to be the biggest bane to Swedish "Hellish Thrash Metal" gang Warfect, whose first full length CD, Depicting the Macabre, has just been released on Italy's My Kingdom Music.
On the surface, Warfect seem to have things pretty well in order. The members have created well-structured songs, are competent players, and have more than their share of new-band vigor. The problem comes from the general lack of creativity and inventiveness. Obviously drawing from many thrash and death metal greats ranging from Sepultura to Meshuggah, Warfect manage to do little more than rehash past ideas, never adding any of their own flavor.
The first six tracks on Depicting the Macabre are almost entirely interchangeable. They all follow the same basic pattern, with angry, Sepultura-esque vocals over the verses, and more melodic, clean singing during the choruses. This is certainly a popular trend in the metal world, but without any outstanding riffs, and with chorus melodies that are virtually indistinguishable, there is little left to warrant a repeat listen. They also fall into a current metal trap in which they rely more on riding their detuned E-string (or B-string—it's hard to tell anymore) than coming up with innovative, bone-shaking riffs. Songs become more monotonous than monstrous.
Now, despite its drawbacks, the album isn't without some high points. Lead guitarist/vocalist Frederik Wester is a fantastic soloist with an excellent ear for melody. His solos are reminiscent of James Murphy's work (particularly during his stint in Testament), and are chock full of note-perfect melodic runs and occasional double lead breaks. He never drifts into the old-school thrash habit of playing millions of notes that mean absolutely nothing, and if anything, his solos are the high points in the otherwise unmemorable landscape.
Two songs do serve to break the monotony of the rest of the album. "Never to Return," with it's layered acoustic guitars, Layne Staley-meets Chuck Billy vocals, and powerful melodic chorus recall such '90s staples as Metallica's "The Unforgiven," and would likely have had a chance at regular radio play had it been released 10 years ago. Following immediately after, "Harvest of Trinity" is a fast-paced, headbanging track that would surely be very effective in a live setting. It's hard to say if its placement after the "ballad" makes it seem more interesting though, as the final two album tracks seem more like a recap of the first six.
Time will tell if Warfect will ever make their way to the cold hearts of the metal masses, but without finding the X-factor that will define the "Warfect sound," it seems unlikely that they will be anymore than "just another" metal band.
Label: My Kingdom Music
Web: www.myspace.com/warfect
Band Lineup:
Fredrick Wester (lead guitar and vocals)
Håkan Karlsson (rhythm guitar and backing vocals)
Kristian Martinsson (bass and backing vocals)
Matthias Kern (drums)
Track Listing:
1. Creation
2. Heathen Reigns
3. Depicting the Macabre
4. Symbol of Submission
5. I Factor
6. Supervised Life
7. Never to Return
8. Harvest of Trinity
9. Truth Untold
10. Atrocity
Hardrock Haven rating: 5/10