by Derric Miller
Staff Writer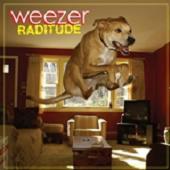 So, is it a badge of honor or a slap to the chops to be ridiculed by Daniel Tosh of Tosh.0 fame? Weezer probably doesn't care either way, but Tosh did pee in Weezer's punch when he quickly yet bluntly denounced their new album Raditude on his Comedy Central show. That aside, Weezer wasted no time in creating another studio release after 2008's successful by any account self-titled (or Red Album) effort. This time around, band brain Rivers Cuomo used strategery in co-writing with some of the industry's best pop songwriters, like Jermaine Dupri. What you get is probably the most mainstream Weezer album of all time … until their next one.
Thankfully, Jermaine wasn't the only cohort in the songwriting process. Butch Walker lent his skills to the opening track, "(If You're Wondering If I Want You To) I Want You To." This may be the duos' polysyllabic shout out to Cheap Trick — figure it out. Lament the fact that Walker doesn't get the notoriety he damn well deserves, this song is Pop Rock at its peak. You simply can't write a better opening song. While "Troublemaker" and "Pork and Beans" shined on the last release, "(If You're Wondering If I Want You To) I Want You To" picks up where those left off.
Up next is "I'm Your Daddy," a track written with Lucasz Gottwald, a dude known for penning some of Avril Lavigne's hits. The song is funny, remedially romantic, and catchy as hell.
The stadium anthem measurements go off the charts on "The Girl Got Hot," another song written with Butch Walker. This is the best song on Raditude, hands down. The story of the song is basically a girl the main character knew in junior high school grew up, and became immeasurably attractive, or, as Cuomo sings, "the thing I finally found with these other girls in town, she got hot, and they did not." Whenever the video comes out, they'll be all number one on MTV (if they still play music videos) and Fuse. It's almost criminal how effectively simple Weezer's music is. It's not supposed to be this easy.
"Can't Stop Partying" is a composition written with writer/producer/musician Jermaine Dupri. On the surface, it just feels like a bouncing, club-thumping drinking song. Weezer may be making a concerted effort to not just be the most popular Pop Rock in the world, but the biggest Pop band, which is a whole different animal. The rapping in the middle of the song will grate on those "Undone – The Sweater Song" or "Buddy Holly" fans from way back.
You get back to the expected on "Trippin' Down the Freeway," especially with the harmless normality of lyrics like, "You prefer to go to a volleyball game, I told you, that you couldn't be more lame." It's a song about trying/threatening to break up without actually doing so, because, hey, Lord Jim.
"Let It All Hang Out" opens with an '80s Hair Metal riff, and turns into a faux-remake of The Cars "My Best Friend's Girlfriend." Seriously, listen to the chord progressions and try not to think of Ric Ocasek.
Raditude doesn't really miss, except on the eminently annoying "look how different we can be" song "Love Is the Answer." It's obvious the collaborative efforts cut Raditude with a different swath than you've come to expect from Weezer, but 95 percent of it is still … rad. There's about eight hit songs on Raditude, if you round it down, and that's the real expectation every time Weezer releases new music. They should probably give a shout-out to The Cars, though …
Label: Interscope Records
Track listing:
1. (If You're Wondering If I Want You To) I Want You To
2. I'm Your Daddy
3. The Girl Got Hot
4. Can't Stop Partying (Polow version)
5. Put Me Back Together (Rich costy mix)
6. Trippin' Down The Freeway
7. Love Is The Answer
8. Let It All Hang Out
9. In The Mall
10. I Don't Want To Let You Go
HRH Rating: 7.8/10