Arbogast Certainties and Doubts
by Trevor Portz
Staff Writer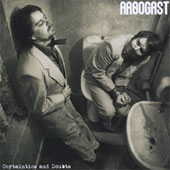 Sweden has produced a wide variety of quality musical acts that span decades and genres. From the Hall-of-Fame-worthy pop of Abba, to the American-inspired garage rock of the Hellacopters, and even the prog-infused black metal of Vintersorg, Sweden seems to have no shortage of musical luminaries. Perhaps it's because of the lack of daylight during Swedish winter, forcing everyone inside with nothing else to do but create. Whatever the reason, it certainly seems to be working, and relative newcomers Arbogast are no exception.
Arbogast's second full-length album, Certainties and Doubts, sees band leader Svante Widerström expand on previous efforts and futher refine the "Arbogast sound." But what is that sound? That is an interesting question, as there's not an obvious answer. The bulk of the material has a very '70s-throwback feel, but almost in an inspired-by-other-70s-throwback-bands way. Many songs call to mind Spacehog, both musically and vocally, though they lack a bit of the Freddie Mercury-like stylistic meanderings of Royston Langdon. Additionally, there is a preponderance of three-chord, punk-inspired backing music, though plucked and strummed rather than noisily expelled.
Humorously titled opening track "Robbed, Stripped and Glad About It" feels like a leftover from early Alice Cooper sessions, and would have worked well on Killer. Of course, Alice would doubtfully have veered away from some of the bizarre falsetto vocal stretches. This rocking song kicks the album off with a great amount of energy that the rest of the album, unfortunately, lacks. This is not to imply that the remainder is of lower quality, but after getting jolted with such a powerful track upfront, everything else seems a little lethargic.
For the most part, the rest of the songs on Certainties and Doubts could almost all fall under one description—fun and quirky. Gently strummed acoustics and pop melodies help to create an album of smile-bringing ditties. "Steal Me Some Luck" would almost fit well in a Macintosh commercial, though it's a bit less contrived than usual Mac-fare. "Psychomath" is a great piece of pop fun, reveling in its simplicity and insane catchiness. It's unlikely that anyone will be able to get it out their head after even one listen. "Bitacora Club" and "Applause to You" bring the initial energy back to a point, but end up as electrically dominated pop-rock nonetheless. Closing track, "The Cholera Song," with its upbeat synth melody, builds up to what feels like children's program theme music (though going by the title, it would be a pretty dark kid's show).
While Arbogast use the simplicity and laid-back attitude to their advantage most of the time, there are points where things do become a bit redundant. Many of the vocal melodies are almost identical, and as noted before, the energy level never quite reaches beyond a mellow cheeriness. A little more power and slightly increased tempos would surely bring extra life to the songs and create a more diverse album.
What is certain is that Arbogast have created a solid, pleasant album that would feel very comfortable (stylistically, if not alphabetically) between Cheap Trick and Jason Mraz—not quite as hard hitting as the first, but a bit less obvious than the second. Chock another one up to Swedish creativity.
Label: Self-released
Web: www.myspace.com/arbogastrockbov ; www.arbogast.se
Band Lineup:
Svante Widerström (vocals, guitars, keyboards)
Bolivar (bass)
Gunnar Hansson (drums)
Jonas Hjortstam (various solos)
Mats Lilja (background vox)
Fredrik Lillen Falkerstedt (guitar solo)
Jason Lewis (spoken)
Tracks:
1. Robbed, Stripped and Glad About It
2. Psychomath
3. Steal Me Some Luck
4. Once the Tip of the Spear
5. Stay Up and Talk to Me All Night
6. Bitacora Club
7. Applause to You
8. The Other You
9. Thinking 'Bout the Boss
10. Beckomberga 1944
11. The Cholera Song
Hardrock Haven rating 8.6/10