Asphalt Valentine Strip Rock Roll
by Trevor Portz
Staff Writer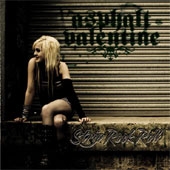 Being straightforward and simple in rock music often can be considered a shortcoming, especially to those critics who tend to think of rockers as the Neanderthals of music. And though this description probably does fit a number of bands both past and present, true rock fans know that while Meshuggah and Fates Warning are great when you feel the need to hear a band stretch their virtuosic muscles, play around with bizarre chord phrasings and dabble with odd time signatures, sometimes the greatest gift that the electric guitar has given us is that of the power chord and the simple, gut-level music that comes with it. Asphalt Valentine exemplify this notion, and do so superbly on their new album, the fittingly titled Strip Rock Roll.
There's not too much reason to detail the 10 tracks on this album individually, as the comments would be virtually the same for every track; they are super catchy, fun, up-tempo rock ditties with lyrics that are sleazy and basic, but also witty and smart enough not to be laughable. Each song is comfortable and familiar, but none sound like direct copies of anything else well known. Sure, "Don't Come Easy" closely mirrors the main riff of Kiss' "All American Man," and the intro to "Hard Life" fools listeners into thinking they're listening to Van Halen's "Everybody Wants Some!!" Elements of all of the best-of-the-best resonate throughout — Motley Crue, L.A. Guns, AC/DC — yet strangely, Asphalt Valentine manage to create their own identity, learning from their forefathers, but never directly stealing from them.
It should be noted that when dealing with "simple" rock and roll, it may be deduced that this somehow implies a lack of quality musicianship. That is certainly not the case here. Sure, there's nothing resembling "Bohemian Rhapsody" on Strip Rock Roll, but it's not just Gavin Rosdale-esque talentless crap either. What makes the "simplicity" work is that it is backed by actual skill. The music is simple because the members want it to be, not because they have no choice but to make it that way. And for that, the members of Asphalt Valentine should be commended. They've managed to create an album that lacks pomposity and arrogance, but still contains enough flash and integrity to keep it exciting and interesting.
With all this praise, it seems only fair to give a little criticism. Perhaps one of the biggest "areas of improvement" would be in the backing vocal department. Not to say that they are bad when used, but several choruses seem a bit thin and would be improved with a bit of harmonizing or possibly even some classic "gang" vocals. "Dirty Little Secret" is a perfect example of this, as it is a great song with "hit" potential, but the chorus ends up sounding a bit anticlimactic. "It's Not You" suffers a similar fate and could have done with a beefier background part.
In a similar vein, there are several instances, such as on opener "Never Lose It," where only one rhythm guitar is featured during solo breaks, leaving the backing track a bit weak. There's something to be said for keeping things real by only tracking what the band can do live, but sometimes a bit of guitar doubling can add the extra kick to really bring listeners to the floor.
Overall, Strip Rock Roll does exactly what it needs to. It gets feet tapping, heads banging, fists pounding and clothes disappearing. And isn't that what rock and roll's really all about?
Label: Chavis Records
Web: www.myspace.com/asphaltvalentine2
Band Lineup:
Stoopid "Joe" Flynt (vocals)
Brett "Beretta" Ciaramella (guitars)
Dallas James (guitars)
Scott "McGuyver" Clark (bass)
Scozzy Valentine (drums)
Tracks:
1. Never Lose It
2. Dirty Little Secret
3. It's Not Me
4. Hard Life
5. Love & Gone
6. Don't Come Easy
7. Be Your Drug
8. Strip Rock Roll
9. Down To The Aces
10. Bombshell
Hardrock Haven rating: 8.8/10