Cowboy Prostitutes Let Me Have Your Heart
by Derric Miller
Staff Writer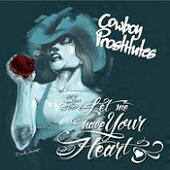 When Cowboy Prostitutes released Swingin' At the Fences in 2008, they immediately became one of the hardest to pigeonhole bands out there. Yeah, it was "Hard Rock," but it was also Metal, Punk, Blues, and probably a few other monikers tossed in for good measure. Now they are coming at you with their brand new third studio album called Let Me Have Your Heart, and if anything, they have gone even further to make their sound indescribable, unless "kick ass" covers it all.
"Outrageous" is the opener, a bare-knuckled brawler of a rock anthem. It's furious yet melodic, and infused with Punk attitude. The chorus, a scorching "Die die die, motherfucker you got to die!" is simplistic and memorable as hell. You've heard songs like this before, something Social D nailed seemingly hundreds of times, but it doesn't make "Outrageous" any less of a track. Especially on lines like, "I'm a loser, and a boozer, I could never have a car like you sir," you can hear their sense of humor along with their social commentary. With lead singer (and bassist) Luca's snarling but expert vocal style, it almost makes you want to just hit repeat and not worry about what the rest of the album has to offer. But that'd be a mistake, cuz it's all this good.
One band you can probably align Cowboy Prostitutes with is The Erotics. Both bands wield a serrated edge to their songwriting, but they are excessively catchy and radio-friendly once you get through the rawness. "If the Sky" is the perfect example of that description. You can hear their affinity for the '80s in this track, especially with the chorus. Guitarist LAO plays with a thick, fat style on this solo, almost bubbly (not neo-classical though) and smooth as Pabst Blue Ribbon beer. This is probably their "hit" song, should radio dare look outside the corporate status quo.
The riff on "Make Things Right" seems to glide back to the Classic Rock of the '70s. Cowboy Prostitutes likes to write about booze and girls, and typically both in the same song, but "Make Things Right" is more about perseverance. The telling line is "I'm still like 15 years old, playing guitar laying on my bed, this is like a curse and it will last forever!" It's being stricken with the curse of Rock N Roll and never saying "die." Lyrically, the band has improved and become more introspective without losing any of their edge. Smart lyrics just make a good song great, in other words.
"Save Our Cities" is sort of a slap in the teeth to conservationists, especially when you hear, "Saving trees is so exciting; and I thank you for the lovely gesture." In a couple words, NOT politically-correct. If you thought some of the other lyrics were dark, try on the chorus, as Luca sings, "Save our cities and the true romancers, save us all a place where we can slowly die." It's not all fun-and-games in the Cowboy Prostitutes' camp any more, kids. If you want to deconstruct it a bit, though, maybe they are saying mankind needs to learn to live with itself in global peace before we start worrying about inanimate objects like trees—that man versus man will be the real death for all of us. Nah, it's just Rock N Roll, not existential philosophy, right!
After getting your head around "Save Our Cities," you will welcome the uncomplicated "Up Yours!" This track features the biggest stadium anthem chorus on the release, especially at the end with "Well you can laugh some more, but I won't BE YOUR TOY!" Luca's voice soars on the ending here, with a wicked solo from LAO, and this one is as solid as "Outrageous."
Sometimes "mature" can be a slap in the face to a band, but there no doubt Cowboy Prostitutes has "matured" from one album to the next. On the last song, "Finale," you can't help but feel uplifted by the lyrics, "In this moment I found the reason why I have never had a doubt in my mind." This is an EVERYMAN song, for everyone who has ever doubted you in your walk through life, and how you found the resolve to keep going no matter what happens around you. The rhythm section here, from drummer Jonas Lewin and Luca, thumps the point across again and again. If you dig gang vocals, this chorus will be your best friend.
Let Me Have Your Heart is just another surprising release from another band from Sweden (go figure, ain't all the great new bands from Sweden?) Just because you haven't heard of a band doesn't have anything to do with the quality of their music—it just means you need to listen to more music. That being said, if you are going to open up your musical landscape and try something new, start with Cowboy Prostitutes.
Label: Sunny Bastards
Online: www.myspace.com/cowboyprostitutes  
Track listing:
1. Outrageous
2. Nail That Pretty
3. If the Sky
4. Through the Streets
5. Girls Like You
6. Make Things Right
7. Waitin' Around
8. Save Our Cities
9. What Shall I Do?
10. Up Yours!
11. Finale
HRH Rating: 8.3/10