Genitorturers Blackheart Revolution
by Joe Mis
Staff Writer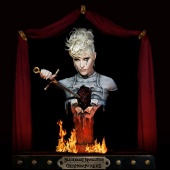 If you like your metal dark, twisted and just a little bit sick, you'll enjoy Blackheart Revolution, the latest from the Genitorturers. These veteran rockers have built up a small but loyal cult following over the past 10 years, and if you have any interest at all in industrial dark metal but haven't sampled it, Blackheart Revolution is a great starting point. If you are already a fan, you won't be disappointed.
Genitorturers music spans multiple genres – everything from industrial underground metal to electro-pop to punk to hardcore to straight-up hard rock seems to get mashed together and squeezed into a relatively unique sound that at time delights, and at other times offends. Think Joan Jett meets Nine Inch Nails, then toss in some porn and you have a truly raunchy and raucous experience. Despite the band's obvious desire to provide some shock value, they don't need to rely on it, as they are very good underneath it all.
Musically, the Genitorturers are very solid players. Lead vocalist Gen has a number of voices, ranging from sweet and innocent to gritty and ballsy. She can sing and she can scream and tailors her voice appropriately to the tone of the music. David "Evil D" Vincent provides the bass for the band. He pushes out a very aggressive bass line through most tracks, mixing up the tempo changes and patterns without missing a beat, and even plays a full upright bass on one of the tracks. Bizz gets credits on guitar, and while he is a good and aggressive player capable of laying down some great riffs, the music is mostly driven by the the rhythm section. Three players are credited as drummers – Angel, Joe Letz, and Mark Prator, although Angel will be the touring drummer.
The CD opens with "Revolution," a gritty driving song with a kicky bass and aggressive drumming and an overall "industrial" sound. "Kabangin' All Night" is the quintessential raunch-rock party song and is moved almost totally by the bass and drums, but features a great guitar solo by Bizz. "Devil In A Bottle" is a heavy blues rock with Gen doing her best Joan Jett impression. This one is a real air drummer's delight. "Louder" is a pounding tribute to rock, and the best way to play it – and has a simple catchy chorus that will easily have you singing along. The middle track, "Falling Stars," is one of the highlights of the CD. It is a much lower-energy song but is close to rock-perfect – great lyrics, great vocals, a solid rhythm line and great muscianship from all. This track would be extremely radio friendly – and might be a bona fide hit if it was marketed right. "Take It" brings back the raunchy industrial theme, and is NOT radio friendly, while "Confessions Of A Blackheart" is a dark and almost techno-creepy with a dash of extra-spooky vocals thrown in. "Cum Junkie" – guess the theme of this one – is a musically solid track done with an almost house/dance beat, and it is all about the rhythm. This track would be Top 40 material but for the explicit lyrics. "Vampire Lover" has a great rolling bass line and fantastic vocals with a somewhat moody "electronica" feel. "Tell Me" wraps the disc is a very straight-up hard rock manner, and is one of the few tracks that is guitar driven.
The production and engineering are very good, with co-production credits going to Scott Humphrey (Motley Crue, Rob Zombie, Ozzy Osbourne) and bassist David Vincent. They've hit the musical sweet spots on every track no matter the genre. The Genitortures have received a bunch of well-deserved publicity, appearing on everything from video game soundtracks to Playboy TV.
All in all, Blackheart Revolution is a very diverse and solid recording. The band is good and the music is fun. Most of the tracks are aggressive but remain melodic no matter what the style of song. If you don't mind your music a little raunchy and appreciate the underground sound, grab this one (just don't play it in front of the kids).
Label: G-Force/MVD Entertainment
Web: http://www.myspace.com/genitorturers, http://www.genitorturers.com/home.html
Track Listing:
01. Revolution
02. Kabangin' All Night
03. Devil In a Bottle
04. Louder
05. Falling Stars
06. Take It
07. Confessions of a Blackheart
08. Cum Junkie
09. Vampire Lover
10. Tell Me
Hardrock Haven rating: 9/10