December 10th, 2009 at the Sprint Center in Kansas City, MO.
by John Kindred
Staff Writer
On a cold winters night the KISS Army invaded Kansas City. Thankfully the invasion wasn't for another "tribute band" or a convention but to see the mighty KISS circus in its entire splendor.
With a career the spans four decades the self proclaimed "hottest band in the world" carry the torch of angst for the youth rebelling against tradition. This "youth" now spans through several generations of fans who joined the "army" in the '70s, '80s, '90s and are still signing up today. Youth can be timeless as you can be young at heart forever if you never let them break your spirit.
Entering into their forth decade as the traveling rock n' roll Cirque du Soleil. Can't make the comparison? Ya right. Then you don't get what KISS brings to the table each and every night they perform before their legion of fans.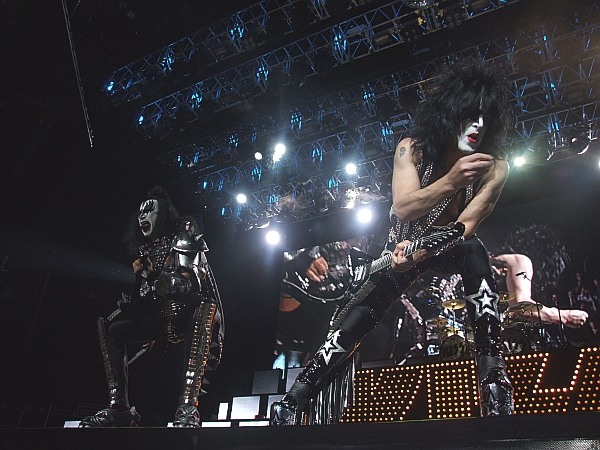 Pyrotechnics, furious decibels of sound, spectacular lighting production, incredible video presentations and a mammoth video screen are the center piece to the audio and visual assault on your mind. And all this would be pointless without the music. KISS again rewards their fans with songs that don't languish on political or socials themes, but instead delivers the party-rock-vibe of sexual innuendo laced fist pumping rock anthems.
In this age of the "internet" even YouTube videos can't capture the magic of the "live" setting. Even if the script of the show follows a familiar theme, those newly indoctrinated would not know this, the energy and spectacle of it all ultimately strikes you with a sensation of awe.
What bands these days perform for over 2 hours? What band has the catalog of music to even come close? Truly only those with a legacy built on the foundations of the '70s. And of those bands few are still young enough at heart and physically healthy enough to tour. Only one of them can bring such a visual exhibition that gives fans a true rock n' roll show.
The KISS Alive/35 Tour celebrates the release of the bands first live album Alive!, as well as promotes the release of their latest studio album Sonic Boom. KISS is a band that set the bar for the most spectacular, bombastic live concert you are ever going to see. Not many can follow in their footsteps.
KISS Set List:
Deuce
Strutter
Let Me Go Rock n Roll
Hotter Than Hell
Shock Me
Dr Love
Modern Day Delilah
Cold Gin
Guitar solo
Parasite
Say Yeah
100,000 Years
Drum solo
Gene bass interlude
I Love It Loud
Black Diamonds
Rock n' Roll All Night
Encore:
Shout It Out Loud
Lick It Up
Love Gun
Detroit Rock City
KISS Photo Gallery
Photos by Kathy Kindred
KISS Video Gallery
Videos provided by Gary Dean Ash