by Joe Mis
Staff Writer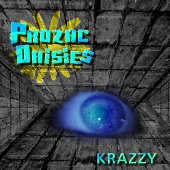 Despite a cheesy looking cover, and odd name and a penchant for strange spelling, Krazzy – the five track debut EP from the Prozac Daisies – is an exceptionally good effort.
The music of the Prozac Daisies is difficult to classify since the band had done what every band should do when trying to land a real record deal – they've mixed up their styles to display their musical versatility and songwriting talents, doing everything from a heavy rocker to a dodgy cover tune. The band is not your conventional five-piece rock band, as along with the required guitars/bass/drums they have a cello.
Guitarist / vocalist Vinnie D. founded the band with bassist Rocco Rado, both Chicago natives. They've added Patrick Christie (guitar), Michelle Tess Oberlin (cello) and Jeff Duckett (drums) to round out the lineup. Each of the Daisies is very talented, and none dominate the sound. One might expect the cello to be a huge attention grabber, but Oberlin is a very good player and the band treats the instrument as if it was nothing unusual. The cello is not used as a gimmick, rather it blends in as one might expect from keyboards or additional guitar. Vinnie has a good voice for classic rock – deep and resonant, and plays a solid guitar. He teams very well with second guitarist Patrick Christie and they make a formidable pair who can handle almost any style of rock. The bottom end provided by heavy-stick drummer Duckett and bassist Rado is nicely reinforced by Oberlin's cello. Duckett and Rado work well together and seem to be the happiest when they are playing their hardest.
The CD opens with a heavy, pounding cover of Tommy Tutone's "867-5309 / Jenny". They've dropped the speed on this track, and the lower key and cello give it an almost dark and spooky tone rather than the original's "happy rock" feeling. The guitar break is very "metal", and they've added extra heaviness in the chorus. This is NOT the same song – the band took a "classic" and gave it their own twist – a lesson any other band recording a cover tune should learn.
"Khalifornia" opens with a classical cello line that fades into a pounding rhythm line, and then into a fairly standard hard rock tune with a really catchy chorus. "Don't Give Up On Me" is almost a ballad, and features some nice acoustic guitar work and a smooth cello line that floats over the rest of the music, and really solid vocals and lyrics.
"Superstitions" opens with a very upbeat and driving bass/drum line that carries the song until the good gang vocals take over, and then settles into an almost funk/punk beat. "Krazzy" opens with an alternative rock sound, and that tone carries across and is very reminiscent of King's X.
The production and engineering are very good, emphasizing the unique aspects of the cello without shoving it in your face. The musical balance is consistently good across all the styles, and the crisp engineering allows the raw talent of the band to be heard. The musicianship is top notch, and the songs are well structured musically and lyrically.
Krazzy is a fine debut EP by a very solid and creative band with a unique sound, and a fine example of American indie rock. While the EP would have been stronger with a fifth original song, the Daisies' retooling of "867-5309" shows that the band has no intention of being a "conventional" group, and is willing to take some chances by messing with a "classic". Highly recommended!
Label: Out Of The Box Records
Track Listing:
1 – 867-5309 / Jenny
2 – Khalifornia
3 – Don't Give Up On Me
4 – Superstitions
5 – Krazzy
HRH Rating: 8.5/10