by Trevor Portz
Staff Writer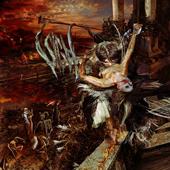 For those uninitiated, the Sigh story goes all the way back to early '90s Tokyo, where band leader Mirai Kawashima put together the initial lineup of what would become one of black metal's most unique and long-lasting acts. An early milestone came in 1993 in the form of their first full-length being released on the infamous Deathlike Silence label, founded by none other than slain Norwegian anti-hero Euronymous. Traditionally reserved almost exclusively for his Norse kinsmen, this was a breakthrough not only for the genre, but also for the Japanese black metal scene. Through the years, Sigh have undergone a number of changes, both in terms of personnel and music, dabbling in everything from straight-ahead black metal, to jazz, to avant garde experimentation. With 2010's Scenes From Hell, we see the band taking all of the elements they've touched on in the past and blending them into a very unique extreme metal miasma.
The eight tracks that make up Scenes From Hell present an interesting emotional convergence. On one side is the standard black metal fare — high-pitched screaming vocals (delivered spectacularly by female vocalist Dr. Mikannibal), trem-picked grim guitars, and lyrical content dealing with Hell, death and war. The other side, though, is embodied by Sigh's unique use of horns, woodwinds, keys and strings. Instead of following a similarly disharmonic, discordant, and generally dark musical course, the passages utilizing this diverse (by metal standards) instrumentation tend to be almost enlightening and positive, creating a very unique musical paradox.
Though most songs feature this strange clash of styles, a few stand out as particularly obvious illustrations. Opening track "Prelude to the Oracle" kicks things off with a bang, but boasts an oddly Mariachi-inspired horn passage. "L'art de Mourir" follows immediately after, though this time, the horns take on more of a carnival-esque feel. For a song that translates to "The Art of Dying," it seems a very unlikely juxtaposition. Closing title track "Scenes From Hell" echoes this by coming off as a very musically upbeat song with very dark (obviously) lyrics.
While the above represent examples of rather bizarre stylistic pairings, there are many places in which the genre-bending mix works exceptionally. Of particular note, the spoken word over piano intro to "The Red Funeral" is incredibly haunting, and the use of violins later in the track create a Halloween-like atmosphere.
Unfortunately, while Sigh may be unique in the ever-growing black metal kingdom, in and of themselves, they tend to become a bit repetitive. After a few songs, the underlying guitar and drums riffs become almost indistinguishably similar and feature very few memorable melodies/patterns. Weirdly, even the avant-garde diversions seem to suffer the same fate, as the songs tend to feature the same mix of horns and strings over generic black metal riffing.
The other biggest drawback to Scenes From Hell comes from the lackluster production. The drums are flat, the instruments muffled and over-compressed, and even with all of its ebbs, flows, and varied instrumentation, there still seems to be a lack of dynamic range that would have added to the cinematic quality that the band seems to strive for. But perhaps the less-than-stellar recording values were done to add to the overall grim vibe of the album, following the footsteps of early Darkthrone, among others. But if history has taught us anything, everything can be improved upon. And though purists will disagree, later Darkthrone albums, along with works by similar acts such as Khold, have retained their innate grimness in spite of slick production. It would be nice for Sigh to give it a chance next time around.
Criticism aside, however, Sigh are a recognized name in extreme metal for good reason. They follow no one, instead blazing their own path of blackened fusion. And the hordes that have worshiped them from the beginning will no doubt proclaim this yet another piece of fine, black metal art.
Label: The End Records
Web: http://www.myspace.com/sighjapan; www.sighjapan.com
Band Lineup:
Mirai Kawasima (vocals, orchestrations, piano)
Dr. Mikannibal (vocals, saxophone)
Satoshi Fujinami (bass)
Shinichi Ishikawa (guitar)
Junichi Harashima (drums)
Track Listing:
1. Prelude to the Oracle
2. L'art de Mourir
3. The Soul Grave
4. The Red Funeral
5. The Summer Funeral
6. Musica in Tempora Belli
7. Vanitas
8. Scenes from Hell
Hardrock Haven rating: 6.4/10