Slayer World Painted Blood
by Derric Miller
Staff Writer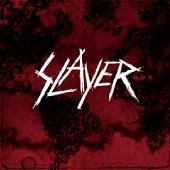 World Painted Blood. Why not? Slayer has always used hyperbole to the Nth degree in album and song titles, and the new Slayer album aptly titled World Painted Blood continues that psychotic legacy. Less Satanic than God Hates Us All and Christ Illusion, Slayer seems to have somehow rekindled their love for violence-themed Speed/Thrash Metal, often tinged with Punk, to create a newly energized sound on World Painted Blood.
Not one to beat around the bush, the album's title track is up first. "World Painted Blood" is another Slayer song that is both technically adept, especially with Dave Lombardo's drumming, yet wildly chaotic, thanks to the snarling guitar solos from Hanneman and King. As always, Tommy Araya's vile vocals stand above the entire genre as his spite and venom mix with articulation and quasi-hidden melody. In other words, "World Painted Blood" is awesome …
For sheer speed, "Snuff" is immense. The opening guitar solo bleeds violence, and Lombardo proves once again why drummers compare themselves to him in this arena. "Is he as good as Lombardo?" No, whoever he is, he's not. Just check out the drumming during the raging guitar solos and try to keep up. When Araya starts screaming, "Killing is my future, murder is my future!" your blood will boil.
It's not always about speed, though. When you get to "Beauty Through Order," which begins at a bit more mid-tempo pace, you'll be reminded of masterpieces like "Dead Skin Mask." Araya, although he might not want to admit it, can hit all the notes and owns various subtleties to his vocal style that make him multi-faceted as a singer, even if most of the time he's merely yelling on-key. Plus, hearing "God did not do this!" is almost as rabid as him singing "Dance with the dead in my dreams!"
"Psychopathy Red" is one of the heaviest and fastest songs on World Painted Blood, with jarring breakdowns between the verses that feature drum and bass solos. As with most Slayer guitar solos, the notes scream and shriek instead of just "sound." The few stark tempo changes and vocal onslaught should make any classic Slayer fan drool.
Their first single is "Playing With Dolls," and in a lot of ways, it sounds like Danzig at first. Araya completely removes the edge from his voice during the first couple verses, but quickly goes back to a more guttural style during the chorus, yelling "Die in front of me!" This is the track that proves Slayer is no one-trick-pony, and although they can be counted besides the heaviest bands in the world, they can also write a Heavy Metal song outside the Thrash genre. For a multitude of fans, this will probably be their favorite new Slayer song, because it has everything you'd want in a Metal anthem.
"Not of This God," the closing track, sounds like it could be off of Reign in Blood. It doesn't sound dated, but it's vehemently heavy like "Jesus Saves," albeit more technical. "You call him the Messiah, I see a reckless fraction based on mental slavery!" They've come a long way since "Jesus saves, listen to you pray …"
As long as Araya, Hanneman, King and Lombardo keep making music as Slayer, they will be the force to be reckoned with in the genre. The word is they'll be touring with Anthrax, Megadeth and Metallica as the "Big Four," but who is really everyone coming to see? With Metallica living off their past success and Anthrax switching singers back and forth, only Megadeth is close to as relevant as Slayer. But they don't play the same style of music as Slayer, and their following just isn't as loyal. World Painted Blood is proof that Slayer is the "Big One," and the rest can follow.
Label: Sony
Online: www.slayer.net
Track listing:
1. World Painted Blood
2. Unit 731
3. Snuff
4. Beauty Through Order
5. Hate Worldwide
6. Public Display Of Dismemberment
7. Human Strain
8. Americon
9. Psychopathy Red
10. Playing With Dolls
11. Not Of This God
HRH Rating: 8.6/10