The Eppard Brothers Live!
September 14th, 2009 at Backstage Studio Productions in Kingston, NY.
by Joe Mis
Staff Writer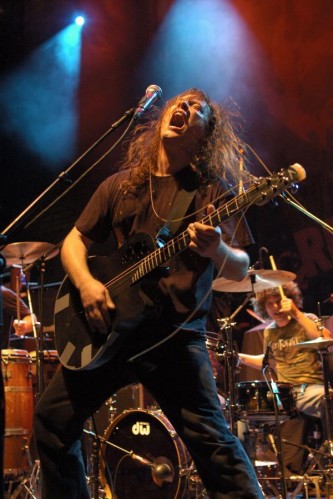 To the fullest extent of the cliché, it was a dark and stormy night in upstate New York on Sept. 14, 2009. The weather kept the crowds down, and that may have been the best thing. There is no better way to enjoy a live club show than with a peaceful, small (but appreciative) crowd. In the beautiful lounge of Backstage Studio Productions in Kingston, the handful of fans were treated to a fabulous doubleheader of progressive music – Elysium Theory from the prog metal side, and the Eppard Brothers from the prog rock side. While neither act is a household name (yet) even among the rock faithful, both were tight and professional, and both sets were enthusiastic and well done.
Elysium Theory is a local upstate New York act on the verge of releasing their first CD, so for the moment, they are still unknown outside of the Hudson Valley, but they have a bright future ahead. The Eppard Brothers, on the other hand, may be better-known performers – Joey Eppard is the guitar virtuoso, vocalist and driving force behind the prog rock band 3, and brother Josh is the former drummer for 3 and Coheed & Cambria, and currently of Weerd Science as well as the Eppard Brothers.
Elysium Theory kicked off the show with a 10-song set. Most, if not all of the songs performed will be on their debut CD (tentatively titled Modern Alchemy) due for an early 2010 release. If there is such a thing as "blue-collar" progressive metal, this five-piece band is the epitome. Formed in 2006, Elysium Theory is not a bunch of kids, and it is obvious from their technical skills that they've been playing their chosen instruments for a while. All well established in other careers, the members of the band got together and seem to stay together because of their love of music and performing. Influenced by Dream Theater, Pink Floyd and Porcupine Tree, Elysium Theory blends elements from each into a cohesive and well-structured whole without being a "sound-alike" or copy band.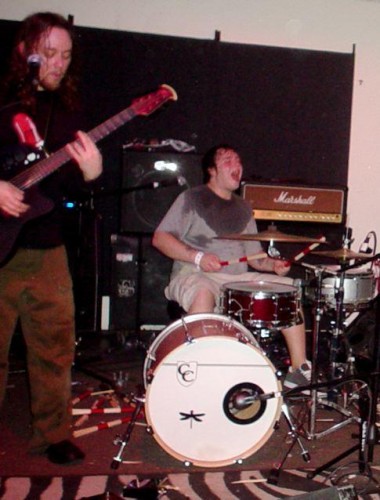 Dan Peterson sings lead, and has a solid range and good stage presence. His voice does remind one of Dream Theater's James LaBrie tuned down a few steps – which works well with their music. Tim Reid (guitar) and Benny Reyes (keyboards) are both fine players, and both know how to take the lead and when to fade into the background as the music dictates. Ted Feeney (drums) and Jeff Fister (bass) make a great bottom end, and both get their chances to show off and have turn driving the music.
Elysium Theory's songs are put together well and musically solid. Toss in some metaphysical lyrics, and you have a new band that is ready to take the next step. Highlights of their set were "Modern Alchemy," "Blacklight Reflection," "Chaos" and "The Source." The only negative of their performance was probably due to the acoustics in such a small place – at times, it was difficult to clearly hear the vocals over the rest of the band. All in all, this was a great set by a band that with just a little more experience will be ready to dance with the big guys.
Prog Metal fans – check 'em out at: http://www.myspace.com/elysiumtheory
The Eppard Brothers took the stage and began a totally improvised set of music. Based in Woodstock, Joey Eppard and his brother Josh have been making music together and apart for a number of years. Founding members of 3, they've played with some of the biggest names in modern rock – everyone from Coheed & Cambria to Scorpions. 3 has always been a unique band, and in their own wordsk, they are "known as a band apart: Dark yet uplifting, spiritual without connection to religion…" Their music is difficult to describe; blues-based progressive rock maybe. For this gig, Josh and Joey were joined by longtime 3 bassist Daniel Grimsland.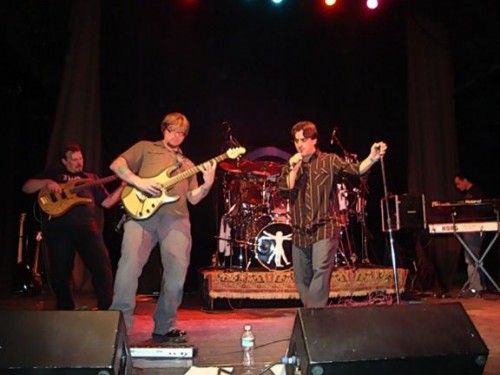 The Eppard Brothers put on a great show. Joey's voice was in top form – and something very special happens when this man picks up a guitar. He moved from acoustic to electric and back during the course of the show and used his very unique fingerpicking style throughout. His intensity, as usual, was scary – he gets into a "zone" in much the same way as does a pro athlete at the top of their game. Joey plays with the same focus whether he's in front of thousands at a festival, hundreds at a theater or dozens at a club. Josh played killer drums, and gets an amazing amount of sounds from and extremely small kit – a bass drum, one snare, one tom, a single cymbal and a hi-hat. He plays with incredible enthusiasm, and you can't help but wonder how he simply does not knock over his gear. Daniel Grimsland brought his five-stirng bass, sense of humor and backing voice, and gave the trio some great bottom end.
The Eppard Brother's set was unrehearsed, so they spent a good deal of time interacting with the crowd, taking requests, and having a good time in general. Thus the set was a varied one. They went back to some early stuff and played a good deal of 3's music without missing a beat. Once they decided on a song, they played it at 100 percent and put on a fabulous show. Highlights were "In America," "Paint By Number," "Broadway Alien" and "Lay Down The Law." Joey wrapped the show with his trademark guitar solo "Bramfatura" – an unbelievably complex piece that will astonish anyone who's ever picked up the instrument (check it out on YouTube – search for JOEY EPPARD BRAMFATURA).
Find out more about Joey Eppard and 3 at http://www.theband3.com or http://www.myspace.com/officialbandthree
The refreshing part of this whole show was the intimacy of the club. Both bands were there not to sell merchandise or promote themselves, but to make music for their hometown friends and families. The Eppards were hanging out in the crowd during ET's set, and the guys from ET did likewise while the Eppards were on – a great show of mutual respect and support. If you have the opportunity to catch either of these bands live, you will not be disappointed.