Witches Mark A Grim Apparition
by Justin Gaines
Staff Writer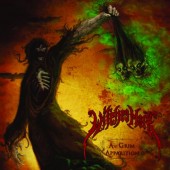 A Grim Apparition is the debut EP from Texas metallers Witches Mark, one of the more promising new bands of the traditional metal revival that's been emerging in recent years. The band, which features members of Of the Fallen, Panzergod, Hammerwhore and Reverend, is poised to pick up the torch from classic metal bands like Omen, Liege Lord and Helstar.
Beneath the gorgeously grim cover artwork (this artist needs to be doing Iced Earth covers), A Grim Apparition offers four new compositions as well as a few surprises. It's easy to slot Witches Mark in the traditional metal genre, but their sound also draws heavily on power, thrash and doom metal. There are even moments (especially on "Salem's Fire" and "Ethereal") where the melodic thrashing riffs sound like they could have come from an early Swedish melodic death metal album (like Arch Enemy circa Black Earth). These lightning riffs are paired with thundering rhythms to great effect, especially when Michael Lance's powerful vocals are added to the mix. You can see why he was chosen to replace the late David Wayne in Reverend. Unfortunately, the vocals seem buried under the sheer weight of the guitars and aren't always clear, which is the EP's only real flaw.
If the first four songs weren't impressive enough, A Grim Apparition also features a trio of bonus tracks. The first is a demo version of the title track. This is an interesting addition, but probably isn't anything you'll need to hear more than once. It is followed by a pair of "hidden" cover songs. The first is the band's take on the classic Candlemass song "Solitude," delivered with the requisite amount of doom and gloom. The second is a version of the lesser-known Angel Witch track "Something Wrong," which totally fits the band's sound. There is also an MP3 label sampler included on the CD, which is a nice touch.
Fans of the new breed of traditional metal bands (think Wolf, Pharaoh, Icarus Witch, Widow, et al) should absolutely check out A Grim Apparition. There's just this great aura of grim heaviness, power and drama that few bands of this generation seem to understand. It's the kind of mentality and earnest devotion to the music that made the classic Metal Massacre-era bands strap on their spiked gauntlets and slay their metaphoric (and some not-so-metaphoric) dragons while the L.A. party rockers were primping in front of the mirror. It's just so damned … metal. Needless to say, A Grim Apparition definitely whets the appetite for a full-length Witches Mark album, which hopefully will not be too long in coming.
Online: www.myspace.com/witchesmark
Lineup:
Michael Lance – Vocals
Robert Williams – Guitar
Robb Bockman – Guitar
Andy Gonzalez – Bass
Sandra Torres – Keyboards
Yevgeniy Dankovjucovic – Drums
Track Listing:
1. Salem's Fire
2. Cauldron-Born
3. Ethereal
4. A Grim Apparition
5. A Grim Apparition (demo version)
6. Solitude (hidden bonus track, Candlemass cover)
7. Something Wrong (hidden bonus track, Angel Witch cover)
Hardrock Haven rating: 8/10