by Deb Rao
Staff Writer
Nashville rock band RED are getting ready to embark on the Nothing And Everything Tour that kicks off on January 14. RED has been nominated for Best Rock Gospel Album of the year with Innocence And Instinct at the upcoming Grammy Awards slated to take place on January 31.
Guitarist Anthony Armstrong of RED has checked in with Hardrock Haven to discuss the upcoming tour and Red Grammy Nomination of Innocence and Instinct.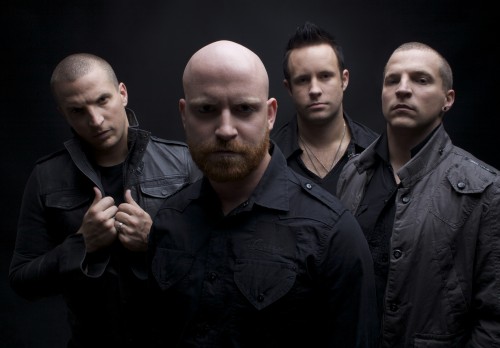 HRH: Anthony, Thank you for checking in with Hardrock Haven. Congratulations on your upcoming Grammy Nomination for Innocence and Instinct; the Grammys take place on Jan. 31. What category is the Grammy Nomination under?
ANTHONY: Thank you. Best Rock Gospel album of the year.
HRH: Would you consider a Christian band?
ANTHONY: A lot of people ask us that. It is kind of easy for us to say yes. We are four Christian guys. We are just music makers at the end of the day. We are just a band but we are definitely a band of believers. Those are things that we have taken to heart and absorbed in our eyes for our music.
HRH: It is good to hear a positive message in music these days. There is so much evil in the world and being reflected in music these days.
ANTHONY: We talk about those evil things in a way that relates to people and how people relate to those evil things. That is what is really cool about it.
HRH: Will you be attending the Grammy Awards this year? I know this is your second Grammy Nomination. How exciting is this?
ANTHONY: Yes, we will be attending. Actually, we will be on tour. We start on Jan. 14 on the "Nothing and Everything Tour." So we will be out in that direction. We are playing in Phoenix, Ariz. the night before. So we will take the nine-hour drive into Los Angeles. We will definitely be there to walk the Red Carpet.
HRH: As an artist, what does it mean to you to have this nomination? It must be a great feeling.
ANTHONY: It is. It is kind of crazy because there are just so many things about the Grammy Awards that a lot of people don't know about. Having experienced it once before, now we are going into it not intimidated. The first time we are like, we are just this young band that has only had a record out for six months. Then we are walking the Red Carpet and seeing the Black Eyed Peas and all these huge bands. We are just like wow do we belong here? We had people at our label saying you guys earned this. You will enjoy it as just much as anybody else. Just being nominated is an Honor on its own. This year we will be there again and hopefully win.
HRH: Now let's discuss the new album Innocence and Instinct. Tell us about the writing process for the CD.
ANTHONY: As far as the writing process for the new record, we tried to examine things that we never examined before. On the first record, we talked about the daily struggles that we deal with everyday and how we get out of those struggles. How we get out of that redemption. In this case, with the new record, we tried to examine the struggle itself. It is kind of like where there are two sides to every person and how each individual deals with these two different sides the good and evil and the fight inside and how it can ruin our life or change our life. Each one of the songs on the record specifically targeting certain emotions and it is kind of like a roller coaster ride. Some songs are really dark and never really find redemption. There are songs on the record that do. It just kind of goes with the instinct and the innocent side of life.
HRH: How did the accident with the band in 2007 have an impact on the writing of the record?
ANTHONY: It definitely did. Anything like that happens in anybody's life that scary and rude awakening. We are driving down the road 20 miles per hour outside of home and have a head-on collision at 75 miles an hour. Our tour manager almost died. It was a very scary event. We definitely drew from that emotionally. We kind of just stepped back from everything. We played 300 shows a years and this all of a sudden happened in the blink of an eye. It seemed like it all could have been taken away and we wouldn't have been here anymore. We definitely drew from those emotions and experience going into the record for sure. It was a pretty gnarly incident. The news broadcast really didn't show how bad the van really was. It was pretty scary. It was literally like waking up from a nightmare. We were all sleeping. The only person awake was the driver. When it happened, you waked up screaming and glass flying and you hear all these voices screaming. It was chaos. It was really scary.
HRH: We're glad you are OK. That must have been horrible. I have been listening to the new album. The guitar parts blow me away. You have melodic, and heavy riffs combined in such a fashion that really gets all of the angst and aggressions out in such a brilliant fashion. How would you describe the sound of RED?
ANTHONY: I know what you are saying. We like making it very sonic. As far as sonic landscaping to the songs. It is very cinematic. It is very steaky and juicy. There are a lot of elements. There is acoustics, electric; there is a lot of heavy programming with the strings and piano. It is a sensory overload for the listeners. That is why people enjoy it so much. It is non-stop in your face.
HRH: Do you do a lot of reading on the road? I read that the album is influenced by Dante's Inferno?
ANTHONY: Yes, we definitely do our own thing as far reading and stuff. The whole reference to Dante's Inferno talks about the whole poetic deep dark travel into Hell. The Canto 3 which is the intro to the record is a man named Virgil at the gates of Hell talking about what he is actually viewing before he walks through. It is something that is just so interesting to us. It gets your attention right away. It is kind of scary but it is like so neat how this writer can make you feel that you are there with me. It is the same thing with these songs. When we write these songs, we try to make you feel you are there in the room. The guitar parts are lying down, so they can experience what we are experiencing and what we are feeling. Canto 3 was great because the theme of the record burst out of that. It was a perfect vessel to use.
HRH: What does the title Innocence and Instinct denote to you?
ANTHONY: Actually, that is part of the Canto on Dante's Inferno just talking about how in life there are two different sides to every human being. There is an instinctive side and a side of innocence. As believers, we are just five guys in a band that write music. To have something so epic in writing to just read about to get wrapped around this whole idea of the dichotomy of man is just amazing to pull this off on the record. And make people think about there really is a really instinctual side to every thing that we do. In some cases there is a very innocent side to everything we do.
HRH: RED has had so many great tours. I know you have one starting on Jan. 14. In the past, you have tour with Buckcherry, Papa Roach, and Seether. What has your favorite tour been so far?
ANTHONY: I think our favorite tour would have to be the run we did with Staind. It was a pretty amazing tour. The very first day of the tour, we were treated like we had been for touring 15 years and these guys knew us like we grew up with each other. We go on the tour and Staind treated us with the out most respect. They were very kind and welcomed us with open arms. It was a great line-up, great venues, and great crowds. The vibe of the whole tour was amazing. We all just felt so blessed to be a part of the tour. It was a great experience all the ay around.
HRH: Anthony, Thank you so much for in checking with Hardrock Haven It has been great talking with you. It is so exhilarating to hear a band making such great music and sending out such a positive message these days.
ANTHONY: Thank you for everything and supporting RED.
Visit RED on the web: www.myspace.com/dropofred