by John Kindred
Staff Writer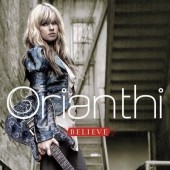 Following in the footsteps of rock's elite, Australian guitarist and songwriter, Orianthi, landed the gig of a lifetime as the King of Pop's touring six-string virtuoso. Jackson's untimely death pushed Orianthi into the spotlight, giving weight and credibility to her first solo album titled Believe.
At 24, her journey from obscurity to scrutiny began in Adelaide on the southern tip of Australia. Cutting her teeth listening to her father's collection, which included; Jimi Hendrix, Eric Clapton, Cream and Santana, she moved to her own influences like Whitesnake, Van Halen and Def Leppard. All this led to her picking up and mastering the guitar. Her big break came from a meeting Santana during his sound check at a local concert where he asked Orianthi to perform in front of her home town. From there, time has moved forward to the now.
Believe was an album in the works before the King of Pop came calling. Released on Geffen Records, Geffen Chairman and A&R veteran Ron Fair and producer Howard Benson put in the work to produce a polished contemporary pop-rock release.
Her voice is every bit main-stream-radio-friendly as you are going to get. Sweet and honest, sometimes her vocals don't match the ferocity and intensity of her guitar playing. She provides a solid background of music to lay her voice upon, but hard rock or metal heads will be disappointed that Believe isn't an instrumental or just an all out heavier release.
These assertions are made as the King of Pop has typically worked with the likes of Slash, Eddie Van Halen, Santana, Slash, Steve Stevens and Jennifer Batten. All of which fall into the rock 'n' roll if not metal realm of guitar shredding virtuosity.
At times, she shows her aggressiveness like on "Think like a Man," and the awesome "High Strung" is an instrumental song in which she displays her Steve Vai-like influences. But more times than not, the main stream pop-rock vibe keeps Believe in realm that most hard rock and metals don't want to traverse.
Obviously, she will fit into the current main stream trends; guitar fans won't be interested in music that ultimately is more about the voice than the instrument. If your expectations were for an instrumental or rock or hard rock release with more of a Heart-vibe, then you will be disappointed. Overall, for the style of music, this is a really solid debut effort.
Label: Geffen
Web: http://www.orianthi.com/splash/
Track Listing:
1. According to You
2. Suffocated
3. Bad News
4. Believe
5. Feels Like Home
6. Think Like a Man
7. What's it Gonna Be
8. Untogether
9. Drive Away
10. Highly Strung
11. God Only Knows
Hardrock Haven rating: 7/10