by Derric Miller
Staff Writer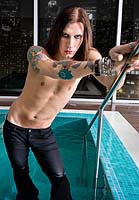 HRH: First off, thanks for taking the time to talk with Hardrock Haven today, we appreciate it! So, for those out there who haven't been lucky enough to hear Mama Kin yet, can you give them a little background on the band and what your music is all about?
 Ward: Basically, we were all sick and tired of the state rock music was in. Rock had become boring and politically correct. We started out in 2001 and at the time there was a lot of emo and polished MTV stuff going on here in Sweden. MTV wasn't even a music channel anymore, it had turned into a fake-reality-tv-channel and it's even worse today.
Anyway, we got drunk one night and listened to some vinyls at Jon's place. For some reason we got a little extra pissed off at the situation and decided to put our own band together. We figured since  no one else brought us the rock we wanted and our heroes couldn't deliver anymore, we would create the band we wanted to find ourselves. We've stayed true to that idea ever since, writing about the basic stuff everybody likes – women and good times.
 HRH: In the City if the band's debut, and it's been out a few months now. In your eyes, how successful has the album been in getting the Mama Kin name out there, both in Europe and in the United States?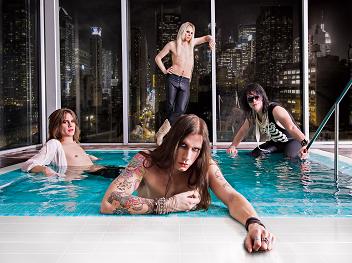 Ward: Very good. We've got great reviews in all the big magazines, great feedback from the people, zines and radio etc. Bruce Dickinson played us on his radio show, which is awesome.  We haven't done that much promotion work in the US though, since the album hasn't been properly released over there yet. But we're working on some stuff over there that we're really excited about! 
 HRH: One of the reasons I was drawn to Mama Kin's music is your vocal style. There are a ton of new Hard Rock/Glam/Sleaze bands out there, but most of them employ a higher-toned, sometimes screamy technique (Peep Show, Johnny Burning, etc.). You, on the other hand, sing with a lower range warmth that should remind people of Paul Stanley, or Matt Barlow if he sang in a Hard Rock band. So, is it safe to say Paul Stanley is one of your influences as a singer? And who else influenced you to man the mic, not just vocally, but as a frontman/showman as well?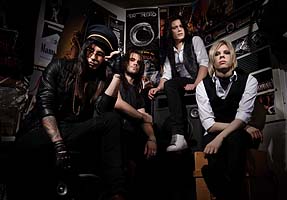 Ward: Paul Stanley, both as a vocalist and a frontman/showman, is a huge inspiration. He's God to me. I get off on people that sing with their genitals, have a certain feeling and really mean business. And it isn't necessarily rock singers who inspire me. Take a guy like Tom Jones for example. When he sings "She's a lady" he means it. He sounds likes he's about to stuff his balls in your ear. And then there's Bonnie Tyler. She's got the whiskey vocals going on which brings a lot of feeling into it. 
 HRH: Mama Kin's first single from the debut album is "In the City." How much radio airplay has the band gotten from "In the City?" You also shot a video for it. We don't get to see much (or any) new Hard Rock bands/videos over here in the States, but is the video getting play in Sweden and the rest of Europe?
Ward: It's the second single bro! I have no idea actually. I know we're on rotation over here in Europe and I know there's a few stations playing us in the states, but I don't know about the videos. Great feedback on Youtube though!
HRH: How is "Superman" doing as a single?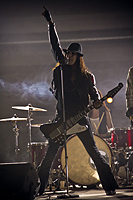 Ward: "Superman" was actually the first single and it peaked at #26 in the Swedish singles chart. "In The City" was released as a digital single so I don't really know about that one. The album went to #30 on the regular chart and #5 on the hard rock/metal chart in Sweden.  
HRH: You also play guitar in the band. Are you mostly playing rhythm in the band? Also, in your opinion, are you a better singer or guitarist?
Ward: I mostly play rhythm. I only have two or three solos on the album. Elias is a much better solo guitarist than me and I find it easier to concentrate on my vocals and the crowd if I stick to the rhythm stuff. I'd say I'm a better singer.
HRH: How does the songwriting work in the band? Is it mainly driven by one person, or, do you all contribute collectively?
Ward: I usually bring my ideas to our rehearsal space we're we put everything together. Sometimes I have a finished idea and sometimes we exchange ideas with each-other. We work differently on each song. Generally, I do most of the work but we all contribute in one way or another.
HRH: Has Mama Kin been able to tour outside of Sweden much to promote In the City? If so, where?
Ward: Not yet, but we're currently making plans for a two month tour in the US in May which we are all really excited about! It's gonna be a blast! Tune in to our myspace or website as dates are sure to pop up soon!
HRH: Obviously, Mama Kin has the goal of one day, hopefully soon, playing at the Sweden Rock Festival. What would it mean to the band to get up on stage, playing with your heroes and in front of tens of thousands of screaming fans?
Ward: That would be awesome of course. We're working on it. There's another swedish festival called Rock Weekend where we're playing this summer together with Deep Purple, Twisted Sister and Saxon. That will be huge! Saxon was one of the first hard rock bands I ever listened to which makes it extra special for me.
 HRH: It's getting tougher and tougher for new bands to "make it" in the music industry today, and one of the biggest villains out there is this epidemic called "illegal downloading." So, if some fan came up to you, said you are their favorite band and then you found out they actually stole/downloaded your debut album and didn't purchase it, what would you say/do to that person?
Ward: I wouldn't do anything I think. I feel we've created something worth paying for. We've worked hard throughout the years with rehearsing, making songs, buying instruments and gear, traveling etc. But when you're somebody's  "favorite band" you can't kick their ass because they didn't buy the album. Hopefully those kind of people spread the word about us to ten other people who WILL buy the album. And they better buy a fucking T-shirt, hahaha
HRH: Some of my favorite bands are coming from Sweden; your country is a hotbed for some of the best Hard Rock music created on this earth today. A band like ColdSpell came out of nowhere and made my Top 10 for 2009, and if I had heard In the City before a couple weeks ago, that release may have too. Why do you think Sweden has so much musical talent right now?
Ward: The Swedish media and labels have been celebrating and supporting a lot of shit lately that doesn't necessarily go hand in hand with the common Swede. When there's something missing people will start to create it themselves, and that's how underground scenes are born. It's NWOBHM all over again. Awesome!
HRH: Is there anything I left out that you'd like to leave with our Hardrock Haven faithful?
Ward: Well there's the US tour of course! As I said earlier, drop in on our sites to get the latest news and blogs about what's happening. Dates are on the way, as well as new video clips, photos, songs, merchandise etc. Keep in touch and stay tough! www.mamakin.se