John Fred Young of Black Stone Cherry
by Alissa Ordabai
Staff Writer
Hardrock Haven's interview with Black Stone Cherry's drummer John Fred Young took place just a few hours after the band's blistering set at Graspop Festival last June. After a supercharged workout of a show where the band rip-roared through an hour of their best songs, cheered frantically by the Belgian crowd, I half-expect to see John Fred more or less exhausted when he turns up for our chat. But to my surprise he, when he comes through the doors of the backstage bar to do this interview, he is in top form – upbeat, talkative, and affable. Over some soft drinks we talk about things that have shaped the band's style, their life on the road, and what it's like to be one of the most promising bands not only on Roadrunner's roster, but on today's rock scene as a whole.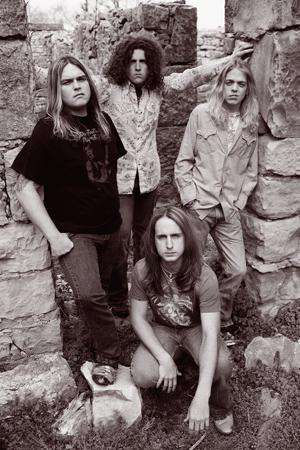 Hardrock Haven: I was expecting to see you tired, if not shattered after such a bombastic set, but you look full of life! I've seen you play just now and I'm amazed at how much energy you put into your shows, and how you are still able to function after all this.
John Fred Young: I sweat a lot when I'm playing. I was watching Heaven & Hell and Vinnie Appice, who is a great drummer, the other day. I was watching him and he watched our set. He said to me, "You know, it's nice to see a drummer who hits hard. I don't see that many drummers that hit hard." So it was cool. I guess our performance demands a lot of physical activity.
HRH: John Bonham once said that Led Zeppelin called their 6th album "Physical Graffiti" because making music for them meant putting in a lot of physical energy. And you once did remind me of John Bonham. It was on YouTube, a footage taken by a fan with a shaky camera, it was one of your solos. I don't know how old that is, but you really did remind me on Bonham.
JFY: Oh, thank you! Thank you very much!
HRH: And you also did a Hendrix cover today. Was Mitch Mitchell an influence as well?
JFY: Yes, Mitch Mitchell was. My uncle plays in a band called The Kentucky Headhunters and he's a great drummer, plays double bass, big huge 28-inch bass drums. I learnt so much from watching him as a kid growing up. They've been a great influence on us. My uncle's name is Fred Young and my father's name is Richard Young. They are brothers who play in the Kentucky Headhunters. Fred turned me onto Mitch Mitchell, and Ginger Baker, and John Bonham, and so many others.
HRH: Black Stone Cherry has been doing a lot of touring over the last couple of years. What is life on the road like for you? Do you manage to see anything in the countries that you visit apart from venues and hotels?
JFY: At school we studied many cultures, as well as American history. What I mean is that in an American history class we study American history and world history, but I find it… The more I learn from touring and from traveling, the more… I actually learn more about places by going there than reading out of books. Because you can't really digest enough information about a place just by reading about it. You have to go there, soak in the environment around you. We've been very fortunate to come to a lot of these countries and play and get days off, seeing the sights.
HRH: What do you do? Do you go sightseeing?
JFY: Yeah, what we try to do is walk around, and we get taxis and stuff and go around the cities. We are very interested in history all over.
HRH: Do you have a favorite country to go to?
JFY: You know, honestly, we tour a lot in the UK, more than anywhere else in Europe.
HRH: You have a huge fan following in the UK, don't you?
JFY: Yeah, we do, and God bless them. We just played Finland and it was really nice. And we just played Spain for the first time.
HRH: Does the audience there go absolutely crazy? Because that's what a lot of bands say that when you go to Southern Europe, it's completely different from Northern Europe.
JFY. Yes. Barcelona. And we also did Saragossa.
HRH: Oh, yes. It's a very old city, isn't it?
JFY: Yeah. There was a ruin there on this hill, like an old castle that was torn down. But it was really cool, really cool city.
HRH: Do you write on the road?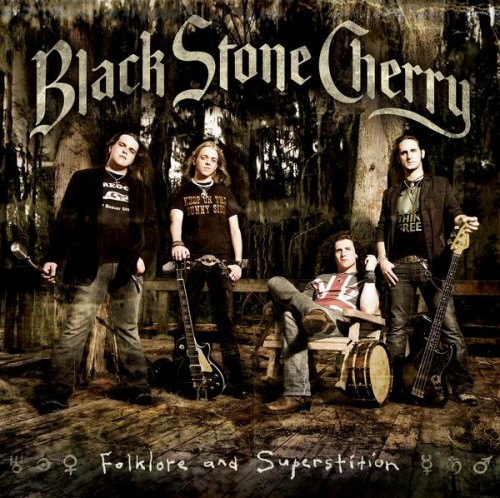 JFY: Yes, we do. Some of our songs for the last album were written on the road when we went to Germany, things like that. But it's kind of hard to, because you are going 90 miles an hour, and when you get home you kind of slow down. It's better to write at home. Going a little bit back on the band's history, in 2001 we formed the band. Chris, the singer, and me have known each other since kindergarten, since we were five years old. And then Ben came in to the band in 2001. John was in Florida, he came up when Chris and I were in middle school. So we started hanging out and it was cool. We formed the band on June 4, 2001 on Chris's 16th birthday.
HRH: If you waited a month, the band would be born on the 4th of July, like in that Creedence song.
JFY: Exactly! You like Creedence?
HRH: I do, and what surprises a lot of people about them is that they weren't from the South, they were Californians.
JFY: Sometimes bands are from a different area, but they really love an area because of its music. Like us, we are very enthralled with New Orleans, the delta blues and things that came up through the water. I really think that we are probably influenced more by the blues than by anything else. Things like Robert Johnson, Howling Wolf.
HRH: All the way back to Robert Johnson?
JFY: Yeah, even back before that, like Leadbelly and stuff like that. It is very deep music. Even being as young as this band, people twice our age I don't think listen to what we did. And it was because we grew up using an old house on my grandparent's farm, an old farmhouse. My dad and my uncle in the Headhunters, when they were about our age, they put all kinds of posters on the walls, like Howling Wolf, Sam Cooke, Cream, the Beatles, the Stones. Every great artist you could ever think of plastered all over these walls. This was to keep the heat inside the building because there wasn't any heat. There was no bathroom, no heat, nothing. We just got a phone there like 10 years ago. So it's very hillbilly. (Laughs). But yeah, we grew up practicing there, and it was a really cool place. We were influenced by so many great artists that young kids don't get a chance to really see. They are not introduced to roots music like we were. So we are very fortunate.
HRH: But how do you manage to integrate that with metal and pop music as well, if you don't mind me saying that? Because I think you have a very strong pop element. How do you manage to walk this tightrope between your bluesy roots, and metal, and pop?
JFY: That's the trick! I don't know. We somehow do. We have an appreciation for metal music, for classic rock, Southern rock, blues, Motown… I think that each member of the band is influenced by different things. For example, Ben is an Elvis fan. Chris is into Southern Rock, Lynyrd Skynyrd…
HRH: What about you?
JFY: I grew up listening to a lot of stuff. My dad really influenced me, but some of the first music I ever heard was Motown, like the Temptations…
HRH: Jackson 5?
JFY: Jackson 5, yes. Which is a huge, huge detrimental loss the other day that Michael Jackson has died.
HRH: I don't believe he's dead.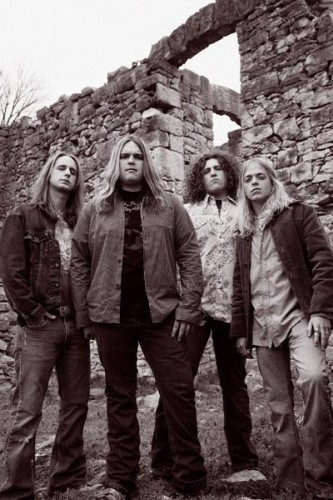 JFY: My girlfriend is a huge Michael Jackson fan, one of the biggest in the world, she's crazy about Michael Jackson. And as a musician you can't help but realise that Michael Jackson was the King of Pop. He is the baddest in the world. And I hate to think that he's gone. I just wonder if he just hasn't been fed up with people, and faked his death, and moved to a damn island.
HRH: He was scheduled to do 50 shows in London – an incredible run, and everyone was saying, "How is he going to do that?".
JFY: We were trying to go to one. It was going to be a gift to my girlfriend for her birthday, we were trying to go, but not now… It's a big loss, a really big loss… But back to incorporating different things into music, trying to put pop, rock, and metal and blues and everything into it, you have to blend it where one type of a genre is not too much. It's a fine medium… I don't know, because we never set out to be a hard rock band. We never decided that we are going to be a metal band, a Southern rock band, or this, or that. We just want to be the greatest band in the world.
HRH: Your songwriting process – does it happen naturally or is it a really crafted process with you? How long does it take you to go from a snippet of an idea to the finished harmony and melody?
JFY: Some songs take about 15 minutes, and then sometimes lyrics can take a little while. And sometimes songs take longer. But when it takes too long, you can work on it too much. It needs to come naturally.
HRH: Are you working on any new material at the moment?
JFY: Yeah, we are working on it all the time. Sometimes we'll be on the back of the bus, all four of us writing songs. Everyone will come up with something. It's hard because our bus over here on this tour is totally dank. To use a universal word, it's very drab.
HRH: Smelling of farts and sweat?
JFY: It's just nasty. We try to keep it clean, but our bus is so nasty compared to what we have in the States. I have to say that, but we've toured in France, and we've used those airport shuttle things over here one time… We are so fortunate to get to tour, but if you have a bad bus, it's really hard. And people go, "Well, you're complaining about your bus, and it shouldn't matter," but it really does. The key to great touring is to have a great bus. And it doesn't have to be a million-dollar or a million-euro bus, it just has to be positive, like the color inside the bus needs to be positive and uplifting. Our bus here is vomit-brown. And it's just depressing. But in the States we have a bus that we love. We call it "Big Red". We love it. And our driver in the States, Bob, is crazy. He was a sheriff in Dallas, TX, and he's really wild. We love him like an uncle. One time we were in the restaurant and we came out of this restaurant, and he packs, like in America you can pack a weapon, like a pistol. You have to have a license, or if you are a retired police officer, you can have it. So this pigeon comes over and shits on Bob's shoulder. So Bob, like John Wayne, pulls out the pistol and shoots the bird.
HRH: Oh, no!
JFY: And there are like kids walking around, and we are like, "Oh, my God!" He's crazy. So here's our Bob. Our crazy uncle Bob. But we are so happy to be touring over here.
HRH: Your fan following is certainly growing, and people of all sorts of musical persuasions seem to be getting into you – from people who are into blues to those into hard rock.
JFY: Some people in the States almost compare us to 80s hair metal.
HRH: Really?
JFY: That's not a lot of people, that's just a few people. But I think it's because…
HRH: Because you are young and good-looking and you have long hair?
JFY: (Laughs). Thank you. But there are really not so many bands around these days who have long hair.
HRH: They probably look at you and think, "Oh, Juan Croucier from Ratt!"
JFY: Yeah!.. It's people who are 35-45 years old. But I like some of the 80s stuff.
HRH: Did you get a chance to see Motley Crue here yesterday?
JFY: No, we were in Spain. But I will see Motley Crue maybe in the States somewhere. Yeah, I grew up liking Motley Crue and stuff, my music taste is really eclectic. We've met Duff McKagan the other day, they are going out with us in the UK.
HRH: Oh, so you've met Duff already?
JFY: Yeah, and he's awesome!
HRH: Is he?
JFY: Awesome, a really cool guy. Being such a well-known person he's still so nice, a really nice guy. We are really looking forward to touring with him.
HRH: I'd like to ask you one last question, and it's a bit goofy, I hope you don't mind. If you were granted an answer to any question in the universe, what would you ask?
JFY: Man, that's gonna get pretty deep! I would probably want to know where we go after we die. What this whole thing is about. That would be my question. Everybody's got different religious beliefs and everywhere you go people believe in this and in that, but ultimately most of us want to go somewhere where we can live happily in the afterlife. I would just like to have some explanation, like "Where the hell are we going after we die?"