A Tortured Soul Lucifer's Fate
by Derric Miller
Staff Writer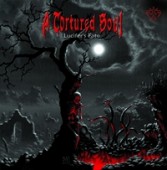 Part Metal Church, part Judas Priest, part King Diamond, you've got to give the gents of A Tortured Soul much respect for taking on an aggressive and seemingly impossible amalgam of Metal greatness and making it all work in the context of a single band. To do so, you need a dramatic, theatric and multi-octave singer who can scream castrato-level shrieks while also managing to hit the lower, gruff and more foreboding bass notes, and vocalist Rick Black does it with such aplomb you'd think the band actually features two different singers. You need to write songs that are dark in nature, that tell a story you want to hear, but that offer searing and complex leads and solos while being to tone it down acoustically and hauntingly, and A Tortured Soul's guitarists Nate Gorenc and Ryne Schultz excel at all of the above. The band's sophomore release, Lucifer's Fate, somehow combines the nostalgia of the past with a fresh outtake on today's Metal, creating music that's both reminiscent yet innovative.
Instead of ripping into the silence with a track heavy and blistering, the slowest song on Lucifer's Fate "Ritual" greets you when you hit play. Immediately, you'll hear that Black is influenced by Rob Halford's lower, controlled and menacing vocal style. When you hear phrases like, "The shotgun is my last goodbye," and "Fill the coffin watch them rise," all the Poe-tinged poetry is accompanied by a deft acoustic guitar piece that belies what you imagine A Tortured Soul is all about. This is no one-trick pony, far from it.
The title track is up next, and yes, they bring the heat now. "Lucifer's Fate" is a monstrously heavy composition, with drummer Eric Gnant pounding mercilessly with double-bass blasts and machine-gun fills. "In hell they will stay, deceived by the master of lies. Slaves to the cross, I weep at your loss," sings Black, in a cold, gruff and clearly unforgiving tone. Waves of Metal crash upon your skull, and then Black unleashes his King Diamond-like, utterly evil high vocal style. It's not Dani Filth, shrieky, but clean and otherworldly, just like King Diamond. The tempo changes intelligently highlight the spoken-word passages—this is one hell of a Metal song.
"Eye of Ra" is the band's first video for the new release, and unfortunately, it's one of the less impressive tracks on the entire release. Where "Lucifer's Fate" switches tempos and is just a mammoth song sonically and lyrically to digest, "Eye of Ra" is a monotonous journey that is too inflexible to deserve such a spotlight in comparison to everything else here.
A Tortured Soul doesn't miss any tricks. "Dark Chapel" begins with a church bell, and you just know it is calling for a funeral. This time, the Judas Priest like guitar leads suck you in to the fevered pace, and Gnant's inhuman power is flaunted on drums again. To get some insight into the visual and visceral lyrics, try on this passage: "Inside I see the cross, that hangs above the altar. That evil lurking as the demons tearing me apart. There is no god or devil, only this church of lies. No words of Christ are written, only the blood of sacrifice!" This should have been the first video, in other words …
When a singer like Black has the ability to nail all the high notes, it's sometimes difficult to reign in that propensity to basically "show off." But A Tortured Soul is smarter than that, and rarely overuses that vocal style. The one track that basically features Black's higher vocals the entire way through is "Rust." It's tough to get a feel on if he is going full voice or falsetto at times, but it is clearly falsetto on the crazy high notes. The change when he drops into a guttural lower range is startling, and about the coolest thing you have heard from a band in forever. Seriously, how impressed are you by a guy who barks the whole album unintelligibly when you hear someone like Black sing in the Heavy Metal/Thrash/Black arena all in one album, sometimes on one song? There's simply no contest.
Lucifer's Fate ends on "Winterkill," a song that is classic NWOBHM at times, showing the band's roots as the track gallops along at nearly Power Metal speeds. Of course, like most of the compositions, the tempo changes and styles change to near Thrash and other times, Classic Metal passages. The guitar solo on "Winterkill" is bubbly, and would be near Neo-Classical if it wasn't so brief and un-masturbatory.
A Tortured Soul is one of the more unique underground bands that, when judged by skill level and songwriting ability alone, deserve a chance to break into the mainstream Metal narrative. Although unpolished and mostly uncompromising, their music does more than just make you slam your head around, which is why you will find yourself getting into the music more and more each time you hit play.
Label: Pure Steel Records
Online: www.myspace.com/atorturedsoulmusic
Track listing:
01. Ritual
02. Lucifer's Fate
03. Eye of Ra
04. Ashes to Ashes
05. Dark Chapel
06. Fallen
07. Rust
08. Reign
09. Winterkill
Hardrock Haven rating: 8.1/10