Eternal Reign The Dawn of Reckoning
by Derric Miller
Staff Writer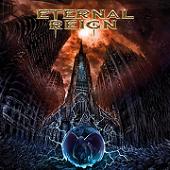 Hailing from Germany, the Power Metal gents of Eternal Reign have just released their third studio album, called The Dawn of Reckoning. Unlike some other Power Metal bands from Germany, Eternal Reign is measurably more "Metal" than bands they may find themselves compared to in that genre, and they also go extremely light on the cheese-factor. In fact, there's isn't one — Eternal Reign is a multi-faceted and polished unit that is closer to Steel Attack than Hammerfall, and everything you like about the genre comes to light on The Dawn of Reckoning.
Many bands of this ilk open with an instrumental, and thankfully, "Drowned" isn't one of them. Instead, it's an ominous and flowing keyboard-led composition with vocals, and lead singer Dirk Stühmer can sing with emotion and melody, as is clear on every note he masterfully croons on "Drowned." But this jets into the second song, "Beyond the Black," and out comes the galloping, Maidenesque guitar leads from Michael Sebastian and Torsten Funfhaus and intense drumming from Lennart Medebach. The sheer heaviness of song is offset by Bjorn Meyer's expert keyboards, sort of circulating in the background. Stühmer owns that sort of throaty and powerful voice you expect from this type of music, and he has range to spare. With tempo changes, breakdowns and emotive guitar leads, Eternal Reign impresses from the get-go.
"Shadows of the Past" is one of the fastest songs on The Dawn of Reckoning, and Jörg Hassel's deft bass playing is off the charts. You don't always notice a bassist when there is keys, two guitarists, drums and vocals joining the cacophony, but Hassel stands out here. Eternal Reign, for a Power Metal band, composes darker and heavier songs than their brethren, and it's a welcome departure.
"Emptiness Devours" begins like a ballad, an atmospheric song with swirling keys, echoing vocals and again, Stühmer shines. But not even two minutes into it, cutting riffs take the song to an entirely new landscape. Triumphant and complex, "Emptiness Devours" is a strong example of Eternal Reign's abilities.
If you like drums, well, listen to the inhuman sounds created by Medebach on "The Beast Within." The drum blasts are both chaotic and precise, and the speed is machinelike. The best part about this song is the seemingly out of place guitar leads that accompany the verses; just because they are innovative doesn't mean they don't fit. Eternal Reign doesn't write obviously straightforward songs—there's a lot there to digest if you listen close enough.
Although this style of music isn't typically a hit-making machine, "Devil and Daughter" is their best chance at writing a hit. The draw of this song is the catchy chorus and Stühmer reaching the near-limits of his range effortlessly on the bridge. His voice soars before the chorus, and the simple yet hypnotic chorus, "Devil and daughter, pleasure and pain … is this the end," is the most memorable chorus on the entire release. (Update: Eternal Reign notified Hardrock Haven this is a cover from Black Sabbath's The Headless Cross album.)
Eternal Reign comes full circle on the closing track, "Still Remains." Just as The Dawn of Reckoning began with a soft, keyboard composition, so does it end. The clarity of the entire album is stellar, but to hear the pristine production efforts on "Still Remains" should make the biggest audiophile applaud.
The Dawn of Reckoning is, from start to finish, a grand album. If you have not yet caught on to Eternal Reign, this would be an excellent place to start. Not all Power Metal has to overloaded you with happiness and pomp; Eternal Reign goes to a somewhat darker side on this album, and this makes them stand out from the glut of Power Metal being recorded today.
Band:
Dirk Stühmer – vocals
Michael Sebastian – guitar
Torsten Fünfhaus – guitar
Jörg Hassel – bass
Björn Meyer – keys
Lennart Medebach – drums
Track listing:
1. Drowned
2. Beyond the Black
3. Lords of Chaos
4. Shadows of the Past
5. Emptiness Devours
6. Lost Clouds
7. Forgotten Sunrise
8. The Beast Within
9. Devil and Daughter
10. Gone Too Far
11. Still Remains
Online: www.myspace.com/eternalreignband
Label: Pure Steel Records
Hardrock Haven rating: 8/10