Kiske/Somerville Kiske/Somerville
by Joe Mis
Staff Writer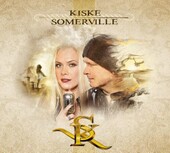 Voices, you hear voices … fortunately they are very good voices, unlike the other ones so many seem to hear. Kiske/Somerville is the upcoming self-titled release by the band fronted by former Helloween lead vocalist Michael Kiske and American singer and vocal coach Amada Somerville. This album is a melodic metal masterpiece and a true showcase for two incredible vocal talents.
While not technically a "super-group", all the members of Kiske/Somerville are music veterans. Inspired by a duet that Michael Kiske did with the band Indigo Dying and conceived by Frontiers Records president Serafino Perugino, Kiske/Somerville became a reality. Michael Kiske (Helloween) is joined by the Michigan native singer-songwriter-vocal coach Amanda Somerville in front of the microphone. Bassist Mat Sinner (Primal Fear, Sinner) shared most of the songwriting duties with band mate and guitarist Magnus Karlsson (Primal Fear, Starbreaker). Sinner also did the bulk of the engineering and producing. Somerville also teamed up with guitarist Sander Gommans (After Forever) to write a few tracks, and keyboard player Jimmy Kresic (Voodoo Circle) contributed as well. Drums were played by Rami Ali (Evidence One, Frontline) and Martin Schmidt (Leaves' Eyes).
The album opens with the high energy rocker "Nothing Left To Say" which gives the non-singers in the band a chance to show their chops. It features a nice aggressive but not overwhelming rhythm line, a neat and tidy guitar solo and some fine drum work. Kiske and Somerville do a fine job on the duet vocals. "Silence" opens with a nice mellow keyboard riff, and becomes almost orchestral in tone. This track is a vocal back-and-forth between Kiske and Somerville with some shared chorus work. Both singers do a fine job, but at times Michael Kiske seems be forcing a "vibrato" which does not seem natural and certainly doesn't fit in with normally straight-up and smooth delivery. Great drums and choppy guitars drive "If I Had A Wish" – Kiske sounds his most "Helloweenish" here. Powerful guitars and a great heavy groove drive "Arise", and Kiske & Somerville trade verses and harmonize like they've been singing together for years.
"End Of The Road" is a soft keyboard track with very mellow and expressive vocals and lyrics and a big orchestral backing during the chorus. "Don't Walk Away" is very upbeat almost pop-metal track with a catchy beat and a real sing-along chorus, while "A Thousand Suns" displays a glimmer of electronica and some fine acoustic guitar work and gives Amanda Somerville the best chance to display her amazing range and power. "Rain" is a great simple rock tune with some fine guitar lines and excellent vocals by Kiske, although that odd quiver reappears in his voice throughout the song.
"One Night Burning" is well done, but it is the stereotypical sad and sappy duet and one of the only disappointing tracks on the album. "Devil In Her Heart" is a very slick modern rock track with multiple layers of vocal contributed by both Kiske and Somerville. While a bit over the top vocal-wise it is a great display of the talents and ranges of both. "Second Chance" is another well done but fairly routine rock duet, but "Set A Fire" is a very heavy and intense track that wraps up the album in fine progressive/power metal fashion.
Kiske/Somerville will be released on September 24th in Europe and October 12th in the USA, and some will be packaged with a bonus DVD that will include two videos and a "making-of" documentary.
This is a fine recording not only for metal fans, but anyone who enjoys good vocal performances. The music is smooth and energetic without being overly maudlin or syrupy – as is the sad case with way too many male/female duet songs. The performances across the board are tight and precise, and the engineering brings real warmth of the vocalists to the front. Kiske & Somerville are undoubtedly two of the best vocalists in the rock scene today and this album gives them a chance to prove it to the world. More accessible to the general listener than the older Helloween material, this release should earn many more fans for Michael Kiske, and if you haven't heard of Amanda Somerville yet this disc proves that you will. She is a voice for the ages.
Very highly recommended!
Genre: Melodic Metal
Band:
Michael Kiske, Amanda Somerville (vocals)
Martin Schmidt, Rami Ali (drums)
Mat Sinner (bass)
Magnus Karlsson, Sander Gommans (guitar)
Jimmy Kresic (keyboards)
Track Listing:
1. Nothing Left To Say
2. Silence
3. If I Had A Wish
4. Arise
5. End Of The Road
6. Don't Walk Away
7. A Thousand Suns
8. Rain
9. One Night Burning
10. Devil In Her Heart
11. Second Chance
12. Set A Fire (Bonus Track)
Label: Frontiers Records
Website: http://www.frontiers.it/album/4746/
Hardrock Haven rating: 8.5/10