Patrick Kennison of Heaven Below
by Deb Rao
Staff Writer
There is a whole new crop of new talent vying to make an impact in today's musical market. Heaven Below, who hails from Texas and California, are getting ready to drop their self-titled debut release on Aug. 17. Famed Grammy award-winning producer Ben Moody produced the band's first single, entitled, "When Daylight Dies." Heaven Below recently completed a trek across the country and is gearing up for a major tour in August in support of its debut release.
Lead singer Patrick Kennison checked in with Hardrock Haven to discuss the making of the Heaven Below debut.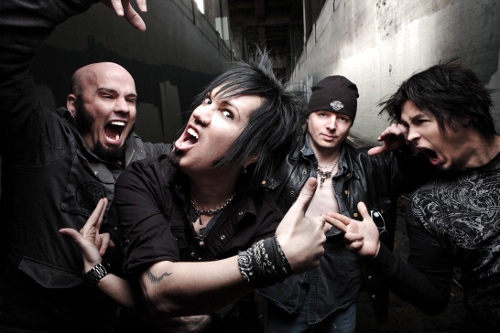 HRH: Patrick, thank you for checking in with Hardrock Haven. The band has just finished a string of live shows. How did the tour go? Any highlights that you would like to share with us?
PATRICK: Touring has been great. It's inspiring to see that new music is still being considered by rock fans everywhere. The turnouts and feedback from our shows has proved that to us. The highlights would simply be our time on and off stage with our growing fan base. We're stoked!
HRH: As a new band on the horizon, what do you hope to bring to the music scene?
PATRICK: I think an emotionally charged show and album are what the scene needs. There are already great bands already doing that, but few from the West Coast that I've seen. I'd love to think we could carry the torch with high-energy songs, guitar solos and vocal harmonies; not in a cheesy way like The Darkness, but in a cool way like A7X or Disturbed.
HRH: Tell us a little bit about the band. From where do you hail and what inspired you to get into music?
PATRICK: The band comprises half Texans and half Californians. John, our bass player, and I hail from San Antonio. Jesse, our guitarist, and Chad, our drummer, are Los Angeles natives. I got into music at a young age. My six older brothers and sisters always blasted Priest, Maiden, and Crue among others in the house as far back as I can remember. I started discovering my own bands like Slayer, Accept, Metallica, and I'd gotten a guitar for my 12th birthday. Life had changed.
HRH: As a vocalist, who are some of your influences?
PATRICK: My favorites include Dave Grohl, James Hetfield, Chris Cornell and any one that can play guitar and still maintain that frontman factor. It's not an easy thing to do. I love the challenge. I always liked when Layne Staley played rhythm in AIC. Sick talent there.
HRH: How did you come up with the title of the band, Heaven Below? It kind of reminds me of Heaven And Hell.
PATRICK: I'd written a song called "The Laughing Dead," which also was also a candidate for the name. It has a lyric mentioning Heaven Below. I've always felt that people should enjoy the "here and now," rather than hoping salvation will come later elsewhere. So I feel like it makes a personal statement for my beliefs. Also, many fans think it's sexual, which we get a kick out of.
HRH: How would you describe the sound of the band? I can hear some Alice In Chains overtones and some Metallica in a few of the song structures.
PATRICK: The fact that you mentioned two of my favorite bands is a humbling compliment. We're not trying to reinvent anything, but rather capture a feeling or vibe that our heroes like those gave us. We feel like when we mix it up with my vocals, it takes on its own inspired sound. We're not scared of vocal harmonies, guitar solos, or multi-tempo songs; we embrace it.
HRH: Heaven Below has just released its self-titled CD. Tell us about the writing process for the album?
PATRICK: I write most of the material. It's my # No.1 place to take solace, anger or any other emotion and channel into something that's a positive release. I also enjoy the challenge that writing a certain kind of song brings. The process is very rewarding and vindicating for me.
HRH: Also, "When Daylight Dies," which was produced by Grammy.award-winning, multi-platinum artist Ben Moody of Evanescence. How did this transpire?
PATRICK: Out here in Los Angeles, you get the opportunity to meet up with your heroes and friends in the business. Ben was one of those friends in the circle. After he heard my demo for the song, he insisted that he produce it. We feel he brought a cinematic and ambient feel to song. The guy truly is a mad genius. Check out his new band, We Are The Fallen.
HRH: As a guitarist, you recently have been endorsed by B.C. Rich guitars. This is quite the honor. Tell us about the B.C. Rich guitar that you use onstage.
PATRICK: I endorsed BC Rich back when I had a band called The Union Underground in 2001. I've amassed a killer little collection, which includes six- and seven-string Mockingbirds, a Warlock, a Custom Meegs Model, which is an arch-top tele style. As well as a double-neck Bich. Jesse also has some killer stuff from them. You will never see Heaven Below lost in the world of Les Pauls and Strats.
HRH: Any future tour plans in the works?
PATRICK: Absolutely. We're currently putting together a tour that will take us through the southern region of the U.S. to promote our album, which drops Aug. 17th, as well as our radio single, "When Daylight Dies." Please checkout www.heavenbelow.com for the gospel and words of metal.