Chris Laney and Anders Ringman aka PLATFORM
by Alex Barbieri
Staff Writer
Chris Laney and Anders Ringman, aka PLATFORM, are the songwriting and production duo largely responsible for the current "Swedish hard rock sound." Laney and Ringman stepped away from their Stockholm studio to answer some questions about their influences, the passing of Ronnie James Dio and why Swedish women are so hot.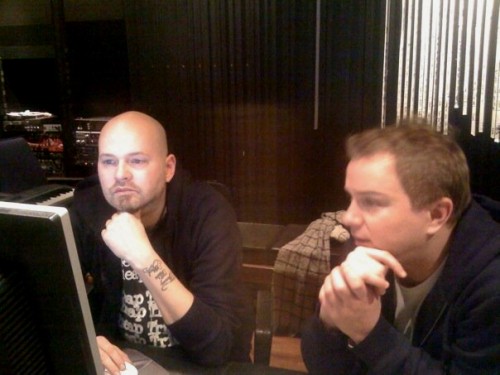 HRH: In the Hardrock Haven review of Steevi Jaimz My Private Hell, you were referred to as "The Mutt Langes of the current hard rock scene." What do you think of that?
CHRIS: I personally feel that we've won the gold medal then. Both of us are huge Mutt Lange fans, and have listened a lot to his stuff, so when you mention us in the same sentence it sure feels cool.
ANDERS: Yeah, a true honor, indeed. I mean, look at all the amazing work he's done with Def Leppard, AC/DC, Shania Twain, The Corrs and you name it. To be compared with such an icon is very humbling. We're flattered that you can hear the influences!
HRH: How would you describe the "Laney/Ringman sound?"
CHRIS: Big, ballsy with lots of background vocals, but still dirty enough to rock.
ANDERS: We always have great fun when we work together, and I'd like to think that people can hear that in our productions. We usually spend a decent amount of time on the vocals, and then build everything around that. I would say we are very spontaneous and like to fool around with arrangements, but what it all comes down to is the song. We know what makes a great song work, and when that song is there, anything is possible.
HRH: Why is Sweden such a hot spot for great hard rock?
CHRIS: Well, I think a lot has to do with the fact that we live in a cold ass place! Summer is short and it's pretty dark the rest of the year. The only way to survive is to do sports or music. When it comes to hard rock, we love that stuff. There's so many good Swedish rock bands, and there's a lot of melody in the songs connected to traditional Swedish folk melodies. We love to mix a good melody with monster riffs.
ANDERS: I would say Sweden is a hot spot for great music, not just hard rock. Just like Chris says, Swedish folk music is responsible for many things. The most successful band ever from Sweden is, of course, ABBA, and they were always heavily influenced by folk music. When you listen to what Benny Andersson and Björn Ulvaeus have written in recent years, you'll hear it even more. Whether you liked them or not, ABBA's music was an integral part of growing up in the '70s, especially in Sweden. We loved ABBA, but at a very early age we also started listening to British, American and German hard rock, and from them we inherited the dirty riffs and the heaviness. When our generation started writing rock music it was a perfect blend of traditional melody and that unpolished attitude. I think that's the mix that makes "the Swedish hard rock sound" so special, and that's also why we've had so many extremely successful songwriters coming out of Sweden for the past 10-15 years. I don't know if people in America actually know this, but people like Pink, Katy Perry, Lady Gaga, Britney Spears, Backstreet Boys and tons of other artists have had their biggest hits written by or co-written with Swedish songwriters.
HRH: How does an interested artist get to work with you? What do you look for?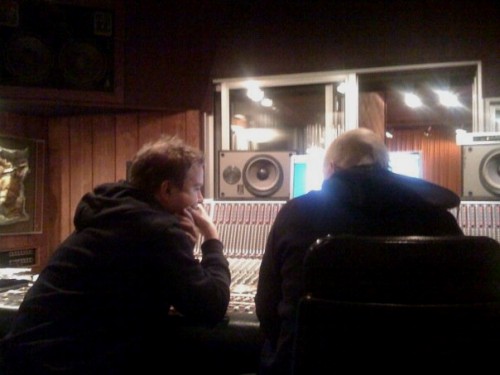 CHRIS: We're open for all suggestions, they just have to call or e-mail us. Most of the time it's connected to a release we've been involved in that makes people want to work with us. When I look for a band, I look for something that I think is "different" and something I personally think I could make better.
ANDERS: Yes, the artist definitely has to have something special. It doesn't have to be super original, but something that makes them stand out. These days it's rare to find artists that are really unique, but believe me they are still out there.
HRH: What projects are you currently working on and would like to plug?
CHRIS: I'm out supporting my latest solo release, Only Come Out At Night.
ANDERS: I'm writing with the Danish hard rock band, SuperCharger, for their next album, due spring 2011.
HRH: Any funny studio stories you're willing to share with our readers?
ANDERS: There's always all kinds of crazy stuff going on when we work together, but one story that comes to mind is when we recorded Mike Dalager's album Bamboosway. Mike is one of our very best friends. He's a Hollywood-based actor, director, singer and songwriter, very talented all around. He used to live in Stockholm for many years and knows so many people in the movie industry. Anyway, one night he invited some of his well-known actor friends to the studio. We had a lot of scotch, bourbon, beer and Tex-Mex food and recorded songs for fun; everything from Bob Marley and old soul classics, to Kiss and Chris Isaak songs to Christmas carols and a song from a Cirque du Soleil show. We had a blast! I still have those recordings, and even if they are far from perfect, they ooze with zest and energy. It was a very special night.
HRH: What adult beverages would be found in Platform Studios right now?
CHRIS: A lot of empty beer cans and whiskey bottles. But to be honest, I never drink while working, more than tons of coffee. The beer cans are from late night parties celebrating a finished song or album.
ANDERS: I mostly work at home, so I have everything: several fine single malts, rum, vodka, gin, martini, wine. When I'm writing with the SuperCharger boys, we have the occasional beer, but other than that, I don't drink at work. But after a session, that's something else!
HRH: What bands are you currently listening to that we should know about?
CHRIS: I'm into Nickelback's Black Horse, produced by Mutt Lange. I also spin the new Winger album a lot.
ANDERS: Katy Perry's new album, Teenage Dream, is really cool and different. John Mayer's Battle Studies is wonderful, too. And I just received the re-mastered version of Nazareth's classic 1973 album Loud 'n' Proud. Their version of Joni Mitchell's "This Flight Tonight" is just fantastic.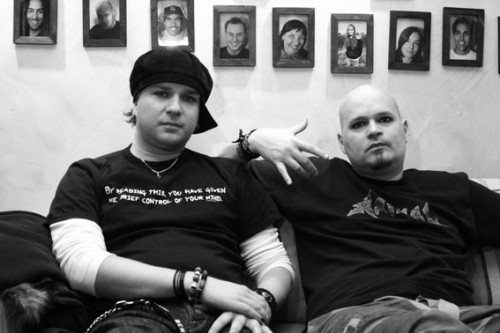 HRH: What bands/artists do you want to work with and haven't yet?
CHRIS: Def Leppard, Kiss.
ANDERS: Yeah, and an ABBA reunion, haha! Of course, Leppard and Kiss. Can you possibly go any further than that?! But seriously, the artist we want to work with is the one who's the next big thing! That's the dream everybody has, right? We've already been so fortunate, and we're truly grateful that we've had the chance to work with some of our old heroes. I think that finding that new band who gets serious attention would be awesome. But, at the end of the day, it's all about having fun. So Def Lep, Kiss, next big thing … we're game!
HRH: Do you have any thoughts on the passing of Ronnie James Dio? If so, any memories you'd like to share.
CHRIS: It's a great loss, a small man with a BIG voice. I got into Dio back when Holy Diver was released, and still think Holy Diver and The Last in Line are among the best albums released by Dio. Of course there's tons of good stuff with him in Sabbath, too, but I think those albums are killer. I literally ran into him backstage when Dio, Uriah Heep and Asia played Stockholm.
ANDERS: Of course it's a huge loss, but he wasn't a young boy anymore — he was actually 67-years-old. Many people younger and in better shape have died from cancer, so in that sense it came as no surprise to me. But in the eyes of his fans, he truly was immortal, so that's why it was such a shock. I think, music-wise, I will cherish the Rainbow albums with him, Black Sabbath's Heaven and Hell and Holy Diver, of course.
HRH: Lastly, an important one, why are Swedish women so hot?
CHRIS: Well, probably because Sweden's so cold, we need hot women to make us stay warm. 😉
ANDERS: How can I argue with that? Swedish women are the best. Or I should really say Scandinavian, because my girlfriend is Danish, haha!
HRH: Thank you both very much for your time and for your contributions to rock 'n roll!
Order Chris Laney's current release, Only Come Out at Night on Amazon. http://www.amazon.com/Only-Come-Out-at-Night/dp/B0039ZEMFC/ref=sr_1_1?s=gateway&ie=UTF8&qid=1285601158&sr=8-1
Read the Hardrock Haven review of Steevi Jaimz My Private Hell.
http://hardrockhaven.net/online/2010/steevi-jaimz-my-private-hell/
Online:
www.platformstudio.com
www.chrislaney.com
www.andersringman.com
Black and white photo by Mathias Blom